While the effects of COVID-19 continue to be felt across the mining equipment, technology and services (METS) sector, the time away from the office or mine site has enabled many within the industry to carry out work that could lead the industry into a whole new growth cycle.
The jury is out on when such an upturn could occur – these economic studies will not necessarily result in a positive mine investment decision – but this activity, coming alongside billions of dollars of investment from governments and central banks, bodes well for the future.
One company that has witnessed this increase in interest is TOMRA Sorting Mining. The Germany-based firm, known to miners for providing high-tech sorting solutions, including X-ray Transmission (XRT) technology, has received many enquiries since lockdowns were established across the globe in March and April, according to Jens-Michael Bergmann, Area Sales Manager for Europe, MENA and India.
"The number of enquiries has definitely increased since COVID-19 restrictions were put in place," Bergmann told IM last week. "There are many people deep into prefeasibility or feasibility studies (FS) on projects who need ore sorting data for this. They are very happy to have this provided remotely."
Such remote work could range from the inspection of photos sent from smart phones or distributed within MS Teams videoconferences, to more advanced analysis and testing of material, Bergmann explained.
Fortunately, TOMRA is setup for this type of remote interaction. Its initial sales process – where mining companies will at this stage be considered 'leads' – usually involves the exchange of emails/phone calls, inspections of photos/videos and a few kilograms of material to sample.
The next stage would include the performance test, which could involve hundreds of tonnes of material and usually a visit to the Test Center in Wedel, Germany.
It is this stage that has been revamped recently to cater to the lack of travel options for clients.
TOMRA has opened virtual testing facilities that enable miners to take informed purchasing decisions for their processing plants, regardless of where the client may be located.
This brings the capabilities of the company's Test Center to the client, offering a video of their material being sorted in an ore sorting unit and a follow-up detailed report including assays (supplied by a sub-contractor), ore sorting data and an estimation of just how optimal a sort could be achieved on that material when it is subjected to XRT technology.
"You have a complete document and resource to base economic decisions on," Bergmann said.
TOMRA, last month, presented the Virtual Demonstration and Test Solution to the market as a "temporary" platform, but recent experience shows the potential for this becoming part of the company's standard offering.
"We understand it currently to be a temporary version, but in recent days we have had some positive replies that make us think we can continue to offer it in the future to certain clients," Bergmann said.
In a COVID-19-affected world where every decision to travel on a plane requires strong justification, flying from North or South America, Asia, or Australasia to Europe for a one-day test is unlikely to be warranted.
Such a trip involving operations teams, executives and metallurgists is more likely to take place when a detailed week-long trial examining the effects of sorting technology on roughing, cleaning and scavenging stages is planned, Bergmann said.
"We don't think in the future we will go virtual permanently, or personal permanently," Bergmann said.
Testing time for tungsten-tin
TOMRA only established these virtual facilities on May 12, but it has already carried out four or five of these tests for clients that either had sent samples to Wedel ahead of lockdowns or dispatched them during the period when travel was restricted.
One of these tests has been for Tungsten West, the owner of the Hemerdon tungsten-tin asset in Devon, England.
Previously owned and operated by Wolf Minerals Ltd, Hemerdon has been offline since late 2018 after Wolf fell into financial trouble as the operation failed to reach expected recovery rates.
According to Tungsten West, Hemerdon hosts the world's fourth largest tungsten resource, with the potential to become the world's largest.
With eyes on re-starting the operation and improving recoveries, the company has been looking at XRT ore sorting technology to ensure the new operating plan stacks up over the long term.
Mike Hallewell, Consultant at MPH Minerals Consultancy Ltd, has been helping the company explore its processing options and said the virtual test work TOMRA carried out on behalf of Tungsten West was part of studies looking into a re-start of the mine.
"They are at scoping study level and now moving towards feasibility level," he told IM. "Ore sorting is a key component of that next phase."
Hallewell said the recording of the virtual test on an Hemerdon ore sample at Wedel was well received by both himself and Tungsten West.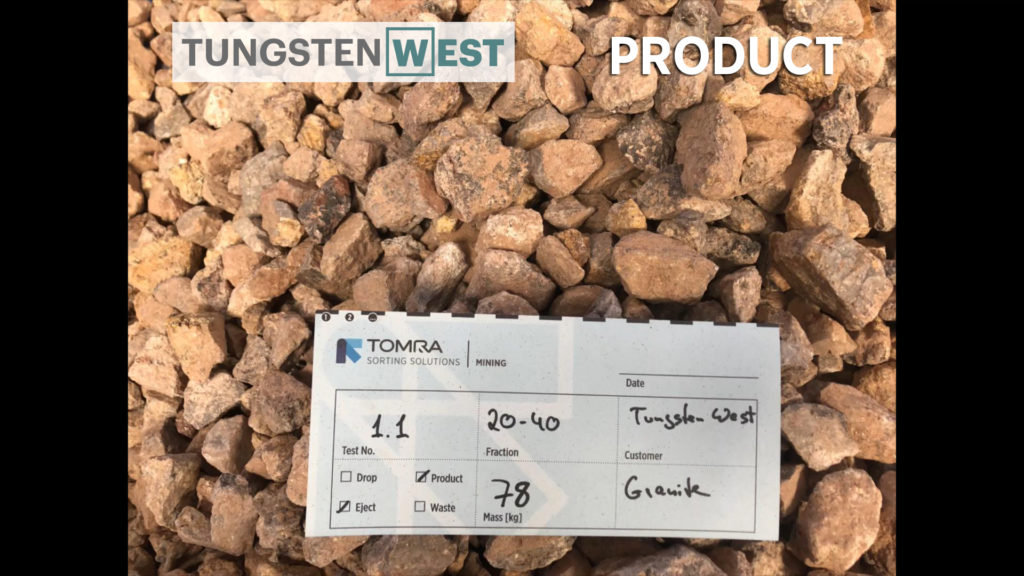 "You have got to convince the Plant Manager that is operating the plant that it (XRT ore sorting) is something he will be comfortable with, on top of making the case to boards of directors that may not have the same metallurgical expertise as the operation guys," he said.
"When people see particles being blown by the air jets, it greatly enhances the visual understanding of the separation technique being employed," he added. "To see is to understand."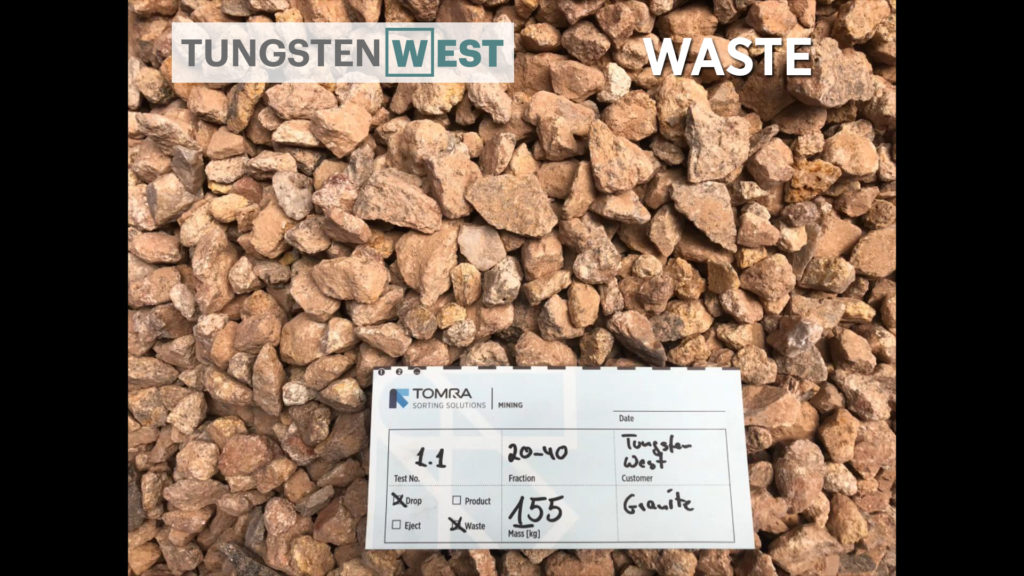 TOMRA has done well replicating the experience project and executive teams would have had in Wedel in person with this testing, Hallewell said.
"They have thought about the things that a client would want to do and see if they were there," he said.
"They provide a powerful video of the air jet stones hitting the sides, the bins where material is deposited into, and even go as far as putting their hands in that bin at the end to try and replicate that tangible feeling of the sort."
Future indicators
The more successful TOMRA is at replicating the in-person experience virtually, the more likely these 'temporary' options will become part of its permanent offering.
Another area that could 'go virtual' in the future is the maintenance and servicing side of TOMRA's ore sorting business, Bergmann believes.
"The maintenance side is moving in that direction already to a certain degree," he said.
"Since everybody is currently facing travel restrictions, the infrastructure for accurate virtual maintenance will, in the future, be set up in all plants. The awareness of the need to do this will increase," he said.
Certain parts of the contract negotiation process could also go virtual, such as "all the unloved paperwork", Bergmann added.
But, the installation and final signoff of these machines is unlikely to make this transition, at least in the near term.
That is despite an XRT ore sorting machine from TOMRA recently being installed at Sotkamo Silver's mine in Finland when lockdown conditions were still in place.
On this installation, specifically, Bergmann said: "A lot of pre-commissioning work on that unit took place ahead of the delivery and it was a representative from Outotec – a salesperson with engineering experience – that was able to commission it with remote assistance from our specialists in Germany."
Looking past the virtual offering, TOMRA could be set for an upturn in business in the near- and medium-term if the influx of enquiries it has recently received is converted into, first, demonstrations and, then, sales.
"In terms of first inspections of material, I would say we have had around 50 enquiries in this lockdown period," Bergmann said.
"While everyone is planning now, if they hit the investment button, there could be a lot of orders backed up. The manufacturing could run into a bottleneck.
"It's potentially a positive problem, but a problem nonetheless."
Considering the amount of investment being pledged by governments to stave off an economic downturn, TOMRA is unlikely to be the only METS company facing such a 'positive problem'.