Normet has expanded its product offering, introducing both the XL platform and its latest technology innovation, the Normet ElectroDynamic® powertrain architecture, at the AusIMM Underground Operators Conference 2023 (UGOPS), in Brisbane, Australia, complementing its new high-capacity platform and paving the way to what it says is the future of more sustainable underground operations.
By combining the best features of its battery-electric Normet SmartDrive® platform and state-of-the-art low-emission engine technology, the Normet ElectroDynamic architecture allows for increased payload capacity with compact outer dimensions, while also ensuring superior driving dynamics, high performance, superb fuel efficiency and less need for maintenance, the company said.
A key element of the ElectroDynamic technology is the removal of the drive shaft and gearbox through driving the externally-cooled mining axles with permanent magnet motors in a highly efficient direct-drive configuration. This not only renders a low and compact load end design, instant torque and economical electric retardation possible, but also significantly increases component lifetime, according to Normet.
Samu Kukkonen, Technology Director at Normet, said: "As we were developing our battery-electric SmartDrive equipment, we quickly realised that we can actually remove the drive shaft and gearbox from engine-powered equipment as well. This is monumental, because now we can utilise the space where the drive shaft used to be for increased payload capacity. This was achieved by utilising electric motors at the axles, powered by a low emission engine-generator set.
"What is more, we have years of experience with all the components used in the architecture not only from our SmartDrive equipment, but also from our engine powered equipment."
The Normet ElectroDynamic architecture also enables one-pedal driving, where the vehicle automatically controls both acceleration and deceleration with the operator's accelerator pedal input. Additionally, its advanced front axle suspension system and the new Normet 180° cabin with improved ergonomics and visibility, Normet says, set new industry standards for operator safety and comfort.
The completely new Utimec XL ED carrier, designed for heavy-duty underground transportation applications with its payload capacity of 24 t, is included in this new XL ED offering.
Built with some of the highest-quality powertrain components and robust frame structures, all XL ED units are powered with direct-drive electric motors, Volvo Penta Stage V engines, enabling clean and efficient operation, the company says.
The first applications of the technology are the Utimec XL 1100 Agitator ED, with a practical concrete transportation capacity of 10.5 cu.m, designed for concrete transportation in underground mines and tunnels with a minimum tramming height of 3.3 m.
Tailor-made for harsh underground conditions, the vehicle is equipped with a voluminous, wear-resistant and remote-controllable concrete drum and a hydraulically-operated discharging chute, allowing for more versatile vehicle positioning. Both mixing and unloading are controlled electrically and can be operated with zero local emissions by plugging the machine into the mine's power grid. This increases operator comfort by significantly reducing heat output and noise and by eliminating underground emissions.
The XL 1100 Agitator ED comes with a spectrum of useful features such as both front and rear support legs to ensure maximum operating stability, a form oil system to prevent concrete from adhering to the vehicle's surfaces and a high-pressure washer with a 500-litre on-board water tank.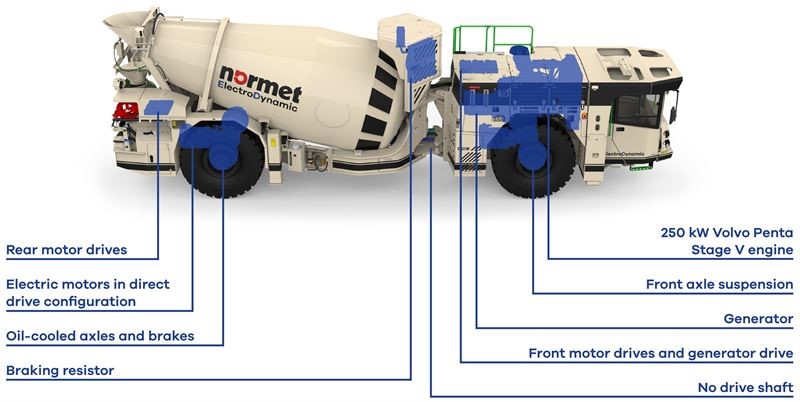 Concrete agitators are especially popular in Australia, where customers are constantly looking for innovative solutions and technologies to improve their productivity, according to Normet. However, the combination of long driving distances and high demands for vehicles' carrying capacities has until now, posed a problem. Larger machines reduce underground traffic and make daily operation more efficient, but the size and tramming height of tunnels naturally set maximum limits for those of underground equipment, too.
Allowing for both high-capacity transportation applications and compact outer dimensions, the new XL ED offering is the ideal, purpose-built solution to this dilemma, according to Normet.
Last year, Redpath Australia representatives visited Normet's factory in Iisalmi, Finland, to see and feel the XL ED prototype. As one of the world leaders in safety and innovations in mining practices, the company was impressed by the value the XL 1100 could provide, and Redpath has now ordered several XL 1100 Agitator EDs for its operations, set to be delivered this year.
Normet said: "We are immensely proud of the new Normet ElectroDynamic technology and the XL offering, both reflecting our passion for continuously developing innovative solutions and technologies to meet and exceed customer and industry expectations for safety, productivity and sustainability. Designed and built to minimise its environmental impact as a key driver, Normet's broad equipment offering pioneers the transformation into greener underground operations."