Ivanhoe Mines has released the prefeasibility study for an initial 6 Mt/y copper mine at the Kakula deposit in the Democratic Republic of Congo, in addition to an updated preliminary economic assessment (PEA) combining both Kakula and Kamoa into an 18 Mt/y operation.
The Kakula deposit is in the southerly portion of the Kamoa-Kakula project's discovery area and would form the first of three deposits to be mined in the 18 Mt/y scenario.
For the 6 Mt/y Kakula option, the PFS envisages an average annual production rate of 291,000 t of copper at a mine-site cash cost of $0.46/ Ib ($1,014/t) of copper and total cash cost of $1.11/lb copper for the first 10 years of operations. Annual copper production would step up to 360,000 t by year four, the company said.
This option came with an initial capital cost of $1.1 billion and would result in an after-tax net present value (8% discount) of $5.4 billion factoring in an average copper price of $3.10/lb.
Ivanhoe said Kakula would benefit from an ultra-high, average feed grade of 6.8% Cu over the first five years of operations, and 5.5% Cu on average over a 25-year mine life.
Basic engineering for the project is already underway and is expected to be completed around mid-year, running in parallel with a definitive feasibility study expected to be completed around year-end, Ivanhoe said.
"Development of twin underground declines has been completed at Kakula, with ongoing underground development activities, including access drives and ventilation raises. In addition, a box cut for a ventilation decline on the southern side of the Kakula orebody is nearing completion," the company added.
The updated Kamoa-Kakula 2019 PEA presents the alternative development option of a three-phase, sequential operation on Kamoa-Kakula's copper deposits (pictured below).
Initial production would occur at a rate of 6 Mt/y from the Kakula mine, before increasing to 12 Mt/y with mill feed from the Kansoko mine. A third 6 Mt/y mine would then be developed at Kakula West, bringing the total production rate to 18 Mt/y.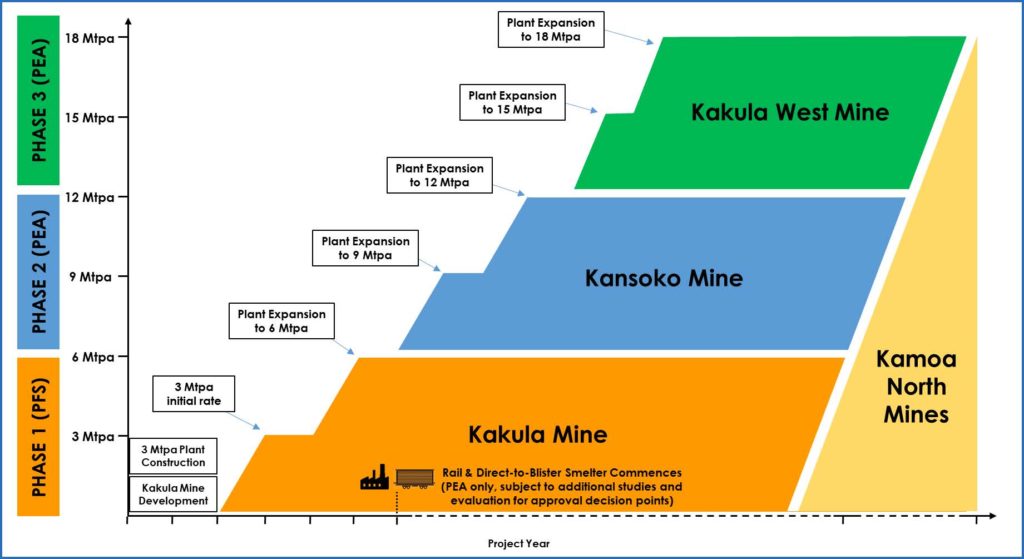 "As resources at Kakula and Kansoko are mined, the PEA envisages that production would begin at several mines in the Kamoa North area to maintain 18 Mt/y throughput over a 37-year mine life," Ivanhoe said.
For this option, the PEA envisages $1.1 billion in initial capital costs, with future expansion at the Kansoko Mine, Kakula West Mine and subsequent extensions funded by cash flows from the Kakula mine. This resulted in an after-tax NPV (8% discount) of $10 billion using the same long-term copper price of $3.10/Ib.
Under this approach, the PEA also includes the construction of a direct-to-blister flash copper smelter at the Kakula plant site with a capacity of 1 Mt/y of copper concentrate to be funded from internal cash flows. This would be completed in year five of operations, achieving significant savings in treatment charges and transportation costs, according to the company.
The 18 Mt/y scenario would deliver average annual production of 382,000 t of copper at a total cash cost of $0.93/lb copper during the first 10 years of operations and production of 740,000 t/y by year 12. "At this future production rate, Kamoa-Kakula would rank as the world's second largest copper mine," Ivanhoe said.
Robert Friedland, Co-Chairman of Ivanhoe Mines, was at the Mining Indaba event in Cape Town, South Africa to announce these results.
He said: "These studies clearly prove our long-standing conviction that Kamoa-Kakula is firmly on track to become one of the absolute greatest copper mining complexes in the world, helping to restore Katanga's rightful position as the world's largest copper producing region. This would not have happened without the extraordinary efforts of the Ivanhoe discovery team and our investment of more than $800 million in exploration and development.
"We now look forward to working with the new government of the DRC and the Congolese people to develop Kamoa-Kakula to its full potential, generating widely shared economic benefits that will help to uplift local communities, and provide skills training to help ensure that young Congolese can qualify for the thousands of meaningful direct and indirect jobs that will be created."