Aramine has looked to extend the continuous working time of its battery-powered miniLoader® L140B by providing a system that, it says, will "totally change the way you can use a battery machine underground".
The standard L140B, launched in 2017, offers four hours of continuous operation. This allows for the mucking of three to four faces in one shift with a simple charging system integrated into the machine and requiring a plug to the wall, according to the company. This does not need big a electrical installation, with the power required only being about 7 kW, compared with the 45 kW typically needed for an electric machine with cable.
Now, the company has looked to offer its customers another battery change-out option.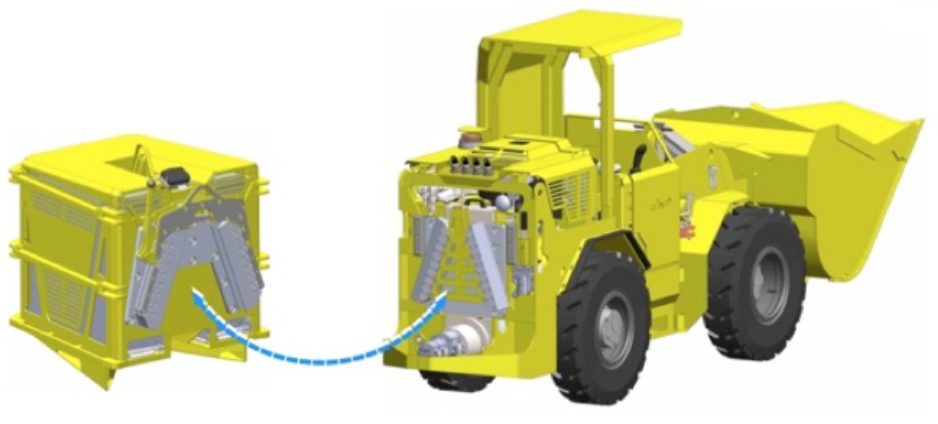 The new optional QRS features a quick disconnect battery module, Aramine said. This feature, which has been added without increasing the length of the machine, allows the machine to run full time without being immobilised during charging, according to the company. "The system is ultra fast and smart with a W type aligning system and an auto locking device," Aramine said.
There is a lever with a lock on the system that ensures optimal safety of the battery pack, the company added.
Aramine said its R&D department has worked hard on reorganising the components inside the machine and selecting an extremely reliable and safe connecting system with maximum power in order to retain the force of the miniLoader.
"The R&D department has also run a lot of tests to find the good angle of adherence in the W type system and find a faultless self-aligning mechanism," the company said.
In order to benefit from the QRS features, a mine will require a battery change area with crane to change out the battery safely and easily. But, with these elements in place, the battery replacement process can take around 10 to 15 minutes, according to Aramine.
With the QRS machine, the operator can have only one machine in operation in the mine, whereas with the fix frame version of the miniLoader, the customer requires two machines for the same productivity (one charging while the other is working), Aramine said.
These new features are not only available on new machines, according to Aramine. All operating miniLoader L140Bs with a fixed frame can be converted with this new QRS system thanks to an after-market kit.
The company will showcase a battery-powered miniLoader L140B, with 1.3 t capacity, equipped with optional QRS at the Bauma fair, in Munich, Germany, from April 8-14.