Immersive Technologies says it has seen strong demand from mining companies in Russia for its tailored workforce development solutions as equipment sales have risen in the past six years.
The proportion of global mining equipment being deployed in Russia was 22% in 2018, compared with 9% in 2012, with regional growth of 13% over the past six years, according to Immersive.
"As a result, the industry is demanding more skilled personnel," Immersive said.
In line with this industry growth, Immersive is experiencing a surge in simulator and service sales, which have been proven to achieve safety and productivity improvements throughout all stages of the mining cycle, according to Immersive.
David Anderson, Executive Vice President – Sales and Support at Immersive Technologies, said: "It is an exciting time for mining in Russia and the Commonwealth of Independent States (CIS). We are proud to support this region in delivering the safest and most profitable operators.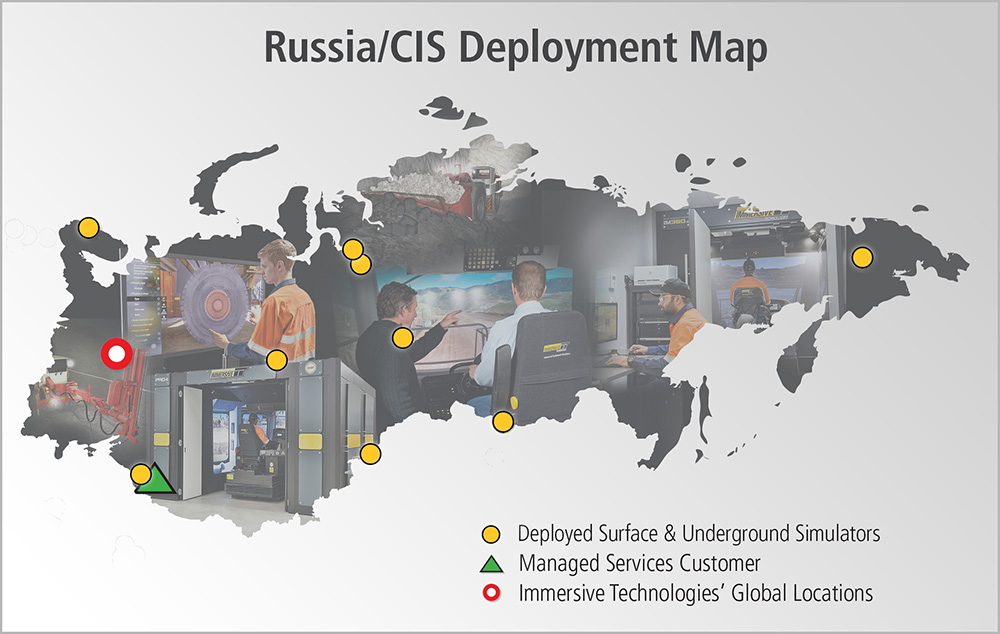 Immersive highlighted some results from this growth, with the following four customer case studies:
First, Vostochnaya Technica, a long-time customer, is implementing an Immersive simulator as a key part of delivering "mine assessments" to their customers, Immersive said. It is using a PRO4 Surface Mining simulator at one of the SUEK mine sites to improve truck and excavator operator behaviours. "The simulator will then move to a new mine site to assess truck operators and to make clear recommendations on equipment usage with the expected result of quantified productivity improvements," Immersive said.
Second, a continuous improvement project aimed at enhancing operator skills is underway at Norilsk Nickel. Upon conclusion, the goal is to increase productivity, decrease cycle times, and reduce operator variability. The initial project focuses on underground LHDs but will likely expand to other equipment including bolters, according to Immersive.
Third, Komatsu CIS, in the Kuzbass region, will be using simulation to train new operators, along with assessing experienced operators to improve their skills. "Immersive Technologies will be providing support via our Training Advisor Team to meet their requirements and tailor curricula to their specific needs," the company said.
And, finally, KAZ Minerals has engaged Immersive Technologies to deliver a training solution which includes multiple IM360-B transportable simulators, interchangeable modules and supporting products and services like Pre-Start Inspection, Instructor Led Training and Training Systems Integration. "As part of this technology and services solution, the Immersive Technologies' Training Advisor Team is providing support to facilitate the simulation training process to ensure training objectives are achieved," Immersive said.
Anderson concluded: "Russia and the CIS will continue to be a key market attracting increased investment from Immersive Technologies, over the coming years. We will be there to support the industry growth and needs of our customers."