Upgrading from a voice-based fleet management system to an automated mobile solution enables mine managers to gain critical efficiencies across their site, resulting in a positive effect on their operations' bottom line, according to MICROMINE.
Nickel-copper-cobalt miner, Independence Group (IGO), recently upgraded to Pitram Mobile at its Nova operation in Western Australia. Nova is one of a growing number of sites across the globe choosing to upgrade from Pitram Voice to the Pitram Mobile solution, MICROMINE says. IGO deployed the mobile software following the successful installation of Pitram Voice in 2018.
Touchscreen tablets were installed in vehicle cabs and integrated with the Pitram software to facilitate data transfer between on-board computers and the Pitram control room, which provides full fleet management insights and analytics functionality.
IGO implemented Pitram Mobile to capture data and insights electronically from its underground mining fleet at Nova, according to MICROMINE. Upgrading to Pitram mobile has assisted the mine to more effectively:
Manage safety – by controlling access to dangerous areas and replaying locations and states for incident analysis;
Integrate its fleet management system – providing a better picture of situational awareness and vehicle positioning;
Decrease mine radio traffic – enhancing safety and operational activities through automatically transmitting critical data from equipment;
Apply automated business rules engines;
Execute its shift plan – sending tasks to workers from the plan, receiving notifications of completed tasks and facilitating plan compliance;
Identify areas of improvement;
Increase productivity;
Reduce manual data entry and paperwork; and
Optimise fleet and personnel.
MICROMINE's Pitram Account Manager, Tyler Raleigh, said the upgrade was completed in early March 2019, with Pitram specialists spending time on site to assist the IGO Nova team with technical support.
"The mine control and dispatch facilities are designed to provide an increased level of shift data accuracy, which will improve operational efficiencies through effective management of mining operations based on high-quality data," Raleigh said. "The system provides improved response to emergency situations and greater control in hazard management, as well streamlines administrative tasks through real-time data capture and validation."
IGO's Nova Mine Manager, Peter Christen, said improvements are already starting to be seen across the Nova site since the implementation.
"We're pleased with the results achieved so far since upgrading to Pitram Mobile at Nova," he said. "The implementation was well managed by the MICROMINE team, with quick uptake and acceptance by our IGO and Barminco site personnel.
"It's enabled our people to be more in control of the data generated and that means we are seeing greater ownership and uptake of the system. It also allows our mine control operators to validate information quickly and they spend less time on the radio.
"Overall, our experience at Nova has been a positive one and we would definitely recommend Pitram Mobile to other mining companies."
What is the difference between Pitram Voice and Pitram Mobile?
For those already using Pitram Voice, upgrading to Pitram Mobile offers the following benefits, according to MICROMINE:
Automatic detection of load-haul-dump events;
Integration of autonomous mining fleet with the rest of the Pitram solution;
Integration between Pitram and other on-board payload management systems;
Summaries of manually and automatically captured production data to aid in generating draw plans;
Increased accuracy of time sensitive data, providing greater visibility of availability bottlenecks; and
Removal of reliance on radio communications.
A Pitram automatic upgrade from voice data capture requires a simple upgrade process, MICROMINE says. Pitram uses the same production and reporting database for Pitram Voice as it does for Pitram's automated solution, so all the work invested in implementing Pitram is retained when upgrading to the more advanced Pitram solution.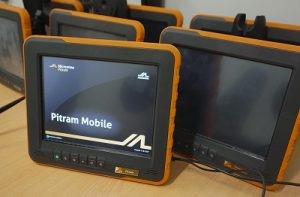 Optimise operational performance
As Pitram Mobile allows equipment operators to capture production data through automated on-board systems, or via touchscreens in cabs. Rather than calling in through radios, the solution frees up personnel time and effort, radio airspace and alleviates potential data entry errors.
The tablets or onboard systems capture equipment data, like location, pre-start, status and activities, which is automatically uploaded to servers as soon as vehicles are in range of a wireless (or LTE) network. Pitram Mobile's automatic data transfer then allows that data to be passed to the Pitram Control Room where analysts and operators can monitor results and refine mine operations.
Utilising the latest technology, automated data capture minimises disruption to primary activities, provides near 100% data accuracy, automated task management, integrated shift planning and can provide live information short interval control for in-shift decision-making.
"By using integrations across communication platforms, Pitram greatly reduces call volumes across the radio network," MICROMINE says. "Through automatically transmitting key data from equipment, personal and operations, the automated solution revolutionises the mine control room, providing an adaptable user interface for low-level data entry roles as well as for higher-level administrators and in-shift mine managers."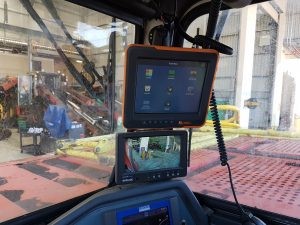 Other key features and benefits include:
Ruggedised touchscreen tablets, with various models available to best meet the requirements of individual mines, including dust and water protection;
No requirement for additional proprietary hardware, so companies save costs and time in installation if they have existing tablets and network infrastructure;
Run using Windows operating systems;
Compatible with various underground data collection technologies, including Wi-Fi and Ethernet over leaky feeder;
GPS tracking capabilities for surface mines;
Speed warning and alarms;
Material mis-dump alarms;
Payload indicator to minimise overloading or underloading, plus integration with third-party payload monitoring systems;
Task allocation and real-time tracking of tasks;
Portable data for managers & shift boss – finger on the pulse;
Improved accuracy;
Reduced two-way traffic to Mine Control; and
Operator accountability.