Wenco International Mining Systems Ltd and Oxbotica Ltd have signed a Memorandum of Understanding to develop an Open Autonomy solution for mining. Initial trials are underway, and the companies are actively recruiting mining partners with appropriate testing grounds.
The statement said: "The industry-leading system will provide customers flexibility and efficiency in autonomous mining deployment, allowing them to operate any open standard-based vehicle and integrate it into their existing fleet. It will help meet growing demand with the number of autonomous haulage trucks around the world expected to grow by more than 300% by 2023."
Wenco and Oxbotica both support an open and interoperable ecosystem of partners that integrate solutions alongside existing mine infrastructure. Both companies believe this provides customers with the greatest flexibility and control for integrating new solutions while reducing associated risks and costs. "This approach also notably avoids vendor lock-in and offers customers the freedom to choose preferred technologies, independent of their primary industrial systems. Furthermore, it enables highly skilled autonomy suppliers that may be new to mining to integrate with customers' existing operations while backed by a proven expert in the industry."
Wenco told IM that this Open Autonomy approach uniquely (and an industry first) allows a customer to use any FMS system (Modular, Jigsaw, Wenco etc), along with any autonomy control system (ASI, SafeAI, Oxbotica etc) and any OEM truck (Cat, Komatsu, Hitachi, Liebherr rigids or Scania and Volvo tipper trucks or combinations of these). So it does not follow that Wencomine has to be the incumbent FMS. Wenco said: "A good example of that is Rio Tinto, that has a Modular FMS but wanted to use Scania autonomous trucks, so they leveraged our FMS capability and APIs to basically create an open autonomy platform to let Rio test these trucks. Our work with Oxbotica will provide even more functionality, so that any OEM truck that opens it's drive-by-wire capabilities will be able to integrate with any FMS and operational system the mine has. Customers are no longer forced to go 'all in' with a closed OEM system where it all has to be provided by one vendor."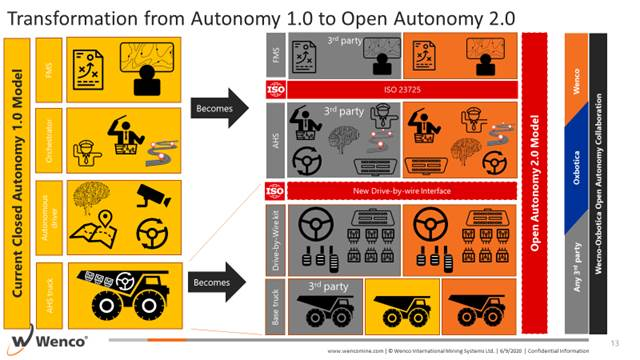 A wholly owned subsidiary company of Hitachi Construction Machinery, Wenco has 30 years' experience in developing technology solutions that assist mining companies in maximising resource value from their operations. This latest advancement builds on the vision of Open Autonomy ­– first publicly announced by Wenco and its parent, Hitachi Construction Machinery, in May 2019.
"We are very excited to be collaborating with Oxbotica," says Andrew Pyne, Wenco President and CEO. "We are confident that combining Oxbotica's proven capability in autonomy with our three decades worth of experience in interoperable fleet management systems for large mining customers enables us to create the industry's first full-function open autonomy platform. Regardless of the strategies of other industrial autonomy vendors, Wenco and Oxbotica believe firmly in the principle of open systems and consider it the primary way to bring about our joint goals of widespread adoption of autonomous technology and safer, more productive industrial operations. Our joint platform will allow customers to choose any open standards-based vehicle and integrate it into their existing operations."
Oxbotica was founded in 2014 out of the University of Oxford to develop an autonomy software platform that enables faster deployment of industry-specific autonomy applications. The company recognised early on the immense potential for transformation, cost savings, and safety improvements that can be achieved in the mining industry via the use of vehicle autonomy. Its mining solutions combine the best of advanced robotics, artificial intelligence and computer vision to change the way mining vehicle fleets operate.
"This collaboration with Wenco is a major milestone for Oxbotica," says Ozgur Tohumcu, CEO of Oxbotica. "Wenco's industry experience in mining and their vision for Open Autonomy make this partnership extremely valuable for us and provides a great synergy with our own vision of Universal Autonomy – where any vehicle, in any environment, can understand where it is, what's around it and what it should do next."
He adds: "The mining industry has proven to be at the forefront of deploying early generation autonomy systems because the business case has been clear for operators. However, even years after early deployments, less than two per cent of vehicles are autonomous in mines around the world. We strongly believe an Open Autonomy architecture that enables new and innovative entrants, like Oxbotica, to join and speed up autonomy adoption will be beneficial for the whole industry. Together with Wenco, we would like to accelerate the adoption of autonomy in mining, making it much easier for mine operators to deploy autonomous technologies and enjoy the benefits."