Evolution Mining's transformation plans at the Red Lake gold mine in Ontario, Canada, are tracking ahead of schedule with the Australia-based company's board signing off the development of a surface decline at the operation.
The company acquired the Red Lake Complex from Newmont in November 2019 in a deal that could eventually rise to $475 million. When the deal was completed, it committed to invest $100 million on existing operations and an additional $50 million in exploration at Red Lake over the first three-year period following completion of the transaction.
The company says the surface decline, which is expected to cost A$60-A$70 million ($47-55 million), will provide a near-term opportunity to access additional low-cost ounces in the Upper Campbell mine at Red Lake with two additional mining fronts independent of the current shaft-constrained infrastructure.
The decline has been named the Campbell Young Dickenson (CYD) in recognition of three early developers of the Red Lake deposit, Evolution said.
Red Lake currently hosts a total reserve of 2.93 Moz at an average grade of 6.9 g/t gold. The decline will enable access to the Upper Campbell area of the mine, which hosts reserves of 1.85 Moz at an average grade of 7.4 g/t Au. Access to the HG Young orebody will also be established, which hosts a resource of 427,000 oz at 5.5 g/t Au and has the potential to be converted to reserves with additional drilling, Evolution said.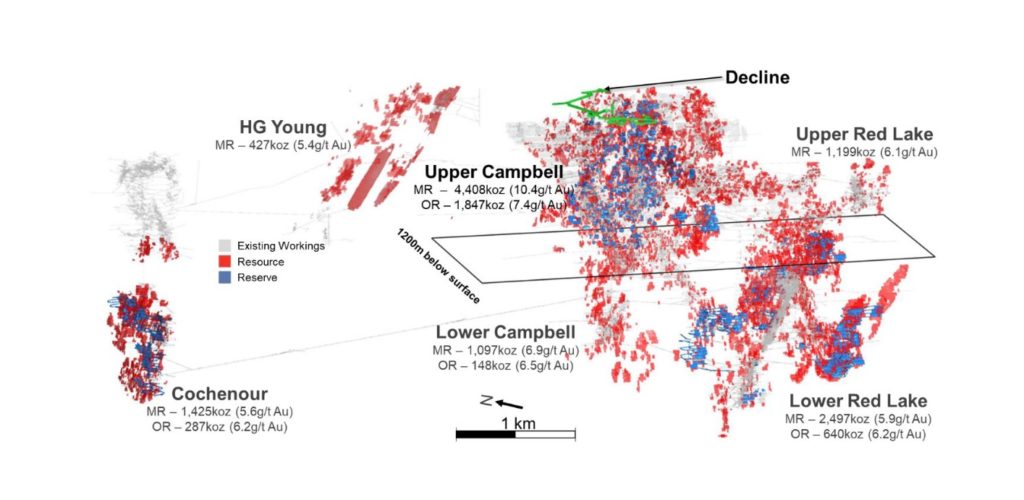 Annual gold production rates from these additional mining fronts are expected to be in excess of 1 Mt, according to the company.
With regulatory approval for this decline already in place, the box cut is expected to be completed in the March 2021 quarter. It will be located proximal to the Campbell mill.
Following this, development activities are scheduled to commence in the June 2021 quarter and first ore is currently expected in the June 2022 quarter. Studies are ongoing to assess opportunities to accelerate development and ultimate access to first ore, the company said.
Evolution's stage 1 transformation plan at Red Lake is to cement production of plus-200,000 oz/y at an all-in sustaining cost of less than $1,000/oz by 2023. As part of this program, it has already decommissioned around 70 pieces of underground equipment and completed the phase 1 "hoist automation project" among other things.
Jake Klein, Evolution's Executive Chairman, said on February 17: "Red Lake has consistently exceeded our expectations in almost every respect. With today's announcement of the 2.93 Moz gold JORC Code ore reserve and board approval for the decline development, we are excited about the continued momentum we are building at this operation.
"This commitment is a significant step towards achieving Evolution's vision of restoring Red Lake to be one of Canada's premier gold mines sustainably producing 300,000-500,000 oz per annum of low-cost gold."