"There is nothing like the Riino in the mining market or, in fact, in any other industry," Aaron Lambert, President and CEO of Riino, told IM.
That statement is worth unpacking, which Lambert does by sharing the industrial influences that has resulted in the zero-emission monorail concept he is now looking to turn into a reality for both underground and open-pit mining.
"The concept has come from my past experience in mining and using different technologies," he says, referencing stints at underground mines in the Sudbury Basin of Canada as a contractor and a period with another innovative rail haulage company that saw him help design and install three installations of the rail-based mining system.
"A lot of the things that I have incorporated into this design come from monorails," he said. "The rail structure is very similar to a rollercoaster design; it also incorporates components from a subway system; and the rail element is also very modular like an Alimak raise climber – it is pre-constructed and bolted together."
The obvious reference point mining companies will look to when evaluating Riino is Railveyor – which is comprised of a light rail train propelled by stationary drive stations.
The two have applications in underground and open-pit mining, but Lambert was keen to emphasise the uniqueness of the two technologies as opposed to the similarities.
"The only real similarities between Riino and Railveyor are the fact both systems elongate the payload with a low profile, and both are rail-based that can travel on inclines."
The resemblance to monorail trains comes in the form of each Riino locomotive – of which there are several making up a system – having internal, train-mounted motors. This aspect, according to Lambert, enables the company to apply a large amount of driveline power across the system. It also allows it to add or remove locomotives in line with the inclines navigated or required payload, all without compromising on power.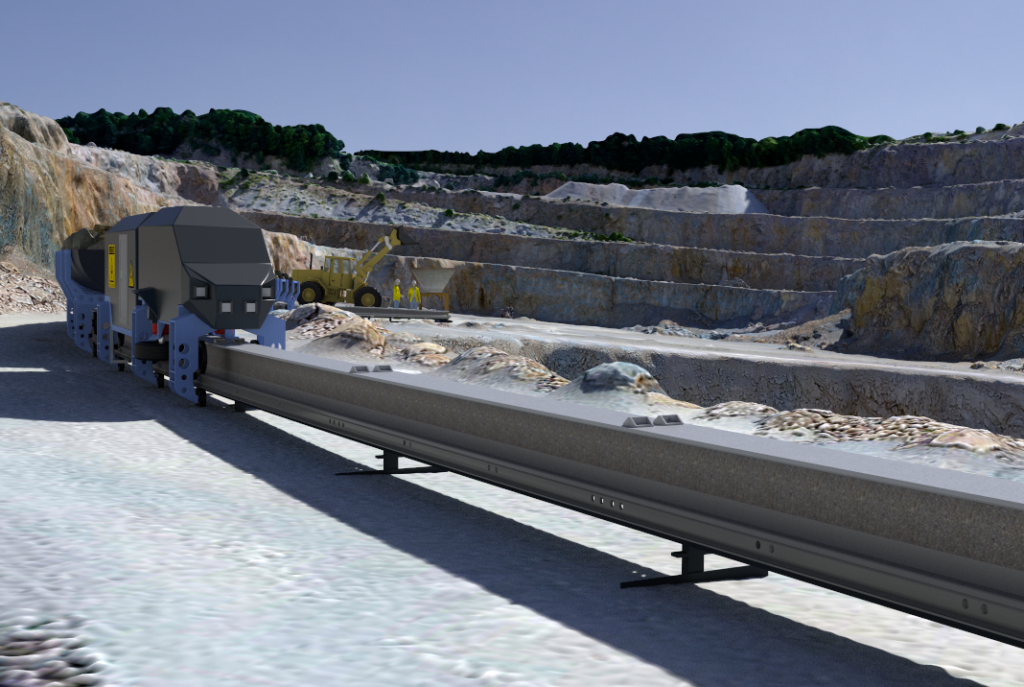 The rollercoaster analogue relates to the way the wheels have full attachment to the rails – via load-bearing, side-attachment and under-attachment wheels. This eliminates the potential for train derailments, according to Lambert, saving potential system damage as well as downtime.
The inclusion of a Busbar able to provide 750 V of DC power comes out of the subway and surface transit space, meanwhile.
"It also has auxiliary on-board batteries," Lambert explained. "This means you eliminate a significant amount of electrical infrastructure – you're not running power cables to every drive motor, adding additional sub-stations, etc. You are only converting the mine power supply to a third rail busbar and the trains take it from there."
The assortment of influences aboard Riino is tied to the need for the system to tick off a list of 50 criteria Lambert started with early on in the R&D process. The list was designed to provide a solution that fundamentally shifted the efficiency and productivity associated with haulage, while getting mining companies to pause for thought before simply adding rubber-tyred vehicles to every mine haulage design profile.
While the goal is to "change the way we mine", the design reflects the realities of the infrastructure miners already have on site.
The power requirements are based off existing specifications for both open-pit and underground mines, and the standard 120-t (18% grade) or 400-t payload numbers quoted will fit into many existing underground or open-pit mining profiles.
The Sudbury-based company can also tailor the solution to the client's specifications, thanks to the aforementioned modularity.
Yet Lambert is trying to 'walk before he can run' with technology, acknowledging that the Riino proposition will require some new thinking from a historically-conservative mining sector.
"Most trucks underground are from 30-60 t and, on surface, from 100-400 t," he said. "I wanted to get a design that could be scaled up and down with a default configuration.
"I have completed a feasibility study where we can carry 120 t on a standard 18% incline road/ramp; we know the speed and power consumption associated with this and we know we can plug it into the existing mine power infrastructure and get it going immediately."
The road width required for the Riino is only 1.8 m, while the minimum turn radius is 7.6 m. Offering speeds of up to 80 km/h, Riino can transport material lump sizes of up to -700 mm.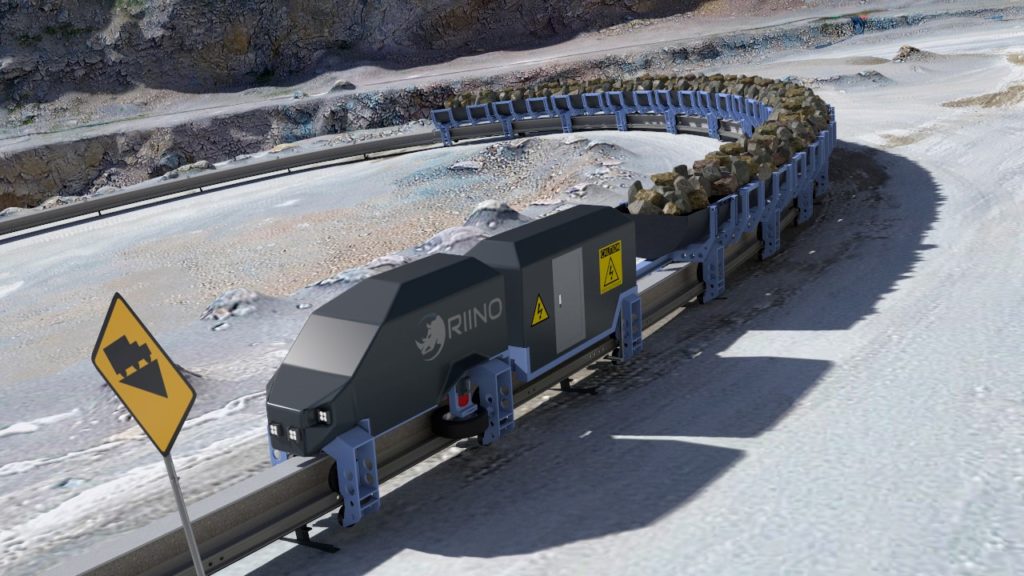 Lambert has been working on Riino for several years, with the initial plan to produce a system that is both capex- and opex-efficient. The headline numbers associated with this are a targeted 50% reduction in capital expenditure compared with "competitors" and a 50-80% cut in haulage operating costs.
As time has gone by, the zero-emission element has created a further selling point, encouraging mining companies to consider Riino alongside a host of other 'green' haulage alternatives to the standard diesel-powered truck and shovel fleet.
Lambert has been making significant headway of late on backing up these numbers with a practical example.
The company recently teamed up with the Canada Mining Innovation Council (CMIC) within its Surface Mining Alternative Haulage project to collaborate and co-develop the technology. This could see a full-scale machine built, which is able to demonstrate the technology's credentials on a Sudbury-based test site.
To this point a consortium of companies, including two mining houses, have agreed, in principle, to back the CMIC-aligned project.
Trevor Kelly, Innovation Manager at CMIC, said of the project: "The Riino project has raised significant industry interest. CMIC continues to communicate this collaborative project opportunity, both inside and outside our CMIC membership. We feel that this is a great opportunity for others to learn more about Riino and to share the costs and reap the reward going forward."
Lambert says the CMIC-backed project – which will see the final build design completed, with a full-scale prototype fabricated and demonstrated – could last 24 months and result in operational testing at a mine site owned by one of the consortium members.
This testing is set to push the machine to the limit, going beyond the headline numbers to gauge how revolutionary the Riino could prove if fully embraced.
"The original concept of designing Riino is around changing the mine design and changing the way we mine," Lambert said. "Mining has evolved over the last hundred years: from horses pulling carts underground; to train locomotives underground; and that turned into the rubber tyred equipment.
"Now is the time to have a re-think about the most effective and efficient mine design principles, and I think Riino should be considered as part of the process."