In the Weir Group Capital Markets Event presentation last week, Chris Carpenter revealed that the company was collaborating within its divisions on trials of ore sorting technology in an effort to move less rock at mine sites and optimise processing within the plant.
Carpenter, Vice President of Technology at Weir ESCO, said the company was combining Motion Metrics' particle size distribution (PSD) capability with ore characterisation technology to explore "in-pit sorting" opportunities for its clients.
"Looking further out, we believe ore characterisation and in-pit ore sorting has the potential to transform mining by moving less rock, using less energy and creating less waste," he said during his presentation. "Ore characterisation technology, which is underpinned by sophisticated sensing systems, captures critical data on properties and composition of rock, including rock hardness and mineral and moisture content.
"When coupled with Motion Metrics fragmentation analysis technology, it has the potential to be a game changer, giving miners a full picture of the size and characteristics of rocks."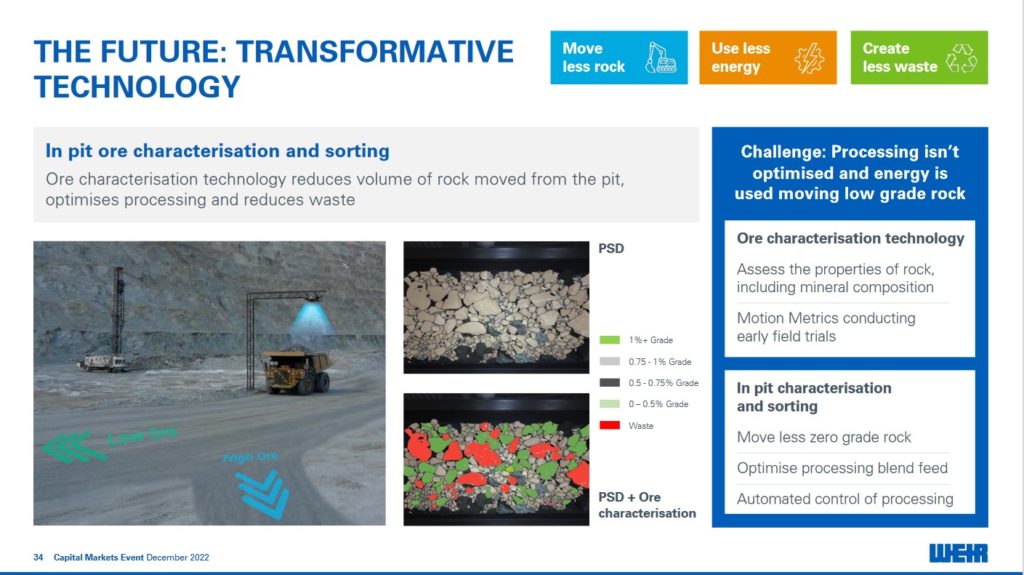 Motion Metrics, a developer of artificial intelligence (AI) and 3D rugged machine vision technology, was acquired by Weir almost a year ago, with the business incorporated into the Weir ESCO division. Its smart, rugged cameras monitor and provide data on equipment performance, faults, payloads and rock fragmentation. This data is then analysed using embedded and cloud-based AI to provide real-time feedback to the mining operation.
These technologies were initially developed for ground engaging tool applications but have recently been extended into a suite of products and solutions that can be applied from drill and blast through to primary processing.
Carpenter said the added PSD capability from Motion Metrics was expanding the company's value presence across the mine to the processing plant, where Weir Minerals operates.
"Results from early adoption of Motion Metrics PSD solutions have been extremely encouraging," he said. "Feedback from customers is positive; data sharing and collaboration have increased.
"Given this early progress, we are really excited about the opportunity and expect fragmentation analysis to be a key growth driver for Motion Metrics in the years to come."
On the in-pit sorting potential, Carpenter said Weir ESCO had laboratory-validated equipment and field trials of its proprietary solution that were due to start at customer sites before the end of the year tied to these developments.
"If successful, this technology opens the door to in-pit sorting, where miners complete the first stage of crushing in the pit and analyse the outputs to make real-time decisions about which rocks have sufficient mineral content to be moved," he said. "This is a step change from the current process, where energy is expended in transporting and processing all of the rocks, regardless of mineral content, and with significant waste generated from zero- and low-grade material."
He concluded: "Our vision is to move less rock, moving only the rocks with sufficient mineral content and using the data that is captured on size and hardness to optimise processing. The natural evolution thereafter will be towards real-time automation control of processing equipment, ensuring the right rocks are processed in the most efficient way, using less energy and creating less waste."