Ventilation on demand not only reduces energy usage and costs in underground mines, it can help extend production and the lifespan of existing infrastructure as part of a suite of electrification and automation solutions, say Marcos Hillal, Global Product Line Manager, Automation, ABB, and Jan Nyqvist, Global Product Manager, Automation Underground Mining, ABB.
---
By now, many readers will be familiar with ventilation on demand (VOD); what it is, what it does and the multiple benefits it offers mining companies in terms of efficiency, costs, safety and compliance.
Ventilation systems are the largest consumers of power in underground mines, accounting for 50% of energy use. VOD systems linked to the geolocation of people and vehicles intelligently adjust air flow to maximise air quality and minimise consumption. Supplying air into the mine (and expelling exhaust gases) only where and when it is needed can reduce overall energy usage by up to half. It also reduce cooling or heating needs of the circulated air.
Operators of subterranean mines must also comply with increasingly stringent safety regulations related to air quality, ensuring personnel are not exposed to excessive levels of CO, CO2, dust, humidity, toxic blasting and strata gases, and, chiefly, NO, nitrogen dioxide (NO2) emissions from diesel vehicles.
VOD not only supplies fresh air to underground mines, as well as removing spent or contaminated air, it automatically regulates air temperature to keep workers comfortable and safe, not to mention removing the need for them to enter potentially hazardous environments to manually operate fans.
Being smart about ventilation
So far, so good. However, what is not so well understood is how VOD can used to expand production and extend the life of ventilation infrastructure. With energy prices high and declining ore grades forcing operators into more remote, inhospitable locations in search of elusive reserves, technology solutions that can prolong the life of existing mine assets can offer an invaluable competitive edge.
So, how can VOD be applied to expand mine production? The answer is by delivering air even more smartly and efficiently based on actual operational parameters. ABB's open platform, System 800xA, for example, utilises real-time data transmitted from sensors around the mine on key parameters such as the use of trucks, location of personnel, and gas, flow and temperature information.
ABB's VOD solution, ABB Ability™ Ventilation Optimizer (VO), uses this data to operate the fans according to actual demands calculated from production schedules, as well as equipment status and location, reducing the amount of air that fans supply to certain sections of the mine by as much as 20-40%.
These savings can then be used to supply air to other sectors where they are needed more, whether that be new, hitherto unexplored places or existing areas where the operator wishes to maintain or increase production. What is more, VOD can do this by using existing infrastructure – ventilation shafts, for instance – which equates to significant savings on capex and manpower for customers.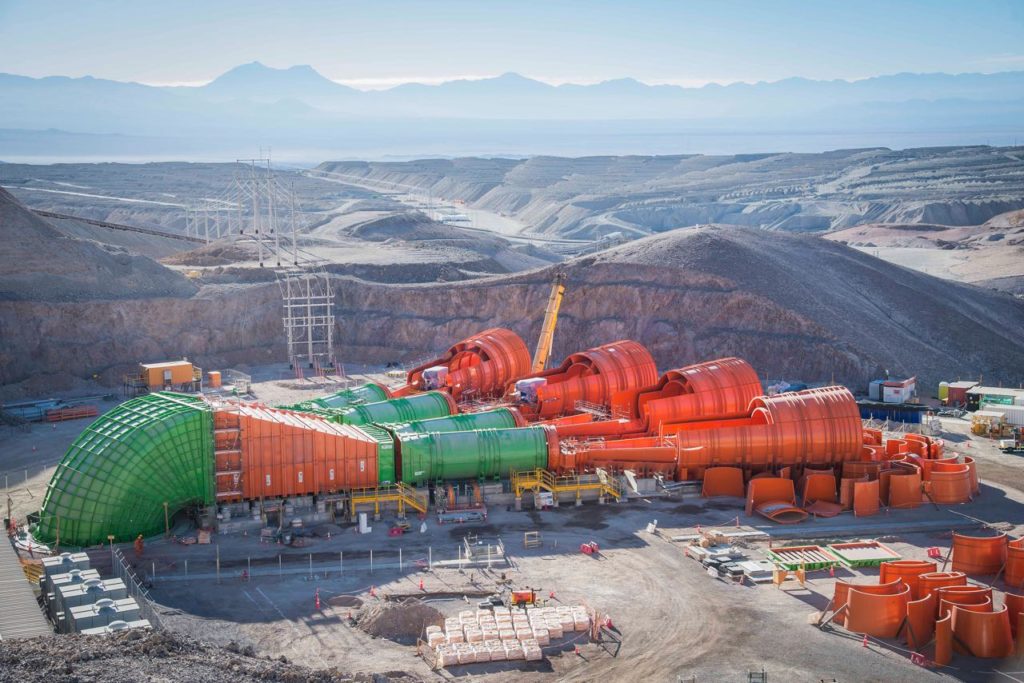 Take automation to the next level
ABB Ability VO is designed to be integrated into each operation depending on that project's specific characteristics and existing level of automation – how advanced the existing positioning system or communications backbone is, say – and comprises three separate levels.
Level one is the standard package whereby we connect ABB Ability VO to the ventilation equipment so that the customer can supervise and control the fans and air regulators remotely. They have the option to add further automation, meaning that the system can automatically adjust air flow based on the mine's time and production schedule and, also, in the event of a fire or blasting in the mine.
In level two, positioning tools such as tracking on demand are integrated in the mine systems to pinpoint the exact location of vehicles, machines and people based on the production schedule, so the ventilation system throughout the mine can be automatically adjusted based on air flow levels.
Finally, level three is full automation or 'closed loop' ventilation. An algorithm computes the optimal operational set points on all the fans and regulators depending on demand and sensors continuously feedback data, allowing the system to optimise air flows and air quality, and minimise energy usage.
By introducing three implementation stages, VO system also gives customers time to adapt their processes and people so that the system can be fully integrated for maximum results.
A suite of scalable solutions
VO should not be viewed as an isolated solution, however; instead, it forms part of a portfolio of scalable, interconnected digital and automation technologies that together give operators complete control of a multitude of functions, from dewatering the mine to material tracking.
Future innovations include online monitoring to ensure the ventilation system is working in the most optimal way. In terms of scalability, since VO is based on our market leader 800xA platform, other advanced solutions can be integrated, such as ABB's asset management and power monitoring systems, so mines can benefit from the company's full range of ABB's dedicated solutions for underground mine operations, all under one single integrated platform.
In this way, VOD forms part of a package of digital, automation and electrification technologies that, when deployed together, can transform underground mines into safer, more efficient environments.