This week, Anglo American hosted an investor and analyst day at its in-development Woodsmith project, in the UK, with several key technology takeaways cropping up from an in-depth presentation from Tom McCulley, CEO, Crop Nutrients.
In reviewing progress and the past, McCulley stated that Anglo has decided to start Woodsmith as a 5 Mt/y operation, with a staged ramp-up planned to the 13 Mt/y rate. The plan to sink 1,600 m production and service shafts, establish a mechanised mine, construct the 37-km-long underground tunnel and build a materials handling facility with priority access export facilities remain part of this. The potential to phase ventilation & production level development within the underground mine, potential to phase conveyor upgrades in the underground tunnel and the potential to carry out a phased expansion as required for the export facilities are all options for the 13 Mt/y blueprint.
This change has required some of the scope to go back to study phase – hence the reason why Anglo has been mooting detailed design reviews and non-critical path studies – looking at how to optimise investment and modularise the construction to get maximum value from each phase, McCulley said.
"I feel far more comfortable today about how we are setting up the project for the long-term success but managing in a capital efficient way," McCulley said during his presentation.
Some of the elements keen observers have been watching at Woodsmith are related to mechanised underground development – both vertical (via shaft sinking) and horizontally (via tunnel boring machines (TBMs) for the 37-km-long tunnel).
TBM-led tunnel transformation
In terms of the latter, Anglo American is soon expecting to set a World Record for the longest TBM tunnel developed by a single TBM. This is currently set at 25.8 km, with the Woodsmith team having already reached the 25-km (25.3 km) mark.
"Beyond this we will pass our next intermediate shaft at Ladycross, where we will take a 3-4 month maintenance pause as we set up the TBM for the final push to 37 km, and we expect to reach the Woodsmith mine in late 2026," McCulley said.
The machine used at Woodsmith is a Herrenknecht hard-rock TBM that, McCulley says, works similarly to the Shaft Boring Roadheaders (SBRs) being used for shaft sinking (more on that soon) in that it cuts the soils, without blasting, and the material is transported through the machine and out of the tunnel via a conveyor that is part of the TBM.
"In addition to excavating the material, the TBM also simultaneously lines the tunnel via pre-cast concrete segments (six segments make up a ring around the circumference of the tunnel); these concrete segments are fabricated at the Teesside port by a project dedicated facility," McCulley said.
He said in every measure the tunnelling on the project to date has been an amazing success, aided by a solid team performance. This team is made up of contractors from Strabag, Herrenknecht and Anglo's in-house personnel.
Progress has been aided by consistent ground conditions across the tunnel within what is called Mudstone strata, McCulley said.
"These conditions are very predictable and cutting is easy for the machine which minimises the bearing wear, which is a key risk area for the TBM," he said. "This consistent strata has allowed us to switch our strategy from three TBMs to one TBM for the entire 37 km, which means we will not only pass the World Record, but we will also smash it when we reach Woodsmith in late 2026. This reduction in TBMs had a knock-on impact of saving significant capital over what was originally planned."
Anglo is consistently seeing average rates increase to over 20 m/d and trending closer to 25 m/d, which compares favourably with about 16-17 m/d in late 2021.
SBRs on the up
Mine development via TBMs is relatively proven when compared with the use of Herrenknecht SBRs for shaft sinking in mining, with Woodsmith representing only the third deployment of the technology in mining following Jansen (BHP) and Nezhinsky (Slavkaliy).
Anglo has two SBRs on site at Woodsmith, sinking the production and service shafts at the project. Redpath, which carried out the shaft sinking work at Nezhinsky, is steering developments at these two shafts, in addition to the material transport system shaft. Only the much deeper production and service shafts are being sunk via mechanised means with the SBRs.
Overseeing this and all developments at the operation is Worley as an engineering, procurement and construction management contractor.
Sinking of the service shaft began in September-October 2022, followed some six months later with activities at the production shaft. McCulley said these two were now around 550-m deep and 340-m deep, respectively.
"We typically see more daily meters from the production shaft due to the service shaft lessons being applied to the production shaft, so I'm excited as I think we may have a race to polyhalite!" he said. "We are very pleased with the progress made on both shafts since Redpath started sinking in 2022."
On the advantages associated with using SBRs, McCulley said: "Some of the primary benefits of these machines is they are inherently safer than traditional sinking. They also eliminate the need for explosives, which is a huge benefit to us with the community as we don't encounter noise complaints experienced in other mines. I expect these machines to be the future of shaft sinking. They are just safer, quicker and more predictable."
The SBR is generally working in autonomous mode for most of the time following a program with pre-set parameters for cutting, according to McCulley, who said the company is expecting an average rate of 1 m/d in each shaft over the full 1,600-m length of the shafts.
"This 1 m/d includes all routine maintenance and what we call non-routine work, like installing water cubbies for pumping water out of the shafts, probe drilling, tubbing and grouting," he said.
"Ultimately, this is the right machine for the job at Woodsmith and the cutting rates we achieve are 1.5-2 times what we would do with traditional methods."
Looking at current sinking progress and plans to hit the orebody in 2027 in the service shaft (with the production shaft being six months behind that), McCulley pointed out a 250-m section of sinking in Sherwood Sandstone, which the company expects to reach next year.
"This 250 m of strata will see our rates reduced from our 1 m/d to something between 0.5 m and 0.75 m a day, and this will impact us for most of next year and early 2025," McCulley said. "Once through that strata, we do not expect any further issues with the ground conditions significantly impacting production."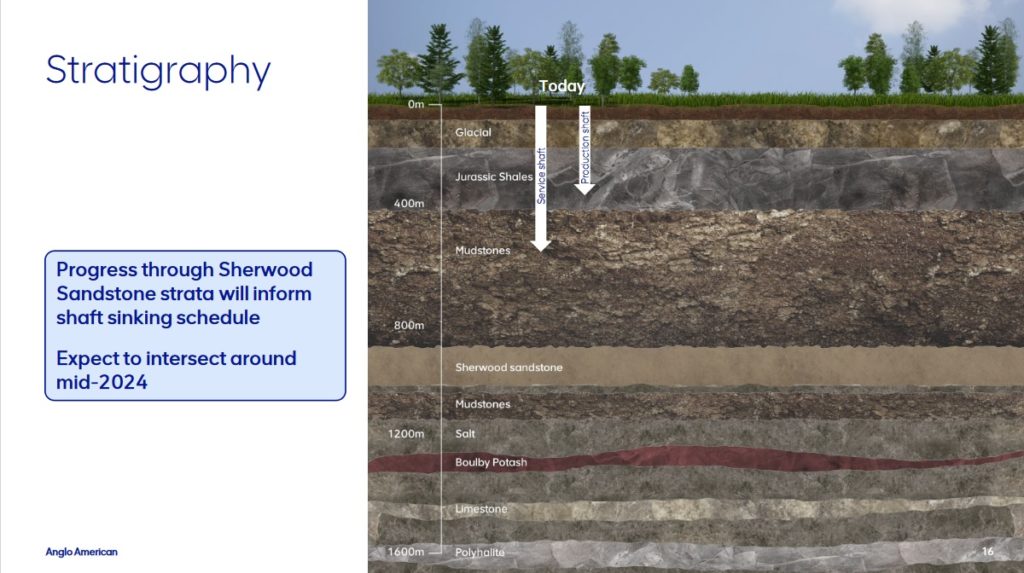 The Sherwood Sandstone is characterised as a strata of highly competent rock, about 120 Mpa, according to McCulley, which is at the top end of the SBR rock hardness capacity given by Herrenknecht.
In addition to the hardness, this strata has the potential for some water fissures (ie cracks in the rock with high pressure water), according to McCulley.
"The good news for us is we hit a 2.5-m layer of this material a few weeks ago and we learned from this that we need to make some adjustments to our cutter heads and cutting picks, and now we are far more prepared than we would have been otherwise," he said. "We are also prepared with alternative plans, including potential use of lasers, plasma blasting and/or microwaves if needed, but we expect our updated cutter head and next generation picks, developed by Element 6 of De Beers, will cut through the rock at the rates I previously mentioned. In addition, to the hard rock, this strata has a risk of high-water flows in small sections of the strata so we will need to seal the shaft via grout from the shaft. This means as we come across water, we will inject chemical grout into the fractures to block water bearing cavities and control water inflow."
Adding to McCulley's confidence is the fact that the nearby Boulby mine encountered the same strata some time ago, which that team progressed through via the same exact grouting technique Woodsmith is planning today.
In terms of priorities for 2023, McCulley said the team expected the service shaft to be between 650-700 m at the end of the year, versus the current circa-550 metres today, whereas the production shaft could reach 450 m by this point.
"Both shafts, if they hit the numbers noted will exceed our planned targets for the year," he said.
"The MTS shaft and Ladycross shafts are both sunk, and we are working to fit them out during the remainder of the year. In the tunnel we have driven 4.3 km this year, we are at 25.3 km and we expect to reach 27 km, which is our stretch target for the year."
For 2024, while Anglo continues to work through the studies, it doesn't see any changes to its plans right now and still expects to be around the $1 billon capex number for the next few years.
McCulley added: "Our vision at Woodsmith with regards to technology is to ultimately develop a peopleless underground mine, where operations and maintenance are all controlled from the surface. This is a journey, but many technologies are already out there, we just need to put the system in place and the wherewithal to help the vendors take the next step. This will not happen from the start, but with our vision and with the team we have in place, I have no doubt that in the future this vision will become a reality."
When at full production, Woodsmith will be a FutureSmart Mine with all the modern technologies, according to McCulley, with these characteristics ensuring the company has a low cost, high volume mine for many years to come. Continuous miners are expected to be used in a room & pillar mining application, combined with mine cars, shuttle cars or conveyors.
"On top of the mining/processing technology, I see some interesting parallels with the farming industry. They are rapidly adopting technologies, and we are very well placed to support this transition in areas like sensing, scanning, AI, etc. I think with our Anglo American Woodsmith project experience in technology we are uniquely positioned to help support this transition in farming and this is something that will have added value to our product for years to come."