Riino, a company incorporating technology influences from monorails, subway systems and the mechanised raise climber, is a step closer to bringing its zero-emission material movement concept to reality, having signed up three mining company backers for a technology scoping study, utilising a consortium approach, supported by the Canada Mining Innovation Council (CMIC).
Agnico Eagle Mines, Rio Tinto and Vale are now all part of a CMIC-backed consortium pushing the Riino project forward under CMIC's Surface Mining Alternative Haulage project. In addition, Riino has also been successful in achieving funding as part of Canadian government backing through the Mining Innovation Commercialization Accelerator Network.
Riino is an innovative monorail haulage system targeting the reduction of the industry's carbon emissions and achieving net-zero goals, CMIC says. It is designed to receive its power from internal, train-mounted motors as well as auxiliary on-board batteries for a complete electric and automated operation.
The Riino concept originated out of President and CEO Aaron Lambert's experience as a contract miner in Sudbury – a role that saw him interact and engage with many different technologies.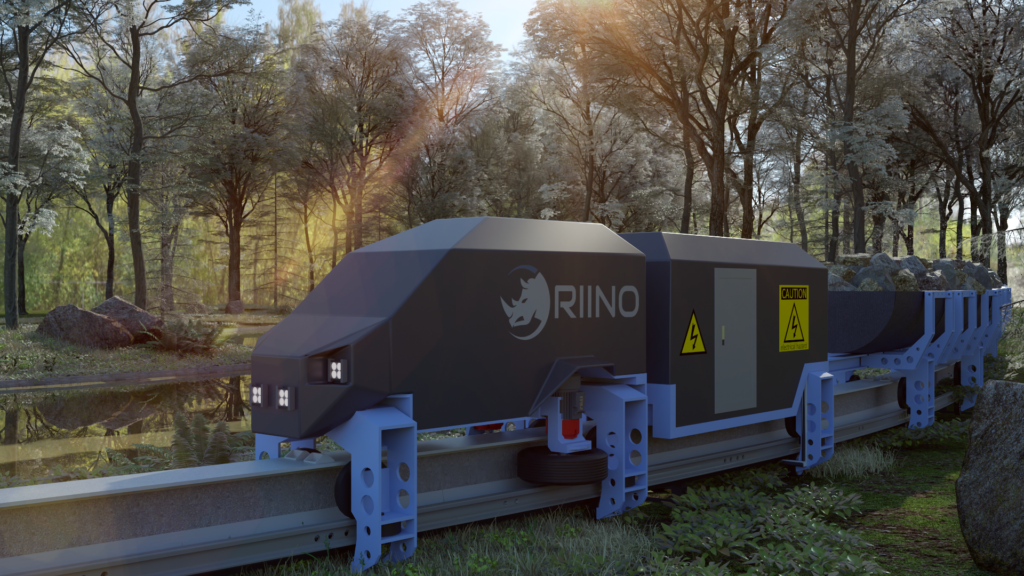 Lambert has been working on Riino for several years, with the initial plan to produce a system that is both capex- and opex-efficient. The headline numbers associated with this are a targeted 50-80% reduction in haulage operating costs.
As time has gone by, the zero-emission element has created a further selling point for Riino, encouraging mining companies to consider its use alongside a host of other 'green' haulage alternatives to the standard diesel-powered truck and shovel fleet.
All three of the mining companies attached to the ongoing scoping study have been interrogating the data and designs Lambert and his team have assembled over recent months, and are now pledging financial resources to wrap some in-depth numbers and technical data around what it will take to build a prototype to a sufficient technology readiness level.
To this point, the power requirements for Riino have been based off existing specifications for both open-pit and underground mines. The standard 120-t (18% grade) or 400-t payload numbers have also been influenced by existing underground or open-pit mining profiles.
"We've had great early engagement from mining companies since we started the Riino project, and the latest backing from Agnico, Rio and Vale is tangible evidence of that," Lambert told IM.
The three mining companies and Riino are currently engaged in this four-month study, which will be concluded by the end of this year. The idea is to then engage in another staged development process that could result in a full-scale prototype being built for testing at a location in Sudbury, owned by Rainbow Concrete Industries.
Trevor Kelly, Innovation Manager at CMIC, said: "We see the scoping study as a good opportunity for the industry to look at this solution. It offers a low-cost entry point and definitive outcome to enable companies to get involved initially, quickly. As with many other CMIC projects, we work with entrepreneurs and mining companies to find the 'sweet spot' between what money and resources are available, matching that to a relevant technology scope.
"As a result, it gives Riino and the mining companies a view on the potential of this technology and the possible paths forward."
Gary Molloy, Innovation Manager at CMIC, added on the scoping study: "At this stage, it is all about building confidence in your company and your product."
Each Riino locomotive – of which there are several making up a system – has internal, train-mounted motors to offer optimal driveline power across the system. These locomotives also come with wheels that have full attachment to the rails – via load-bearing, side-attachment and under-attachment wheels – similar to that of a rollercoaster. This eliminates the potential for train derailments, according to Lambert, saving potential system damage as well as downtime.
The inclusion of a Busbar able to provide 750 V of DC power comes out of the subway and surface transit space, meanwhile.
On top of this, the system has auxiliary on-board batteries to eliminate a significant amount of electrical infrastructure such as power cables and additional sub-stations.
This makes for a system able to offer speeds of up to 80 km/h, transport material lump sizes up to -760 mm, carry 120 t on a standard 18% incline road/ramp and navigate road widths of 1.8 m.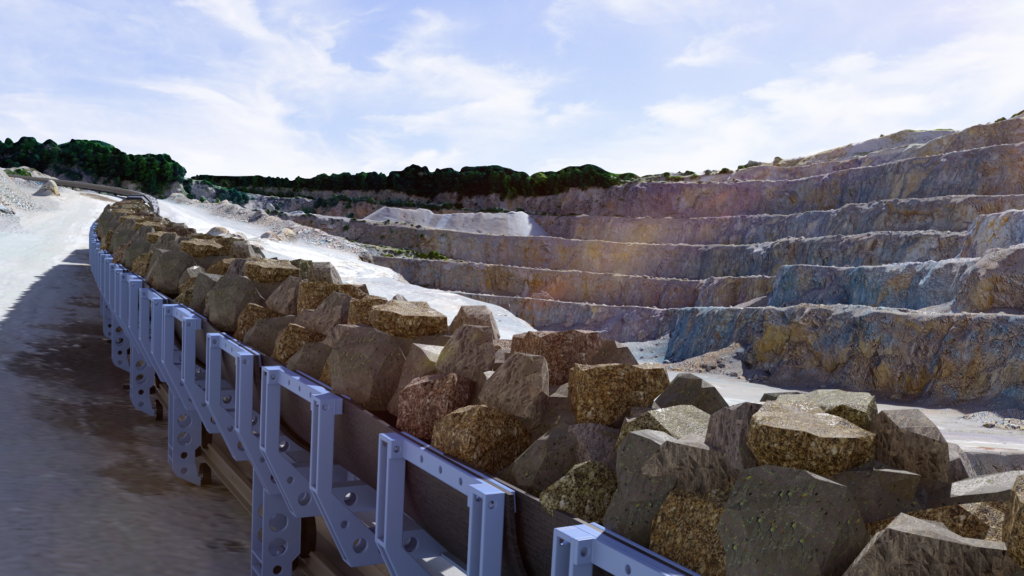 Lambert concluded: "Riino's ambitious journey to revolutionise material movement in mining has gained substantial momentum and is swiftly progressing toward realisation.
"This pivotal phase, marked by rigorous study and financial commitments, aims to propel Riino towards a prototype build, positioned for testing in Sudbury. With a scoping study drawing to a close by year-end and subsequent developmental stages on the horizon, Riino stands poised to redefine mining logistics, offering a glimpse into a greener, more efficient future."