Better connected with Volvo CE
Managing a busy site can be challenging, balancing the flow of incoming trucks and the utilisation of loaders, along with valuable time spent on administration. It can be hard to see the bigger picture. But with two new digital solutions from Volvo Construction Equipment (Volvo CE) mining customers can make their operations more efficient and more productive than ever before.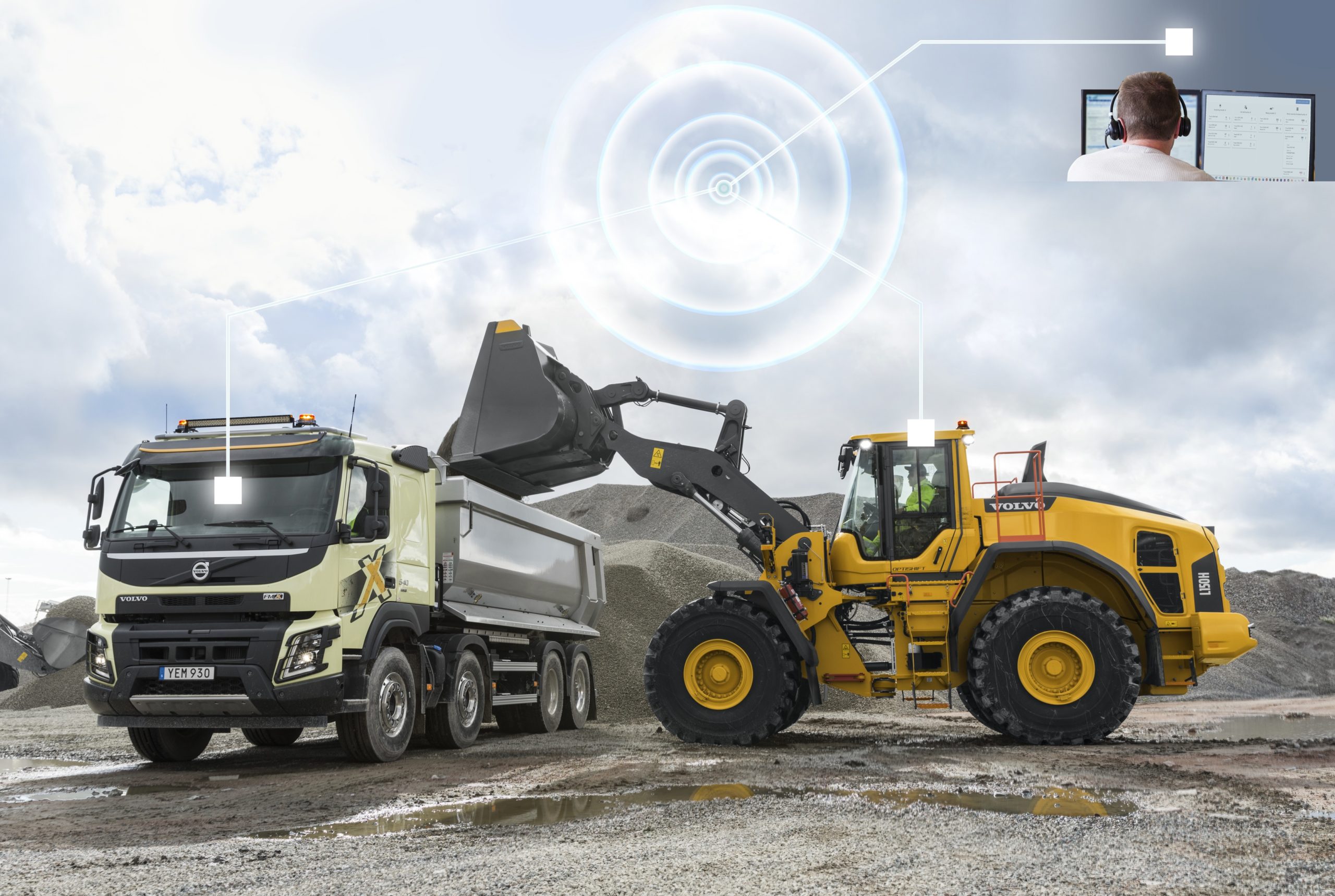 Connected solutions have the power to transform the way we work and are a vital tool in helping businesses work smarter, safer and more sustainably, while helping to also lower costs and increase efficiency. Two particular digital solutions from Volvo CE – launched this year – do all of this and more. Let's take a closer look.
The bigger picture
The new Connected Map solution, available for both North American and European customers, is a positioning service that provides a visualised site overview for all machines – also non-Volvo machines – and vehicles on a site. It is readily accessible by both personnel in the machines (via Volvo Co-Pilot or Android/iOS device) and in the office (via the Office Portal web platform).
Azadeh Fazl Mashhadi, Service Offer owner site solutions at Volvo CE, explained: "With Connected Map, users benefit from complete job site visibility. It gives them a visual overview in real time of the position of every machine, every vehicle and every visitor on a site connected to the app, helping to make their operation more efficient and more productive.
"The site management also has total job site visibility via the Office Portal, providing at their fingertips all the information needed to optimise traffic conditions for maximum productivity. What's more, increasing the efficiency of transport operations can also help to cut travel times, minimise material mixing, lower fuel consumption and reduce emissions."
How it works
Connected Map works by extracting the positioning data from machine telematics or Android/iOS devices with SIM Cards and uploads it to a cloud-based Volvo platform. Whether a Volvo machine, non-Volvo machine, vehicle or temporary site visitor, Connected Map will visualise the position of any unit on site which has the app installed – either in the Volvo Co-Pilot or in an Android/iOS device.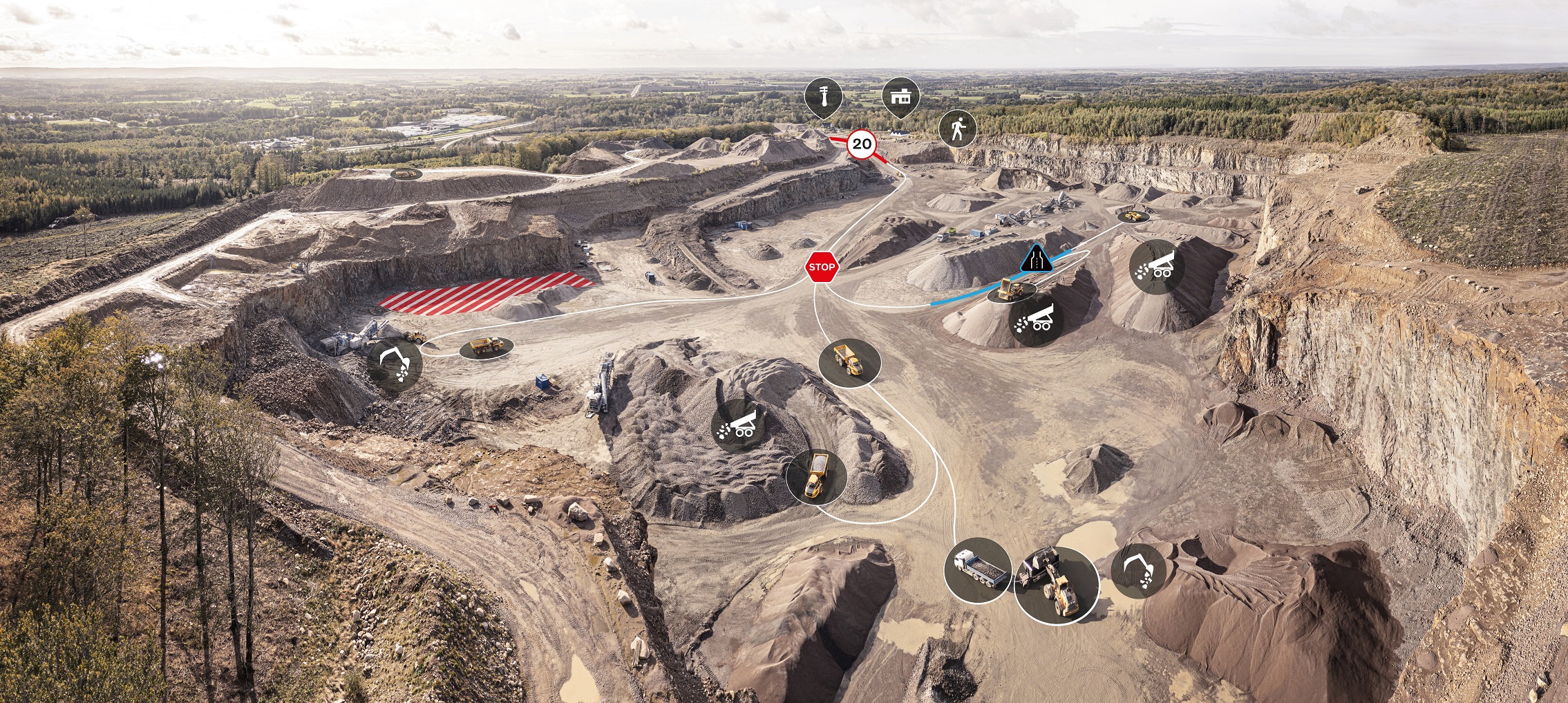 For non-Volvo machines which are regularly on site, Volvo CE recommends fitting the machine with a Generic/non-Volvo Co-Pilot with Map app. This can be purchased as an aftermarket option through the Volvo dealer or, alternatively, non-Volvo machine operators can gain access in the Site Map app via any Android/iOS device with a SIM card. Temporary site visitors can also access the app in the same way, enabling easy site familiarisation.
Connected Map will visualise a host of typical job site features and landmarks, including roads to assist operators in navigating around the site, load zones, dump zones, speed zones as well as restricted zones. Points of interest such as offices, workshops and fuel stations can also be visualised, especially helpful for new or temporary operators. Single lane (narrow road) sections can be defined, notifying the operator if another machine is approaching within a single lane section, helping to avoid traffic congestion.
Far-reaching benefits
For Site Managers, the Office Portal makes it easier to manage larger sites and even creates the possibility to manage multiple sites simultaneously. Not only does Office Portal provide a visual overview of all machines, operators, and temporary visitors on site, it also allows the Site Manager to react to the prevailing site conditions. The Site Manager can introduce measures such as one-way traffic or restricted zones and communicate these changes to all users in an instant, helping to improve awareness, reduce accidents and increase productivity.
Connected Map users can also stay in the know when it comes to the whereabouts of their machines, thanks to the search functionality within Connected Map, which will look-up and find users or machines in real-time, with the last machine position visible for 30 days.
Away from the office, Connected Map makes it easier for the operator to become more familiar with the site and know where everyone is – including visitors – helping to facilitate a more straightforward, safer and less stressful operation.
The Site Map application is available for free from the App Store and Google Play.
Improving job site efficiency
Another powerful digital solution from Volvo CE is helping to simplify the load out process and deliver on the company's vision to help customers maximise the productivity of their work sites.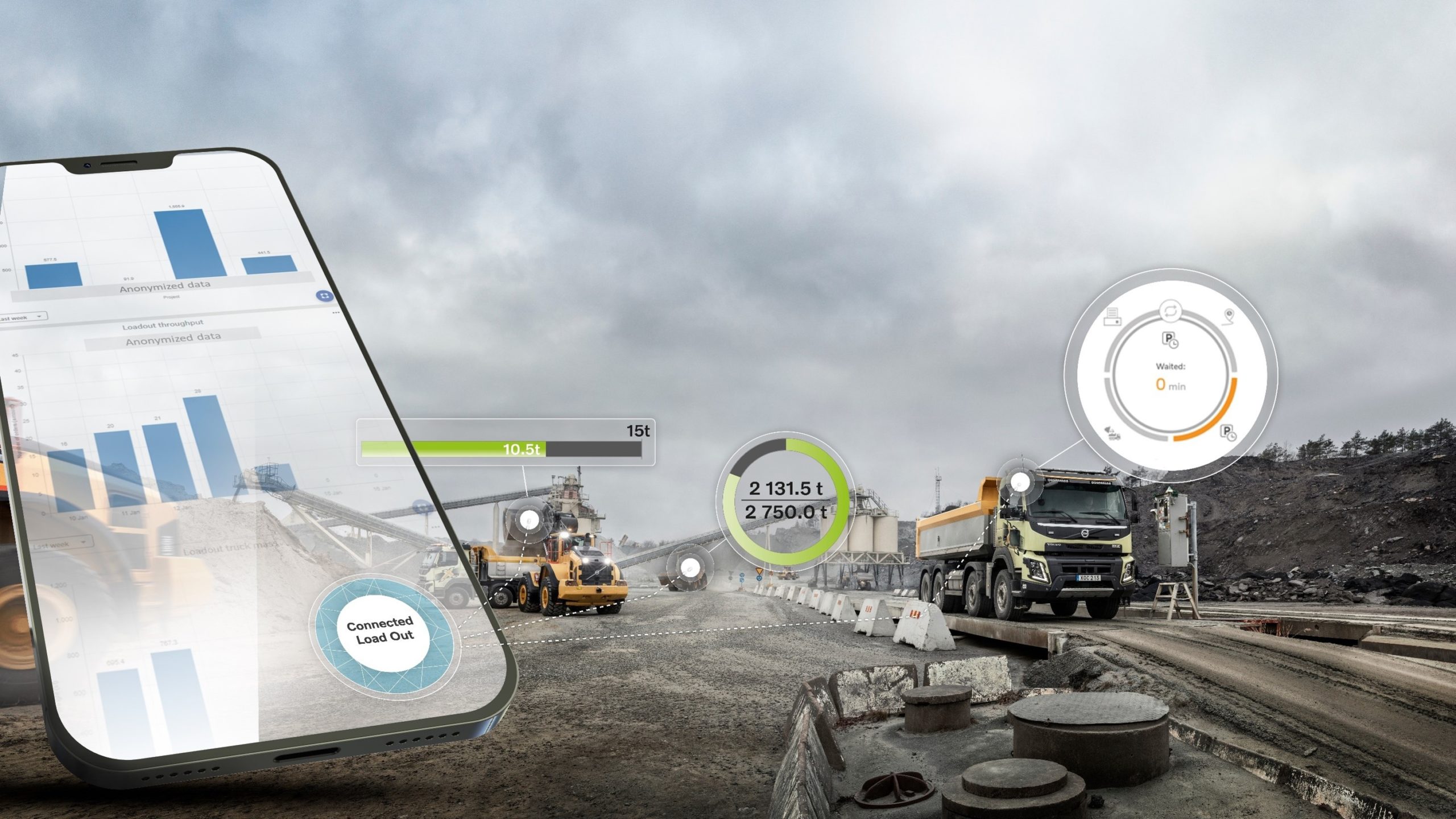 Available on subscription in select markets across North America and Europe, Connected Load Out is designed to improve the efficiency and productivity of the load out process by connecting the loader operator, site office and trucks. It is a digital solution for Volvo wheel loaders with Load Assist and On-Board Weighing and Volvo excavators with Dig Assist On-Board Weighing.
The traditional load out process includes a lot of unplanned work, manual handling and administration, something that affects the work in a non-productive way. Connected Load Out addresses the pain points that truck drivers, machine operators and quarry managers face with the current load out process. It reduces administration and miscommunication by digitalising orders and load tickets as well as improving visibility, enabling sites to become more productive. And with a more efficient load out process, fuel consumption is lowered, which results in both cost savings and reduced CO2 emissions.
Cecilia Jonsson, Product Owner, Global Load Out Services at Volvo CE, says: "We at Volvo CE continue to develop intelligent solutions that help our customers streamline operations and maximise efficiency. With Connected Load Out, our customers can increase the productivity of their operations by digitalising the load out process, connecting the site office, loaders and trucks. This enables the site to plan ahead and match incoming orders with available loaders, delivering shorter wait times for trucks and ensuring the loaders are utilised in the most efficient way."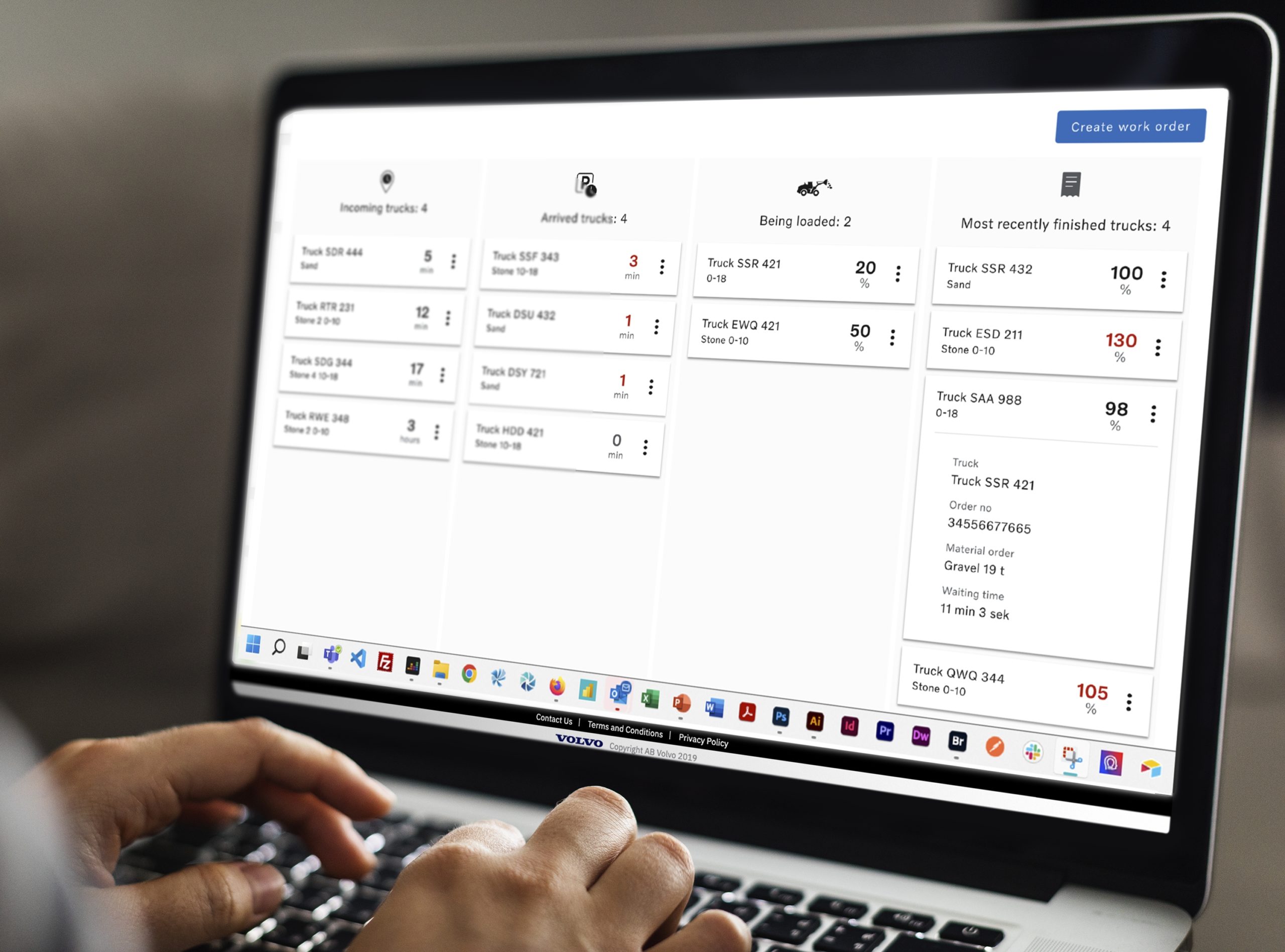 How it works
Connected Load Out is connecting and sharing information digitally between the wheel loader, site office and trucks in a quarry. Load orders can be sent directly from incoming trucks via the Connected Load Out app to the loader's Volvo Co-Pilot. The loader operator can see an estimated arrival time and what materials to load, helping them to plan their work more efficiently and reducing stress and the risk of errors. Once the truck enters the site, the loader operator receives a notification on the Volvo Co-Pilot and can call the truck forward for loading and dispatch. A load ticket is created and sent to both the truck and site office making the entire flow visible in the Connected Load Out Office Portal.
A must for job site visibility
Accessed via a cloud-based web application, Connected Load Out is available to view anytime and anywhere, providing a real-time view of the load out process on the work site. Load tickets and orders can be viewed on the Office Portal and the dashboard can be customised to show the most relevant information for your site and reports can be created.
What's more, by digitalising the process there's less risk of human error, less paperwork and more control, reducing stress and allowing everyone to work smarter.
To find out more about either Connected Map or Connected Load Out, please contact your local Volvo dealer.