Celebrating Metso's 50th anniversary in mechanical flotation
As Metso commemorates its 50-year legacy in mechanical flotation, its rich history and expertise as an OEM continues to position the company as a leader in its field. The journey from Outokumpu's pioneering efforts to Metso's continuous pursuit of innovation has shaped the course of mechanical flotation and undoubtably propelled the industry forward.
Flotation technology has played a pivotal role in Metso's history for over five decades. Evolving from humble beginnings at Outokumpu – and then further developed by Outotec – flotation has become one of the most critical phases of mineral processing operations.
In the 1970s, Outokumpu – a world-class mining company whose technology unit would eventually become Metso – was expanding its mines. When doing so, it realised that the flotation cells available at that time, which were a maximum of 2 or 3 cubic meters in size, were not big enough for its operations. Naturally, the company decided the only way to get such large and reliable processing equipment was to develop it independently. So, Outokumpu did – and large flotation cells entered the market, revolutionising the way valuable minerals are separated from ore.
"It's funny because, in those days, there were articles written about how Outokumpu has developed something so big and unnecessary that nobody else will ever actually need or use it at all," Antti Rinne – VP, Flotation at Metso, says. "But, eventually, mines started to process bigger tonnages and, as an outcome, needed that bigger equipment – and Outokumpu was the only company selling these sizes. At that time, it was a very new market."
Since then, the industry's use and perception of flotation technology, as well as its place in the flowsheet, has evolved. Outokumpu's foresight proved visionary as mining operations and the tonnage of processed materials grew at an exponential rate.
Over time, declining ore grades and the need for higher production drove the industry to adopt larger and more efficient flotation equipment. Since valuable materials became scarcer within ore deposits, mining companies were forced to process larger quantities of ore to maintain production levels.
Throughout 50 years, environmental considerations and the pursuit of energy efficiency have also become paramount in the mining sector. Metso, in response to this evolving landscape, has developed innovative solutions that not only enhance performance but also contribute to sustainability goals.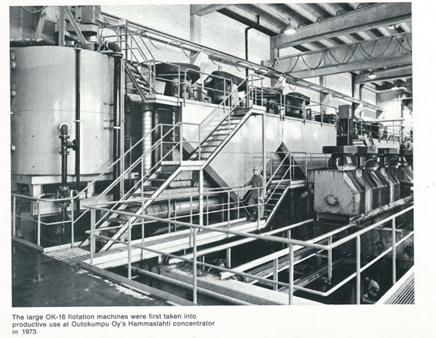 Back to the beginning: the development of OK cell
Outokumpu's groundbreaking innovation, the OK cell, was taken into commercial use in 1973 with a capacity of 16 cu.m. At this time in flotation history, tanks were square-shaped when viewed from the top. After that, a larger 38 cu.m version was introduced, as demand for even larger tanks quickly escalated.
In the past, flotation halls would house numerous smaller cells, typically around 1-3 cu.m in size, with multiple mixers in each row. In today's flotation operations, this number has significantly decreased. Instead of having rows of 12 or more, there are now only a few larger cells, typically with rows of five to eight. This shift has been driven by various factors, including the high operating and maintenance costs associated with maintaining numerous smaller cells and the lower recovery rates achieved. Simply put, maintaining a smaller number of larger cells allows for easier maintenance and better overall performance.
The transition from smaller cells to larger ones offers operational and economic advantages, as the cost-effectiveness and performance of larger cells surpass those of their smaller counterparts. By utilising fewer but more efficient and well-maintained cells, operations can optimise their processes and achieve higher recoveries, ultimately enhancing profitability.

During development of larger flotation cells, the team at Outokumpu noticed an obstacle. Due to practical considerations in mechanical engineering, square-shaped tanks posed challenges in terms of load-bearing capacity at the corners. As a result, the entire industry shifted to round-shaped tanks. Thus, the TankCell brand was born.
Transforming the industry with TankCell® technology
"TankCell is a great example of our history in flotation, since we still have this registered trademark," Rinne says. "Everybody who talks of TankCell flotation cells, no matter who is manufacturing them, is speaking of our technology. We remain the original and leading provider of TankCell technology."
Since its inception in 1995, Metso's TankCell flotation cells have boasted the world's best flotation performance, offering a wide variety of cell sizes, currently ranging from 5-630 cu.m. The extensive range of cell sizes enables compact and cost-effective plant designs, even for high-tonnage operations. Fewer units result in significant savings in construction costs, piping, cables, instrumentation and auxiliary equipment.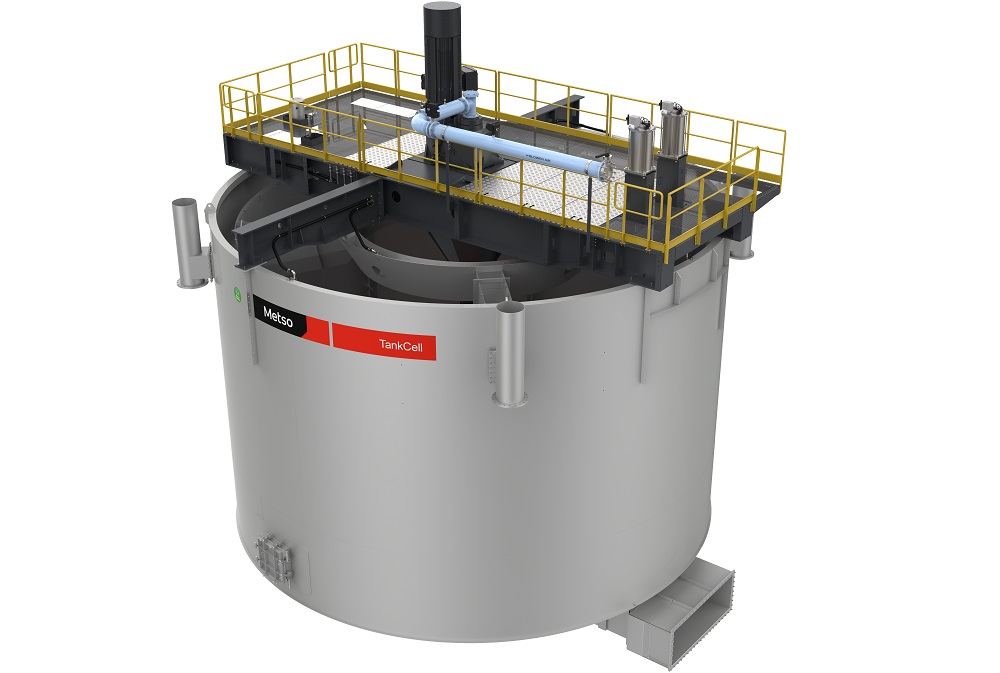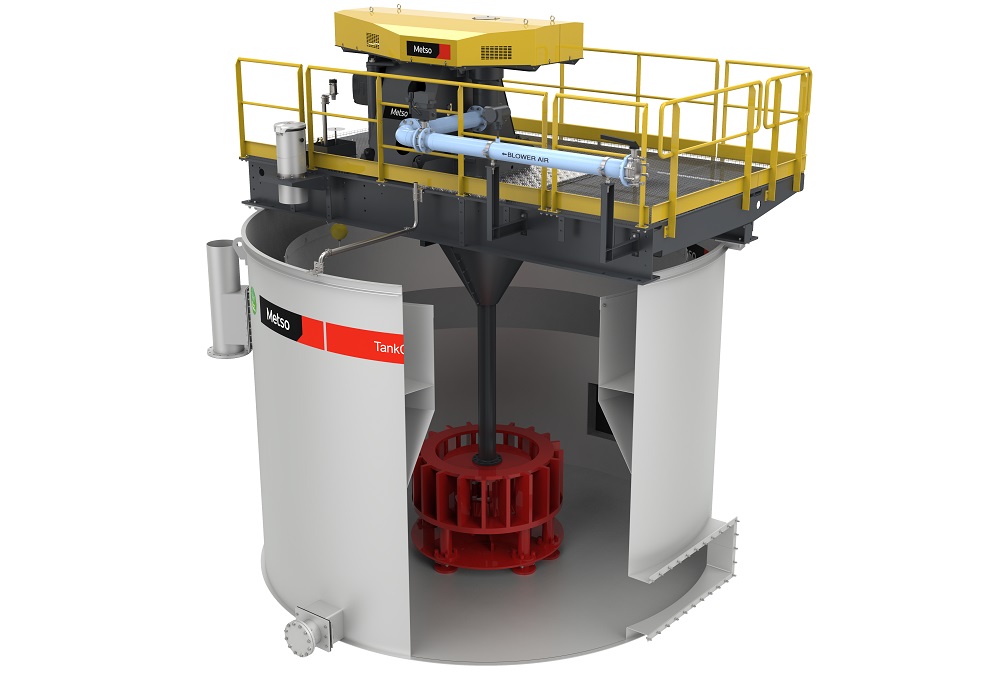 These larger cells offer operational advantages, with fewer units to maintain, resulting in faster maintenance and lower unit costs compared with a large number of smaller devices.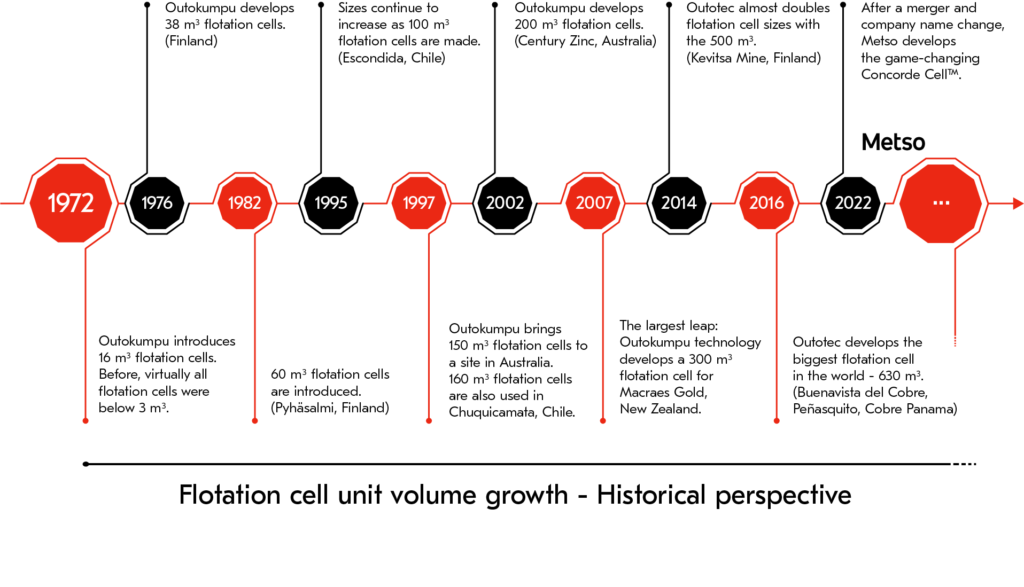 TankCell's evolution has seen the introduction of progressively bigger sizes. Starting with 100 cu.m cells, Metso has continually expanded the range, with the largest 630 cu.m cells introduced in 2016. The market has witnessed incremental size increases, meeting the growing needs of mining operations.
"Our development from a historical perspective has quite a linear increase," Rinne says. "Now, the biggest cell is almost 20 times larger than the original 38 cu.m. We have been continually increasing every few years to meet the demands of the industry."
Due to the modern evolution of TankCell technology, Metso's capability to conduct flotation circuit modelling and simulation has also developed. Nowadays, flotation circuits are often designed and optimised with an in-house HSC simulation tool, enabling optimisation of total flotation cell volume and other key flotation parameters.
A FloatForce® to be reckoned with
Metso's evolutionary journey has led to the development of game-changing solutions like FloatForce®. Launched in 2005, FloatForce represents a new generation mixing mechanism. This innovative technology significantly enhances flotation hydrodynamics. By maintaining optimal mixing at higher air dispersion rates, this inevitably results in improved metallurgical performance.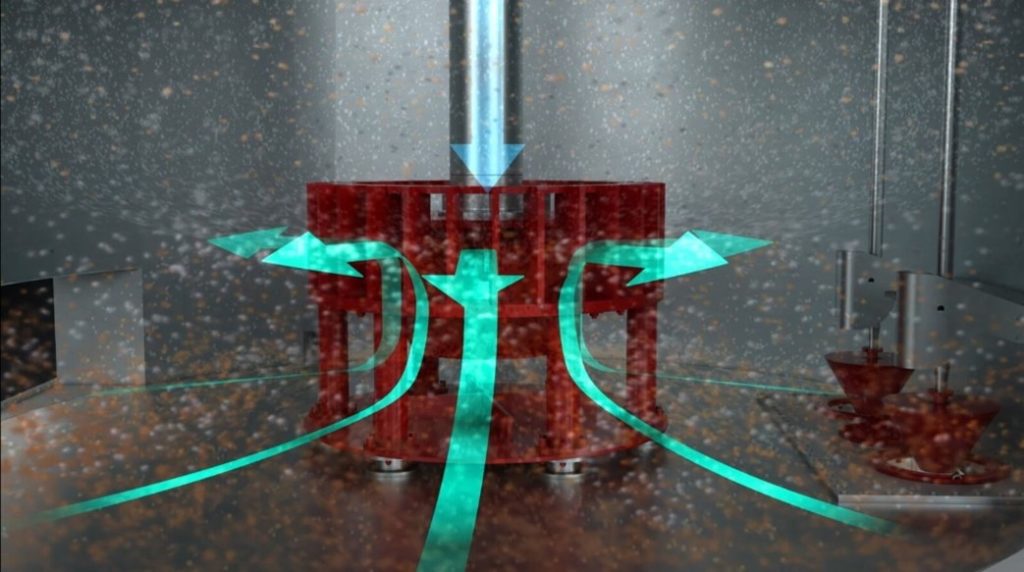 "FloatForce was a major breakthrough when it launched," Rinne says. "The initial target was only to improve the metallurgical efficiency of the equipment. But, ultimately, it is the environmental advantage that is truly groundbreaking. When we brought in the TankCell with the FloatForce mixing mechanism, customers had up to 30% savings in energy consumption."
By enabling mining operations with enhanced performance, energy savings and heightened recovery rates, Metso's FloatForce has proven to be a transformative solution that not only generates higher profitability but also contributes to a more environmentally responsible mining sector.
Reaching unachievable recoveries with Concorde Cell™
As previously highlighted, Metso has been at the forefront of groundbreaking innovations that have revolutionised the flotation industry. Among these game-changers, Metso's Concorde Cell stands out as a significant milestone, entering the market as recently as 2021.
As ore grades continue to decline, mining operations face the challenge of grinding materials finer to separate valuables from non-valuables. However, excessive fines pose recovery challenges, leading to losses in valuable minerals. Following Metso's extensive R&D, the Concorde Cell has emerged to recover unachievable fine and ultra-fine particles. Thus, increasing profitability while reducing operating costs, energy consumption and water usage.
This patented technology – the first of its kind – is tailored for finely disseminated and complex orebodies that were once considered inaccessible. For optimal results, it is best when used in conjunction with TankCell technology, as both are part of Metso's Planet Positive offering and ensure unmatched metallurgical performance.
"Combining the well-proven TankCell technology with Concorde Cells is a low-risk and high-benefit approach," Rinne says. "The cell produces very high shear and extremely fine bubbles, which increases recovery in particles under 20 microns."
Despite being the newest technology in Metso's flotation portfolio, it has already been deployed at several operations globally.
Upgrading older cells for maximised recovery
Metso's developments in flotation cell technology also enable upgrading and retrofitting of older flotation equipment for enhanced performance. These advancements not only extend the lifespan of existing equipment, but also align operations with environmental and safety standards, ensuring long-term viability and compliance.
Shaping the evolution of flotation
Metso's 50-year anniversary in mechanical flotation is a testament its OEM expertise and continuous pioneering. Along with the immeasurable benefits of the technologies, the company's commitment to advancing the overall processing chain while incorporating sustainability metrics sets it apart from competitors.
"This is why Metso can provide something that nobody else can," Rinne says. "As of right now, I would say the vast majority of mechanical flotation cells sold annually draw significant inspiration from the foundation laid by Outokumpu's original blueprint."
Since flotation is a continuous process, maintaining high availability and efficiency is crucial. In this aspect, the mechanical reliability of equipment plays a significant role, and Metso has been unrivalled in this domain. Its equipment has consistently delivered easy and fast production ramp-up, exceptional uptime, efficient production and maximised customer profitability.
As Metso celebrates five decades of excellence, the company's dedication to research, development and customer-centric solutions solidifies its position as an industry trailblazer. With a history of customer loyalty and a commitment to ongoing improvement, Metso is ready to embrace the future, setting new standards and evolving the landscape of mechanical flotation technologies for years to come.
Looking ahead, Metso aims to continue pushing the boundaries of flotation technology. With a focus on developing automated systems for optimising circuits, Metso is positioned to use in-house capabilities to make a transformative impact. From leading the industry to learning from its history, that's why Metso is the partner for positive change.