Derrick's reliable and productive screening solutions
Derrick® Corporation has pioneered the development of wet and dry fine screening solutions to serve diverse industries throughout the world for more than 70 years. Our commitment to unmatched quality, combined with vertically integrated product design and a culture of continuous improvement throughout our organisation, has led to the well-recognised long-term reliability and productivity of Derrick products.
Derrick first introduced the gold processing industry to abrasion-resistance and non-blinding polyurethane screens in the early 1980s. Following initial contributions to advance gold processing technology, Derrick has continued to develop new, high-capacity screening equipment. Our efforts have focused on reducing operational expenditure (opex), developing new patented technologies, and minimising maintenance and footprint to reduce environmental impact – all of which contribute to a favourable return on investment.
Our screening solutions provide leaching circuits with technology that leads to efficient gold recovery and demonstrate our firm commitment to advancing gold processing technology. These solutions include trash screens, urethane interstage screens, carbon sizing screens, dewatering screens, tails safety screens and other processing stages. All equipment incorporates Derrick's strong commitment to personal safety by minimising touchpoints.
Derrick now offers its latest innovation – Trilogy™ surface technology – as our most advanced screening system. Trilogy is composed of individual thermoplastic components that may be assembled into various configurations for added flexibility. This new innovation from Derrick can increase gold recovery and reduce operating cost.

Derrick's patented technologies can enhance productivity and profitability in your gold recovery operations!
Derrick Corporation has, once again, redefined high capacity, high efficiency, fine particle wet screening with the introduction of the SuperStack®. With eight decks operating in parallel and an innovative Front-to-Back (FTB) tensioning system, the SuperStack has a demonstrated capacity up to three times that of the best fine screens currently available. All this added capacity comes with only a slight increase in the space required per machine, significantly reducing the total capital and installation cost as well as opex for any screening installation.
The FTB screen tensioning system, which tensions the panel in the direction of flow rather than side to side, results in more effective use of screen area and increased capacity. In addition to increasing productivity, the tensioning system reduces screen panel changing time by 80-90% compared with side-to-side tensioning. A full range of Derrick Polyweb® urethane screen panels are available for the SuperStack, from 53 to 1,000 μm with slotted openings. An optional re-pulp spray system introduces free water into replaceable rubber wash troughs to help undersize material pass through screen openings.
Dual oversize launders (one per side) and a single undersize launder eliminate the need for a large hopper, minimising height requirements. Each feeder has an easily removed front cover to facilitate maintenance and debris removal. Custom designed inlet pipe configurations are available from Derrick if needed to meet equipment layout requirements. The Flo-Divider™, which equalises flow from the feed source to each deck, is available in a number of discharge outlet configurations from two-way to 16-way.
Dual vibratory motors are positioned directly over the upper screen frame to deliver linear vibratory motion to all eight screen decks. The motors have an internal oil lubrication system that eliminates the need for a separate lubrication system, while providing long-term maintenance-free operation and low sound production.
The Trilogy surface technology, SuperStack, Dual Pool 800 Series linear motion machine, G-Vault urethane interstage screen and PRISM 3D urethane interstage screen will all be on show at Derrick's MINExpo INTERNATIONAL 2021 booth (booth: 1937) come September 13-15 in Las Vegas.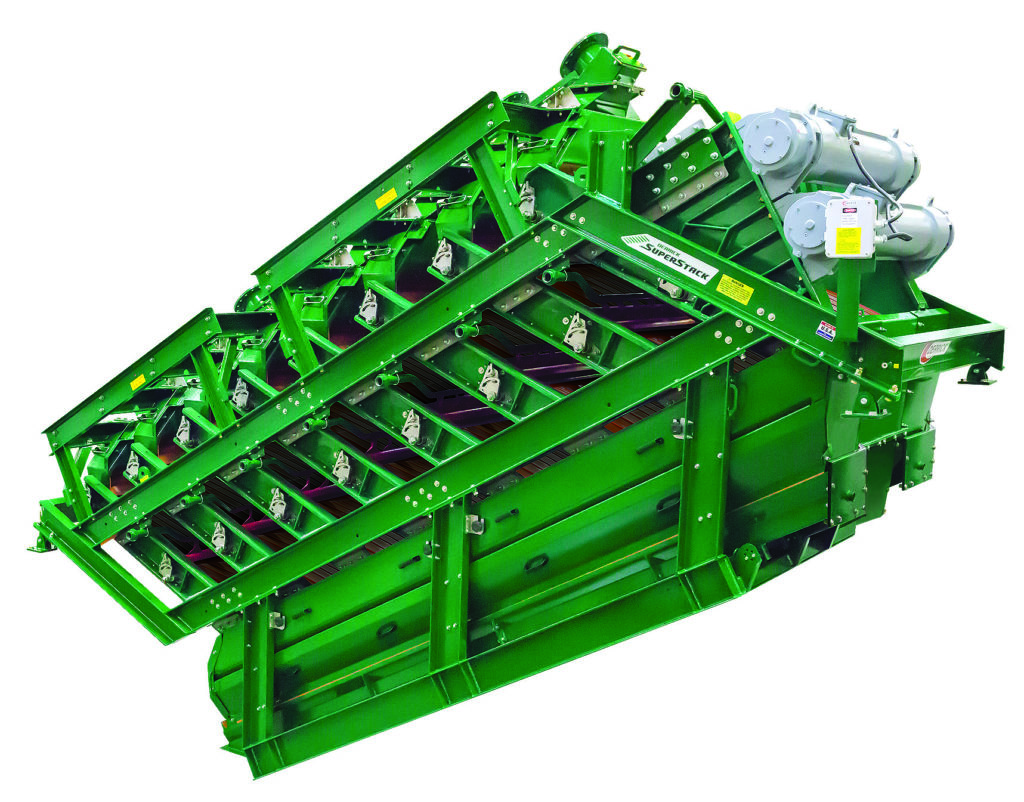 With eight decks operating in parallel and an innovative Front-to-Back tensioning system, the SuperStack has a demonstrated capacity up to three times that of the best fine screens currently available, Derrick says