Elphinstone Mining Equipment Solutions
Elphinstone Pty Ltd is an authorised Caterpillar Original Equipment Manufacturer (OEM) and a leading manufacturer of quality products for the global underground and surface mining industries.
The Elphinstone product range includes specialised underground support vehicles and surface mining solutions, including extended distance off-highway haulage trucks and water tanks to suit Caterpillar articulated trucks.
The company continues to develop a high-volume of new products, delivering over 270 machines worldwide to locations in Argentina, Australasia, Brazil, Canada, Chile, Democratic Republic of Congo, Guyana, India, Jamaica, Mali, Mexico, Mongolia, New Zealand, Peru, Russia, Saudi Arabia, South Africa, Suriname, USA and more.
Battery-electric vehicles (BEV)
Elphinstone has commenced the development of a suite of Battery Electric Vehicles (BEV) for underground hard-rock mining to address the increasing decarbonisation efforts and expectations of its global customer base.
Leveraging its existing portfolio of underground support vehicles, Elphinstone is developing the BEV prototype in collaboration with its customers and supply chain partners to produce them in its product development and manufacturing facilities.
As an authorised Caterpillar OEM, all machine sales, technical assistance and access to spare parts are available and supported through Elphinstone and the global Cat® dealer network.
Elphinstone WR810 and WR820 base platforms
Since the founder, Dale Elphinstone, started modifying Cat surface mining equipment to suit underground applications in 1975, the Elphinstone name has been synonymous with underground mining.
The Elphinstone® range of underground support vehicles includes agitators, delivery trucks, service trucks, water cannons, water tanks, motor graders and other specialised support equipment. There are two base platforms, the 20-t WR820 series and the 10-t WR810 Series.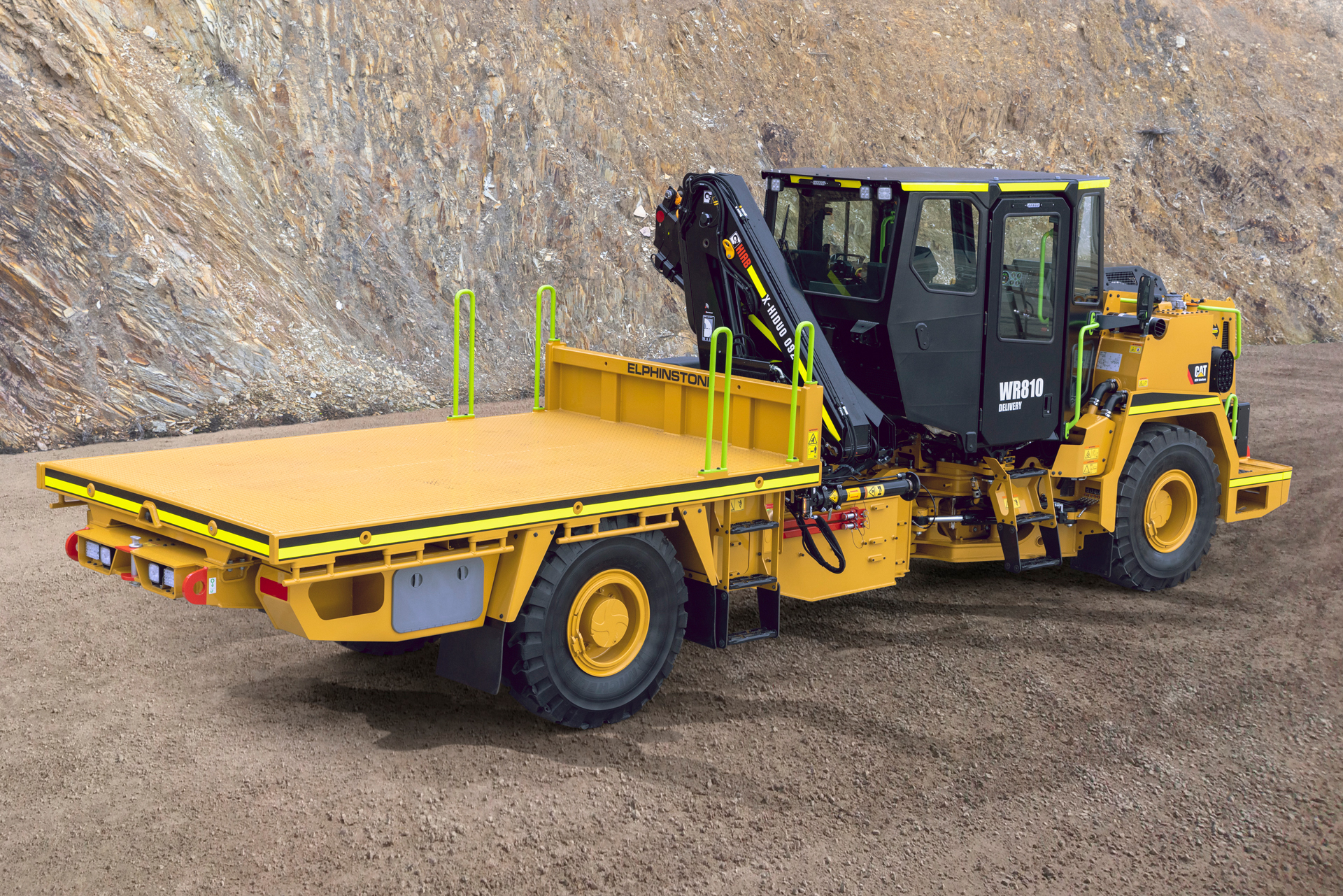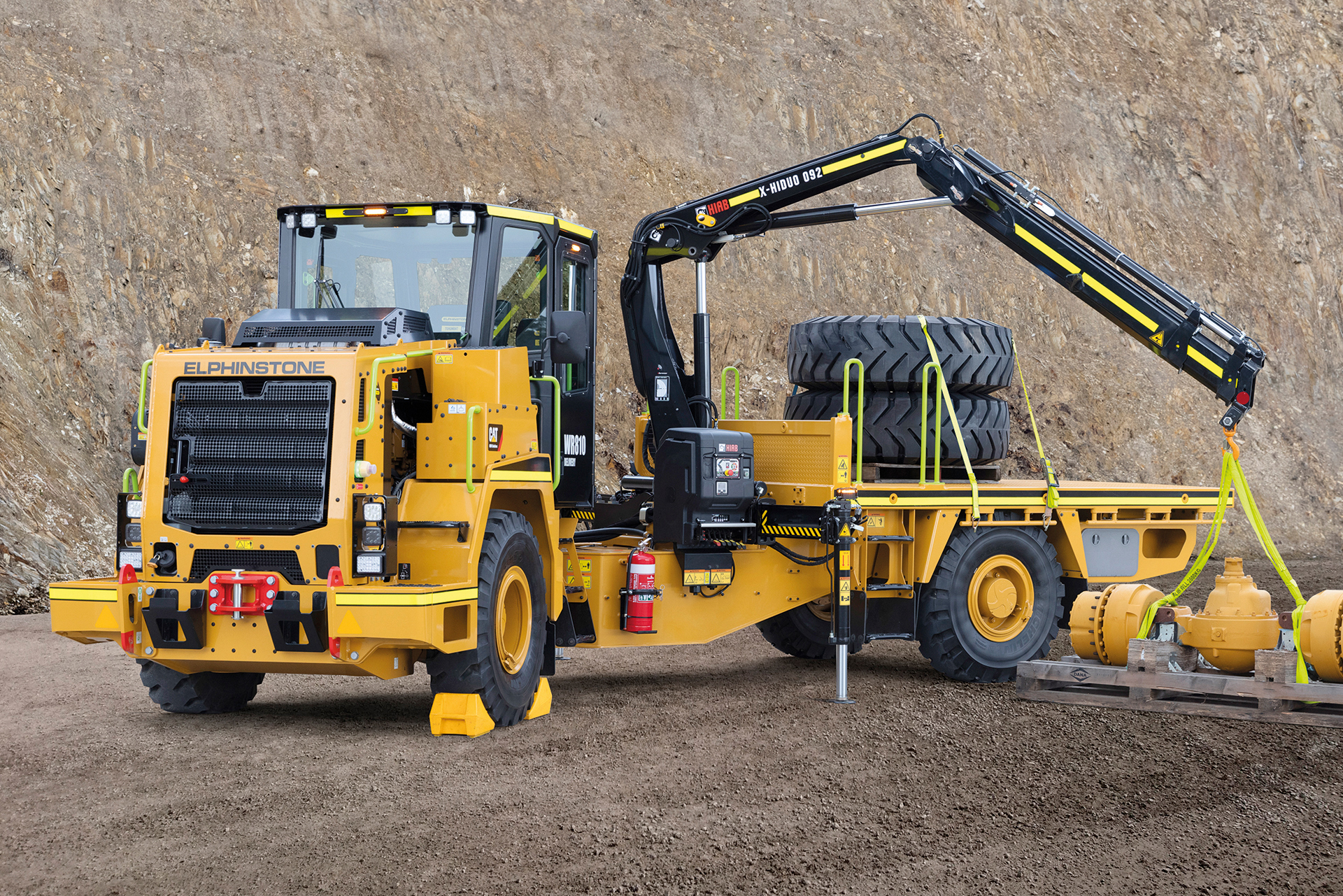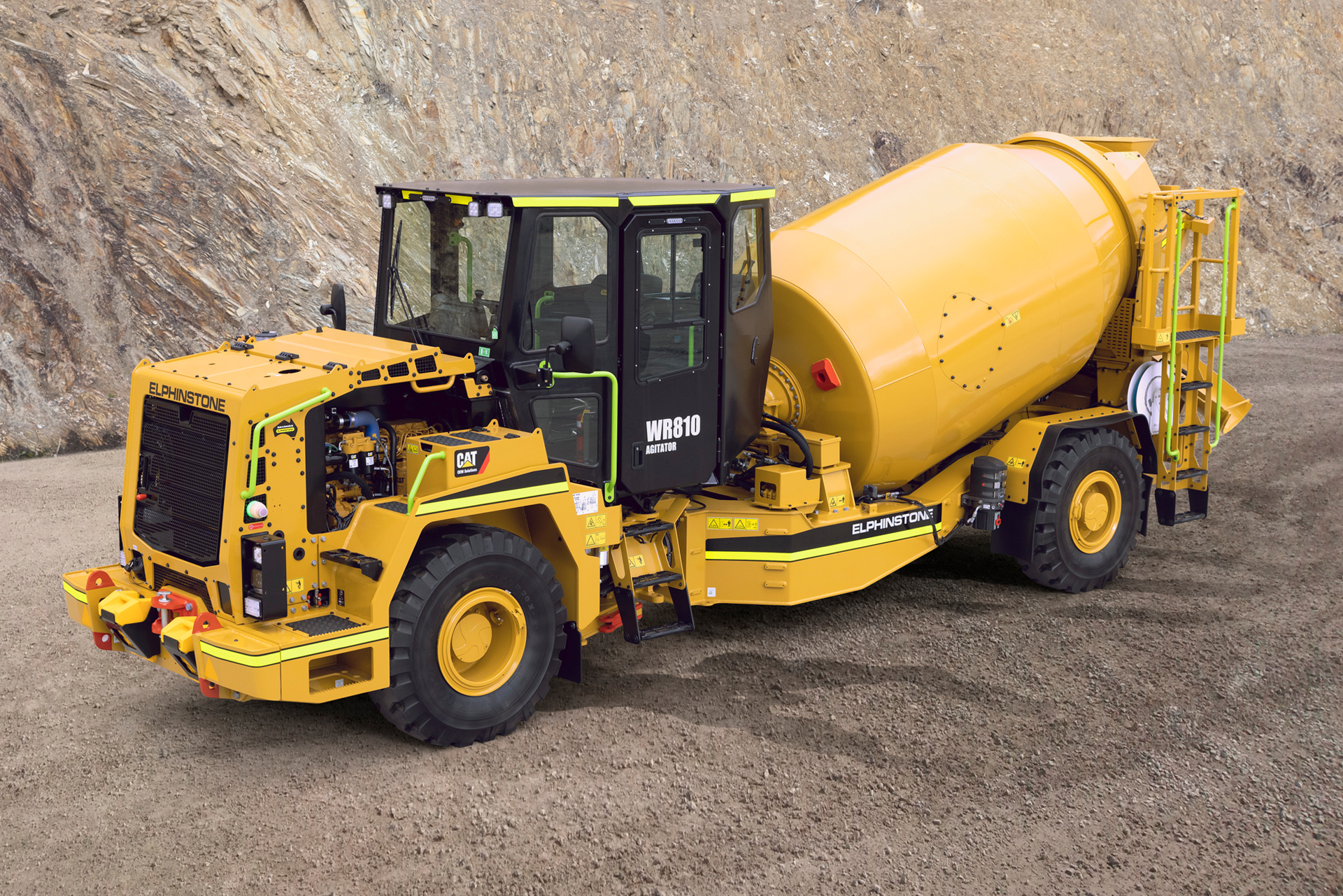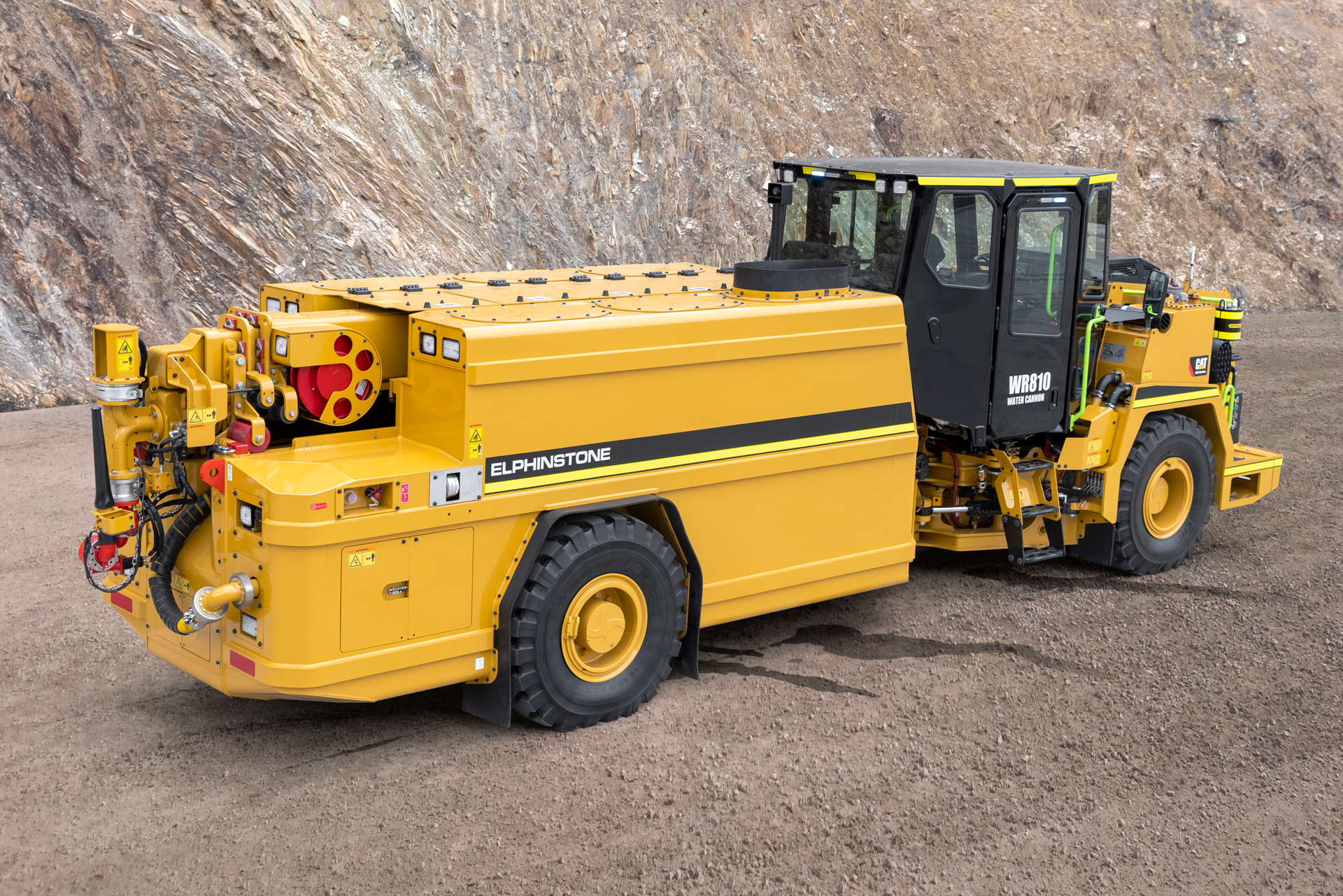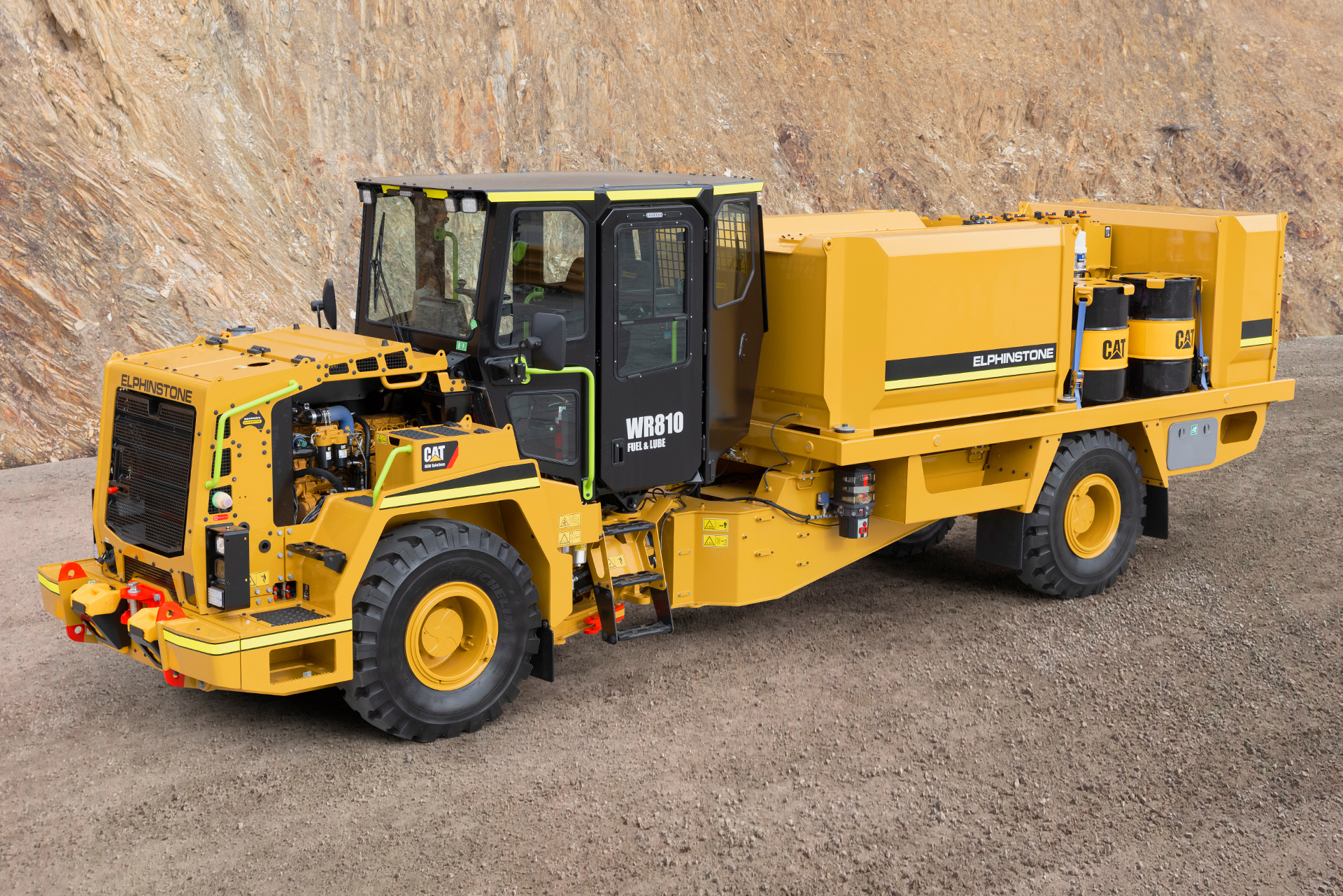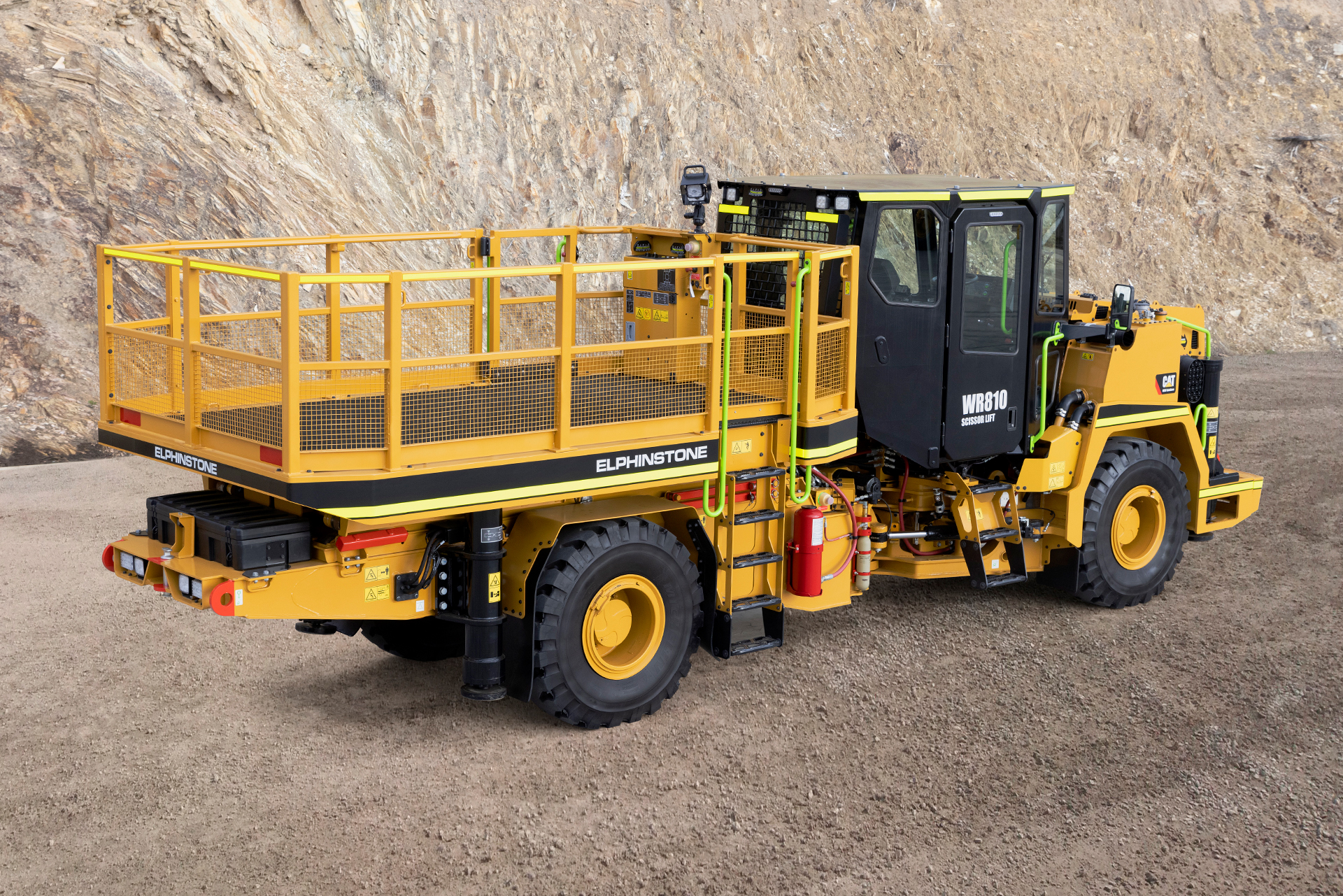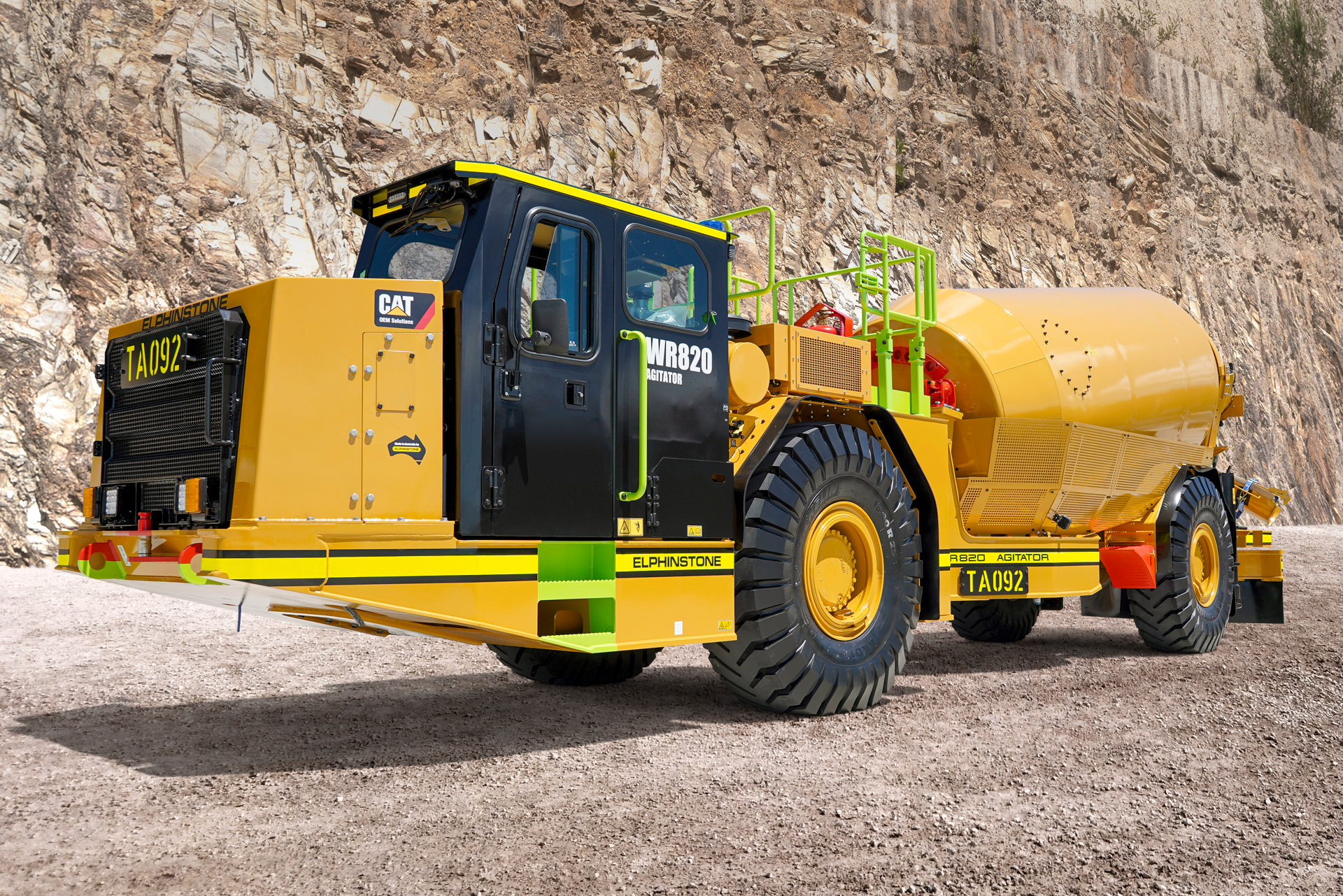 Engines and powertrains
At the heart of both platforms are proven Cat proprietary ACERT technology and the ADEM A4 control module to regulate the rail fuel injection solenoids, achieving emission requirements through controlled combustion rather than exhaust gas recirculation. Boosting each engine's performance is a turbocharger, fitted with a computer-controlled wastegate that allows higher boost pressures to be brought in earlier in the rev-range to increase useable bottom-end torque.
The WR810 features the C7.1 ACERT Tier 3 engine arrangement rated at 168 kW (225 hp) as the standard option for less stringent emission regulations. The C7.1 ACERT Tier 4 Final engine arrangement is optional, adhering to EU Stage V exhaust emission standards. The engine arrangement offers a dual horsepower configuration set at 151 kW (202 hp) for a higher performance rating. A reduced ventilation rating at 129 kW (173 hp) is possible through a simple software change performed by a Caterpillar dealer. The WR820 features the C11 ACERT Tier 3 engine rated at 242 kW (325 hp).
Matched to the engine in the WR810 is a Cat five-speed (three-speed reverse) transmission fitted with a lock up torque converter. The WR820 is fitted with a Cat six-speed (single speed reverse) power shift transmission – also with a lock up converter, which stops converter slip under certain load and engine speed conditions to increase road speed and reduce fuel consumption. While the rear axles are rigid mounted to the chassis for maximum load carrying capacity, the front axles in both series can be optioned with suspension, which provides supreme operator comfort at low or high speed.
Serviceability
Downtime during service and maintenance is reduced markedly on all Elphinstone vehicles due to clever engineering and design features, incorporated with service personnel in mind. Large, hinged engine enclosure doors make servicing easy and fast, as do removable floor and side plates.
Quick change air filters and 500-hour oil service intervals reduce downtime and keep machines in operation longer for greater productivity. A centralised onboard service centre includes fast fill, evacuation, and fluid sample points for analysis.
The 24 V electrical system features colour-coded wiring circuits with individual circuit breakers. The wiring is sealed to prevent dirt and moisture and enveloped in fire-resistant material. The onboard diagnostic system checks all critical machine functions for faults, with all data recorded for analysis.
Safety
Operator safety is a high priority in mining machine operations. Integrated into the WR820 and WR810 operator station is an ISO 3471:2008 standard ROPS and ISO 3449:2005 standard FOPS that offers protection to the operator.
Other safety features include fuel water separators made of non-flammable material, firewalls and heatshields, machine interlocks, centralised isolation points (engine disconnect switch, starter isolation switch, jump-start receptacle and fire system activation, if fitted), and an optional integrated fire suppression system.
Operator station
The WR810 operator cabin has been designed to seat three people in comfort and with exceptional visibility. Operator training is simple and safe with the trainer positioned next to the operator. In the working environment a three-seater cabin allows for the complete crew to go collectively rather than deploying an additional light vehicle for personnel transport. The operator cabin can be optioned as fully enclosed with climate control air conditioning and pressuriser to prevent dust ingress, if required. Various seat options are available from a mechanical suspension seat to an active suspension seat for premium operator comfort.
The machine controls are ergonomically designed and positioned, allowing the operator to control machine functions with minimal effort. This results in greater concentration on vehicle operation, with reduced operator fatigue. The transmission control for forward, reverse and gear range is located at close reach to the operator's right hand. Conveniently located and easy-to see gauges and displays make monitoring machine systems easy. The system provides critical machine data, and a three-level warning system alerts the operator of any abnormal conditions. An engine protection system is fitted that will shut down the engine if low engine oil pressure, low coolant level or coolant over-temperature conditions are experienced.
UG20K and UG20M underground graders
The role of the underground grader is to prepare and maintain haul and access roads with adequate drainage throughout the tunnel network. Quality haul road maintenance ensures all production, support and light vehicles can move freely in a safe and controlled manner with optimal efficiency. The added benefit is increased production equipment tyre and component life, and speed on grade.
In addition to Elphinstone's renowned operator safety and ergonomic features, a robust rear-guard provides rear protection whilst a front counterweight balances the machine.
An optional shortened gooseneck frame and moldboard improves the operation and manoeuvrability of the grader. The reduced wheelbase increases the turning radius with the standard articulation features of the grader. The redesign of the moldboard lift cylinders and exhaust complete the conversion to a low-profile configuration.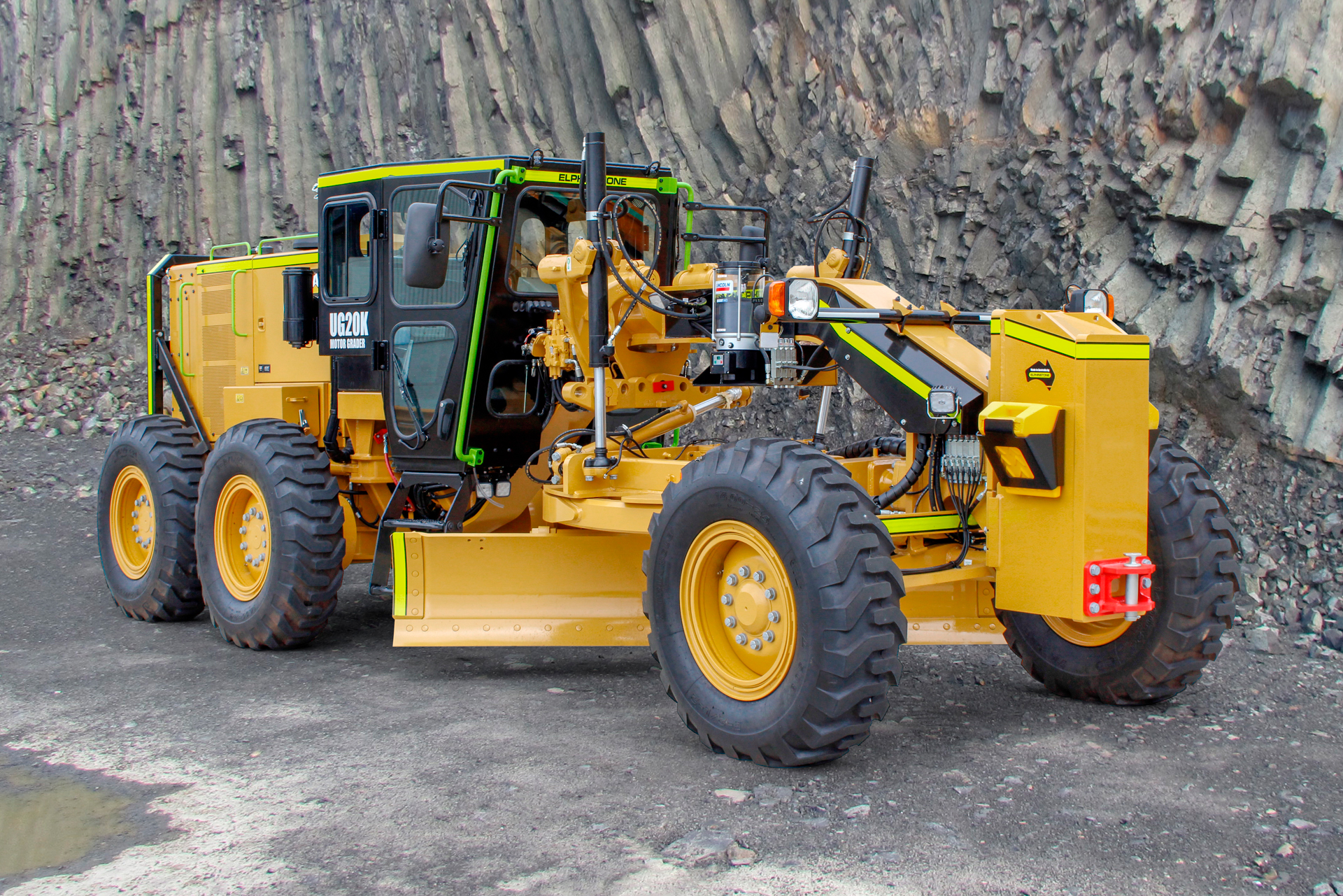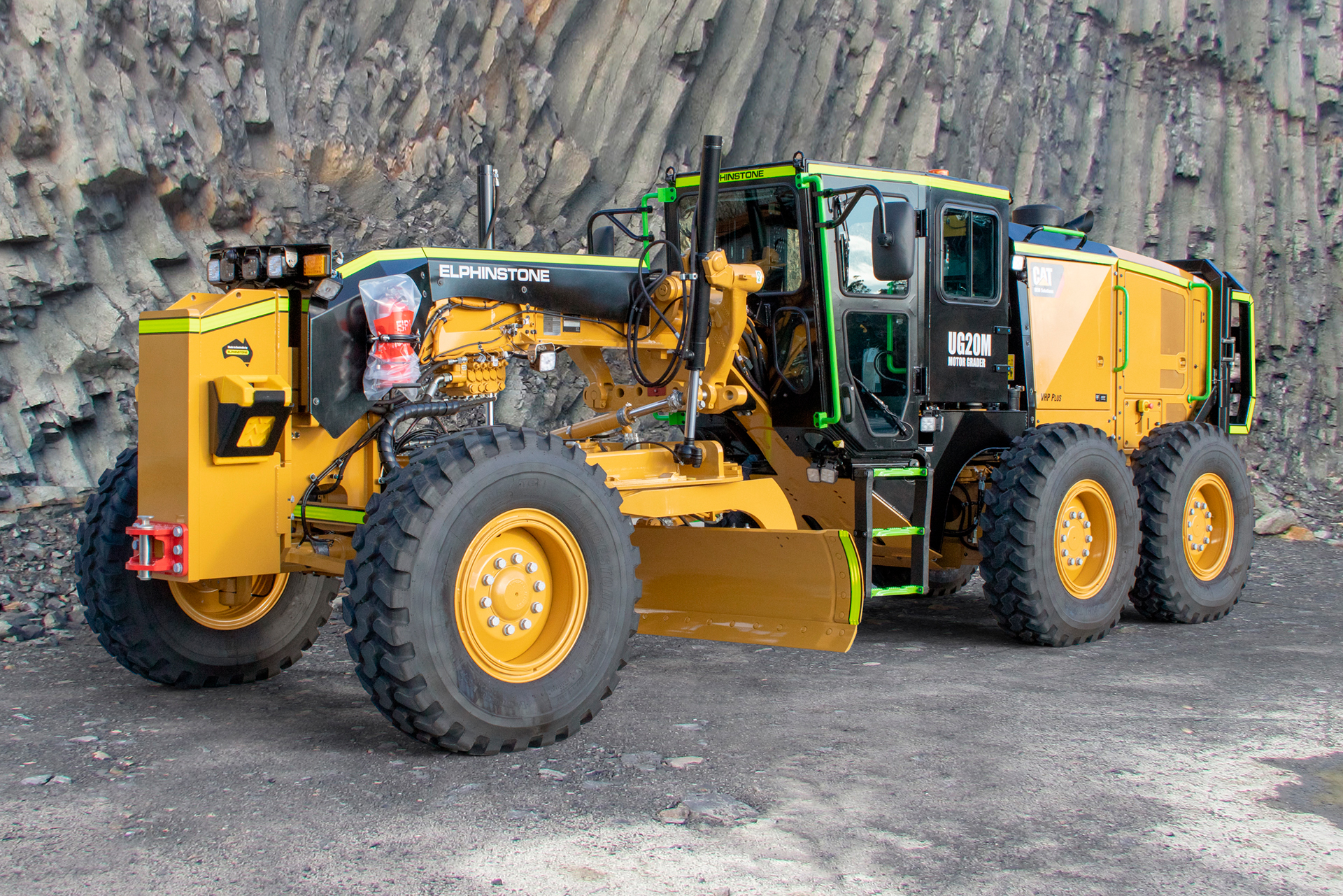 Haulmax 3900 series truck
The Haulmax® 3900 series truck is purpose-built for extended distance, off-highway and surface mining applications. The 3900 is available in three separate configurations, including ore haulage, service, or water cart, and, if required, a 160-t low-bed float. Designed to operate on cycles of approximately 50 km, the narrow width of the 3900 allows it to work on roads 15-m wide.
The 3900 series truck offers excellent traction and stability in soft and slippery operations. The combination of the truck's narrow width, long chassis, low centre of gravity and eight-wheel drive configuration provides safe and superior operator control. The 3900 features a hydraulically controlled brake system, with dry front and rear oil-cooled multiple disc brakes to offer fade-resistant braking in all conditions.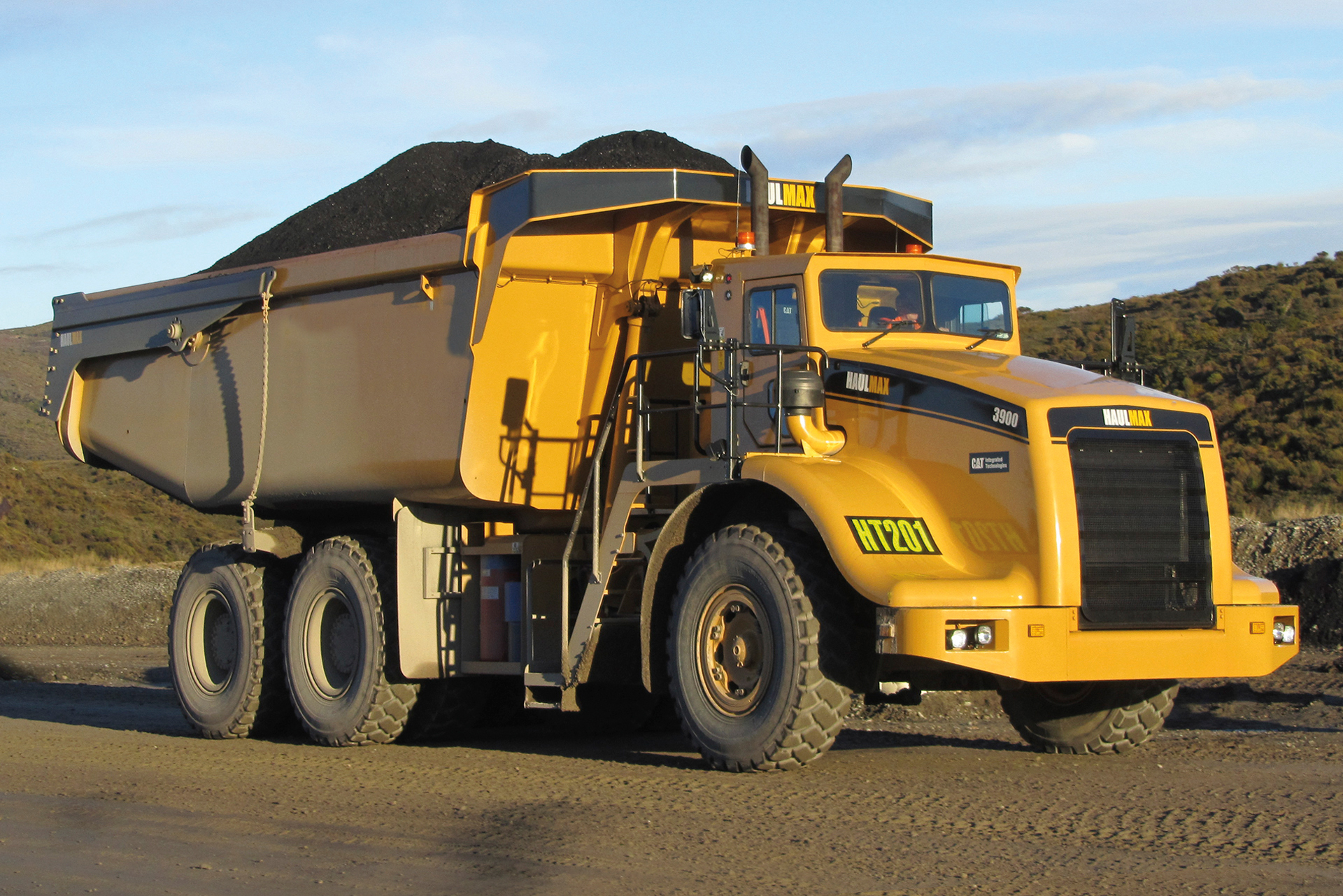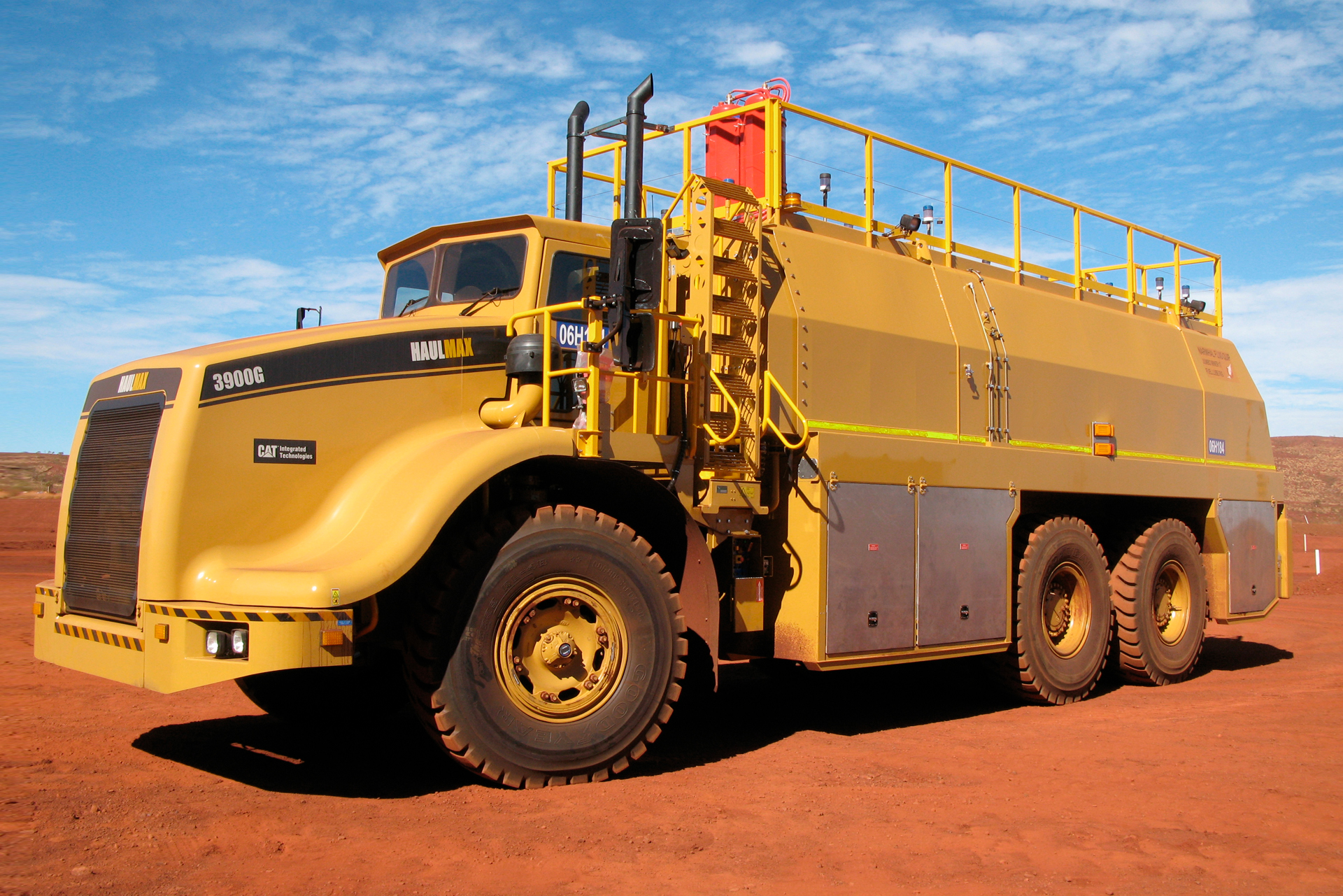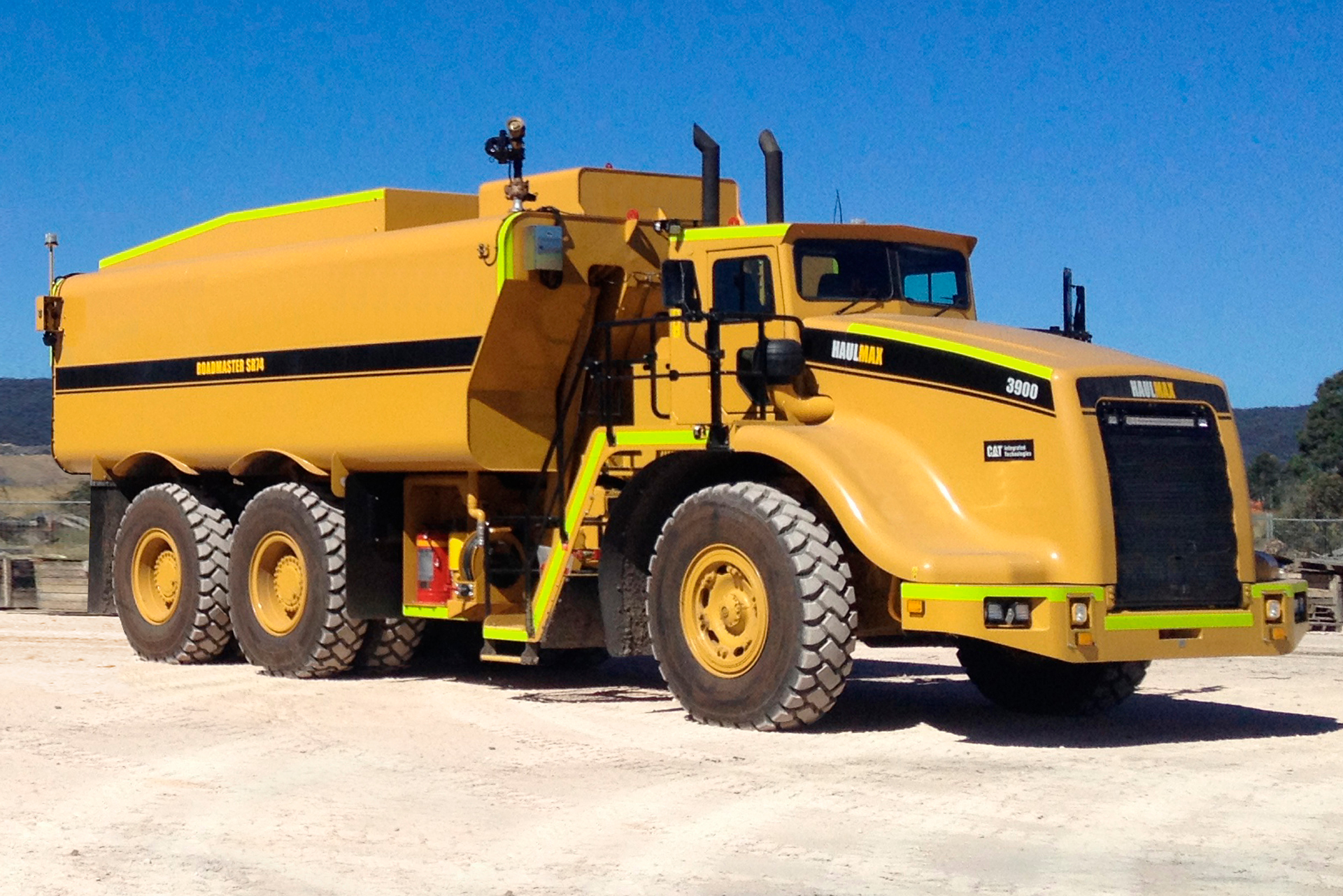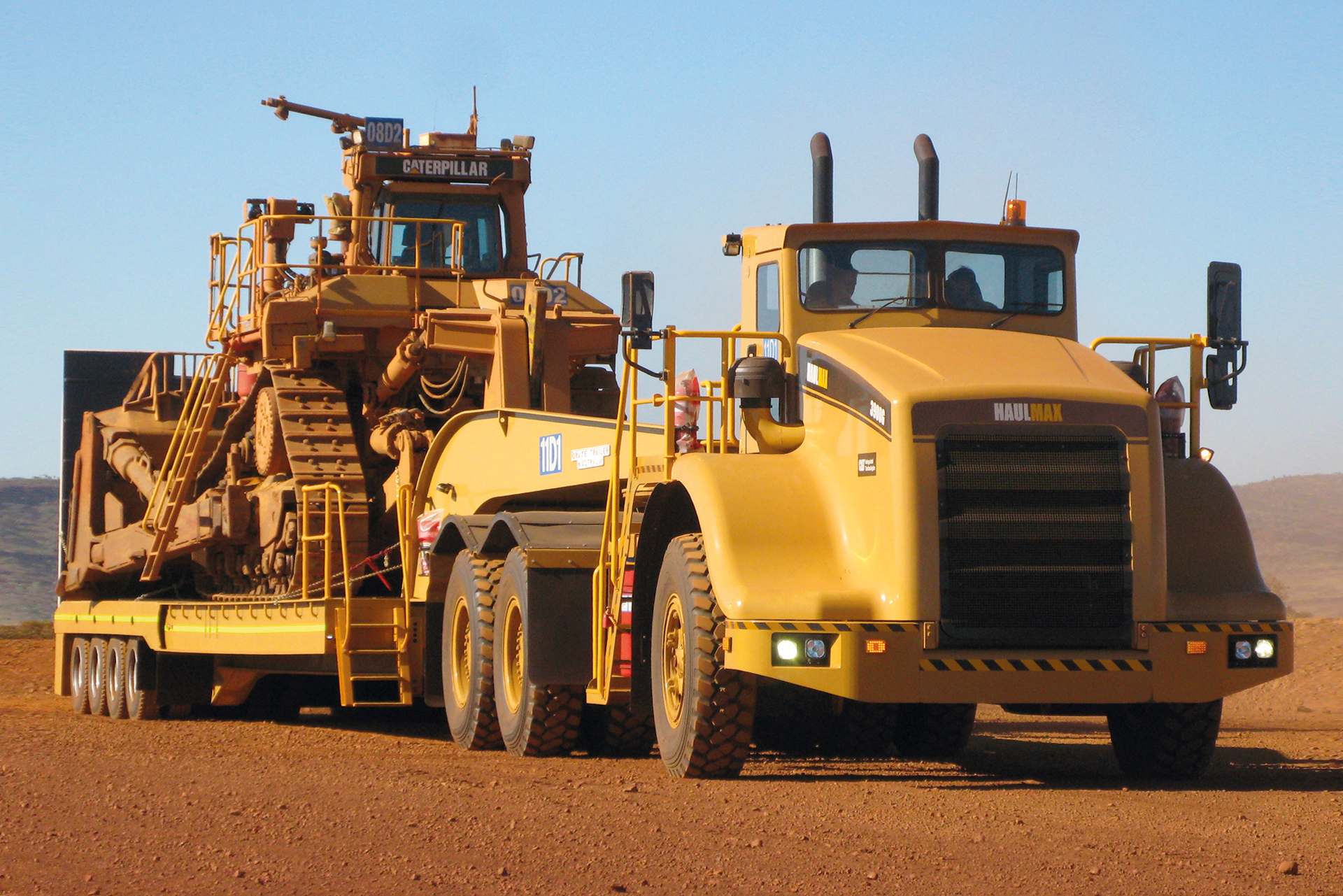 Elphinstone W35 water tank module
The Elphinstone W35® water tank module, designed to fit Caterpillar 740C, 745C and 745 articulated truck chassis, is utilised for dust suppression in the construction and mining industry.
The watering system features five fully adjustable and individually controlled spray head valves. Three are mounted horizontally on the rear spray bar and two vertically for side (batter) spraying.
The tank has a capacity of 35,000 litres, featuring top fill points with hinged trash screens, upper covers for easy inspection and cleaning, and ground level fill point with quick connect couplings.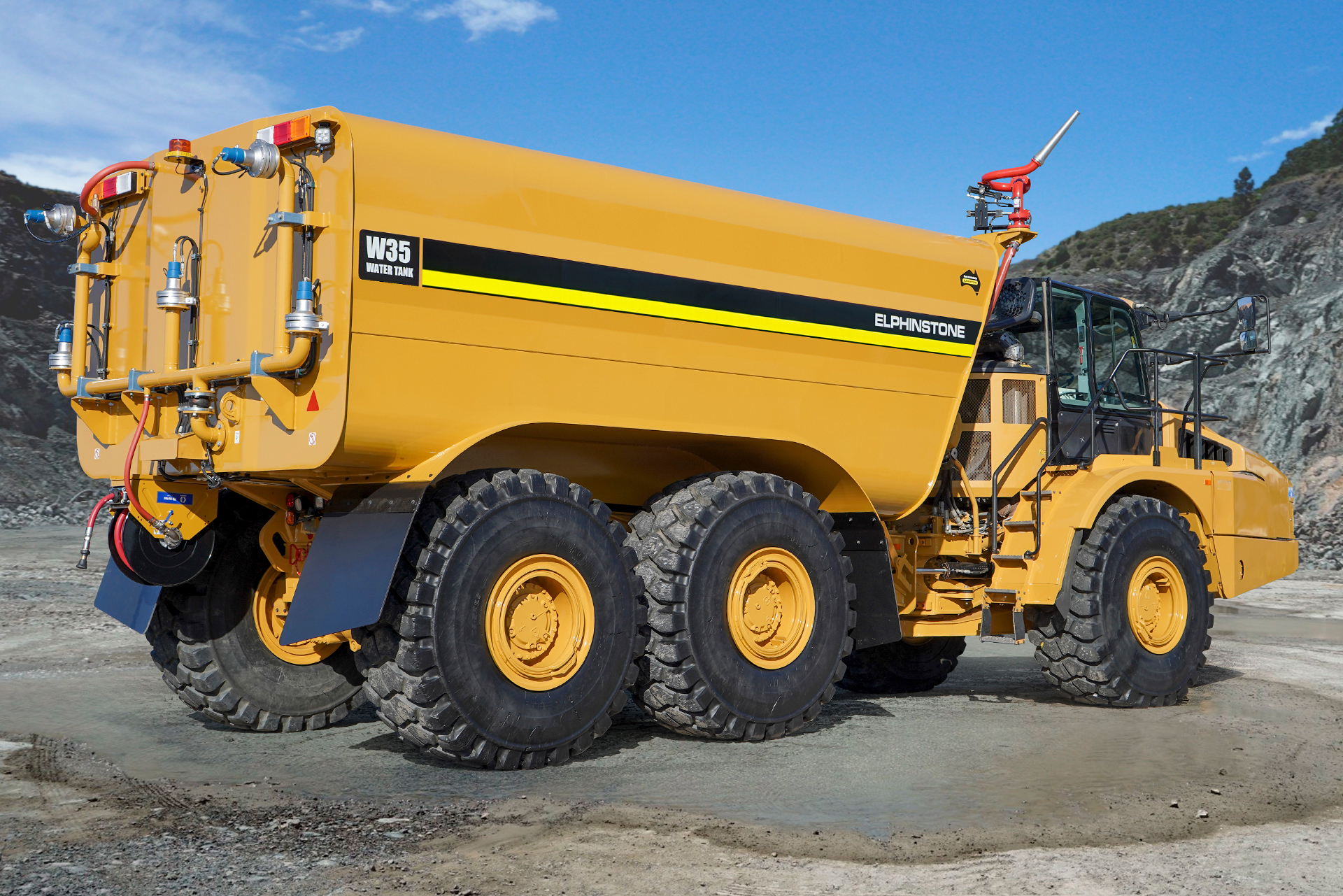 Elphinstone electrical harnesses and Ezi Boots
Elphinstone is a producer of cable assemblies and components for underground and surface mobile equipment used in the mining and explosive industries.
Wire processing and identification are achieved via a Komax Z633 wire processing unit. Current cable assemblies are sleeved in conduit, spiral wrap, cloth tape, or varflo sleeve which conform to MIL-I-23053, or over braided via our Herzog harness braiding machines. Elphinstone has two braiding units – the KB 1/48 100 – which covers a range of 8-20 mm and the KB 1/24-100, which covers a range of 25-40 mm.
All harness assemblies are tested for correct circuit continuity before delivery to the end user with visual inspections to ensure compliance with supplied prints.
Elphinstone Ezi Boots are produced in a wide range to suit Deutsch Series Connectors. Ezi Boots are designed to protect the cable harness at the connector termination point from elements such as dust, mud, dirt and paint. EZI Boots also provide support for the wiring, as well as additional support for pressure washing and steam cleaning.