Forging a clear path to a more sustainable future
Around the world, mining operations are investing in initiatives promoting sustainability, environmental consciousness and corporate social responsibility (CSR). Komatsu is committed to helping its customers accomplish their sustainability goals – not only from a productivity and profitability standpoint but also in promoting environmental leadership. While Komatsu's roadmap for more sustainable mining extends years into the future, the company is actively making strides now to help its customers reduce the impact of their operations on the natural environment.
Komatsu's sustainability roadmap prioritises reducing carbon emissions from the use of its products to helping customers achieve carbon neutrality and greenhouse gas reduction targets and to advancing the use of alternative power sources. The company envisions continuing to expand the power options available to customers and providing equipment that adapts to future technologies. While fossil fuels are still an important power source, equipment in Komatsu's current and near-term product roadmap will alternatively be able to draw power from hybrid sources, trolley assist, electric and batteries.
Creating value together 
Collaborations with customers are key to the rapid advancement necessary in the industry; matching the pace of innovation with the sector's sustainability needs. In August, Komatsu announced the formation of the Komatsu Greenhouse Gas (GHG) Alliance with founding members Rio Tinto, BHP, Codelco and Boliden. Together, the members of this alliance are actively collaborating on product planning, development, testing and deployment of the next generation of zero-emission mining equipment and infrastructure.
The future of haulage
In line with Komatsu's sustainability roadmap, the company is testing a variety of power sources to rapidly advance reduced emission equipment solutions. The GHG alliance's initial target is advancing Komatsu's power-agnostic truck concept for a haulage vehicle that can run on a variety of power sources including diesel-electric, electric, trolley (wired), battery power and hydrogen fuel cells.
Komatsu has several parallel development programs under way for testing power sources and technologies required on the final truck platform. One of these development platform trucks was on display at Komatsu's booth at MINExpo 2021 in September. After MINExpo, the truck returned to Komatsu's proving grounds in Arizona for further testing before it will eventually be torn down and transformed into the next configuration needed for progressing on-going testing of lithium batteries.
Komatsu plans to develop an entire portfolio of power agnostic haul trucks to support customers' needs. Priorities for development in each size class will be determined by market needs, with the first target being models greater than 240 tons (218 t). The company's ultimate vision is a truck that can adapt to all power sources over time, making it the high-value choice during times of future power uncertainty and regulatory requirements. This will enable a natural progression from diesel to zero-emission batteries, trolley or hydrogen fuel cells.
Powering progress through switched reluctance technology
Komatsu is already working toward a sustainable future through its switched reluctance (SR) technology, which the company pioneered in the mining industry. Machines like the new WE1850 Gen 3 wheel loader leverage Komatsu's SR hybrid drive system, which captures power during braking and retarding, stores it and then uses it to boost power when needed to increase productivity with minimal fuel usage.
The WE1850 Gen 3 and some of the company's other products also leverage the additional capacity of KESS (Kinetic Energy Storage System), further expanding the sustainable benefits achieved. Combined, SR and KESS have the ability to provide up to 45% less fuel consumption, 35% less CO2 and a 10-15% total cost of ownership advantage versus a comparable diesel drive machine.
Sustainability in underground mining
Komatsu is also expanding its use of electric and battery systems for underground mining, building on the more than 50 years of experience the company has producing equipment that leverages these power sources in applications including coal, salt and other industrial minerals. The next generation of solutions includes the company's new BH-18A battery hauler with new lithium-ion battery technology, which was also displayed at MINExpo 2021. Lithium-ion batteries can power a hauler up to 136,000 ft (41,453) per charge, vs 115,000 ft for lead-acid, and can charge in less than 2.5 hours.
For underground hard-rock mines, driving toward reduced emissions and working toward electrification is a high priority. To support that goal, Komatsu is leveraging a mix of battery and electric in its recently introduced driller and bolter offerings. The company's jumbo drills and bolters have a modular, battery-electric driveline with the utilisation of battery power for tramming and electric power for drilling, potentially allowing the complete elimination of diesel power source in underground hard-rock drilling and bolting solutions. And the new MC51 cutting machine, designed to advance more sustainable mining methods by reducing the amount of equipment required to get to the orebody and eliminate emissions, is fully electric, with less ventilation needs for optimal sustainability.
By understanding the needs of society, applying 100 years of mining experience and collaborating to bring new innovative solutions to the forefront, Komatsu is working toward a sustainable future.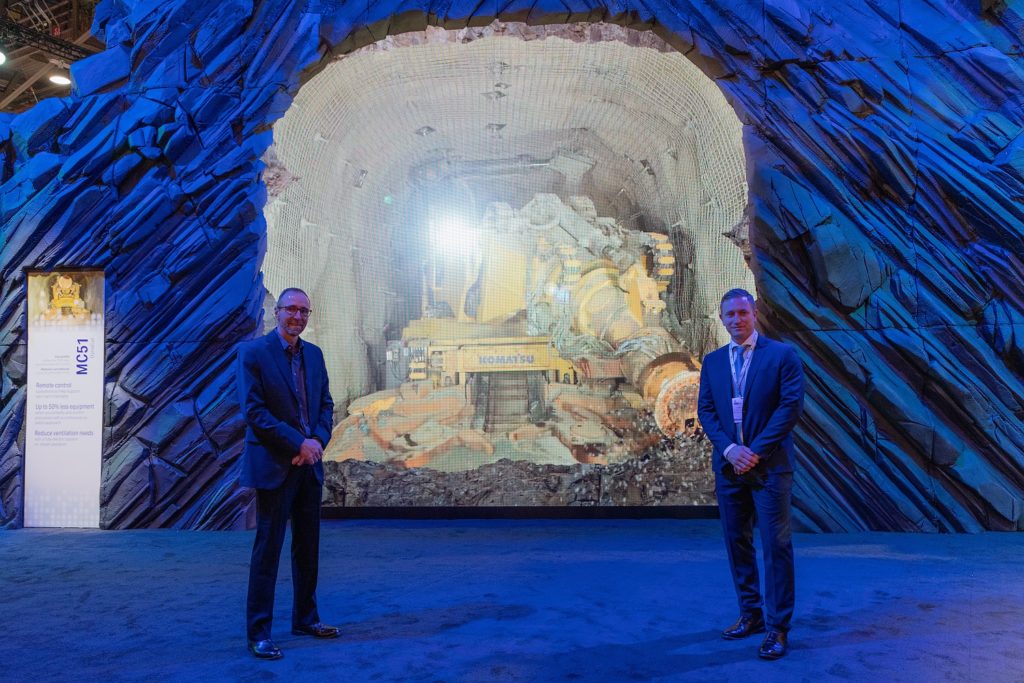 MINExpo content on demand
Did you miss MINExpo International 2021, or simply want to relive the experience? Visit komatsuevents.com to watch presentations, technology demos, get a 3D booth tour and explore other event highlights, all available on demand.