Your new hard-rock mining solutions provider
Hard-rock mining operations require flexibility and machines that can evolve with your operation. As teams work in increasingly challenging environments on deeper deposits, you need ways to lower your costs, speed up production and mitigate the environmental challenges inherent in the work you do.
The mining industry is rapidly adopting new technologies, and Komatsu works to help customers stay on the cutting edge by delivering solutions that leverage artificial intelligence, augmented reality, automation, remote operation, robotics and more to help you reach your business goals. Our suite of forward-thinking hard-rock products are designed for the challenges of tough mining environments and include jumbo drills, bolters, drifters, LHDs, trucks, and a full line of raiseboring tools and blasthole drilling tools.
Collaborating with customers and forging partnerships to advance beyond what was previously possible, Komatsu supports your operation by leveraging decades of experience and expertise, with a dedicated focus on safety, quality and reliability. Our new hard-rock mining products are a direct result of invaluable customer feedback. Read on to see how customer needs have become industry solutions: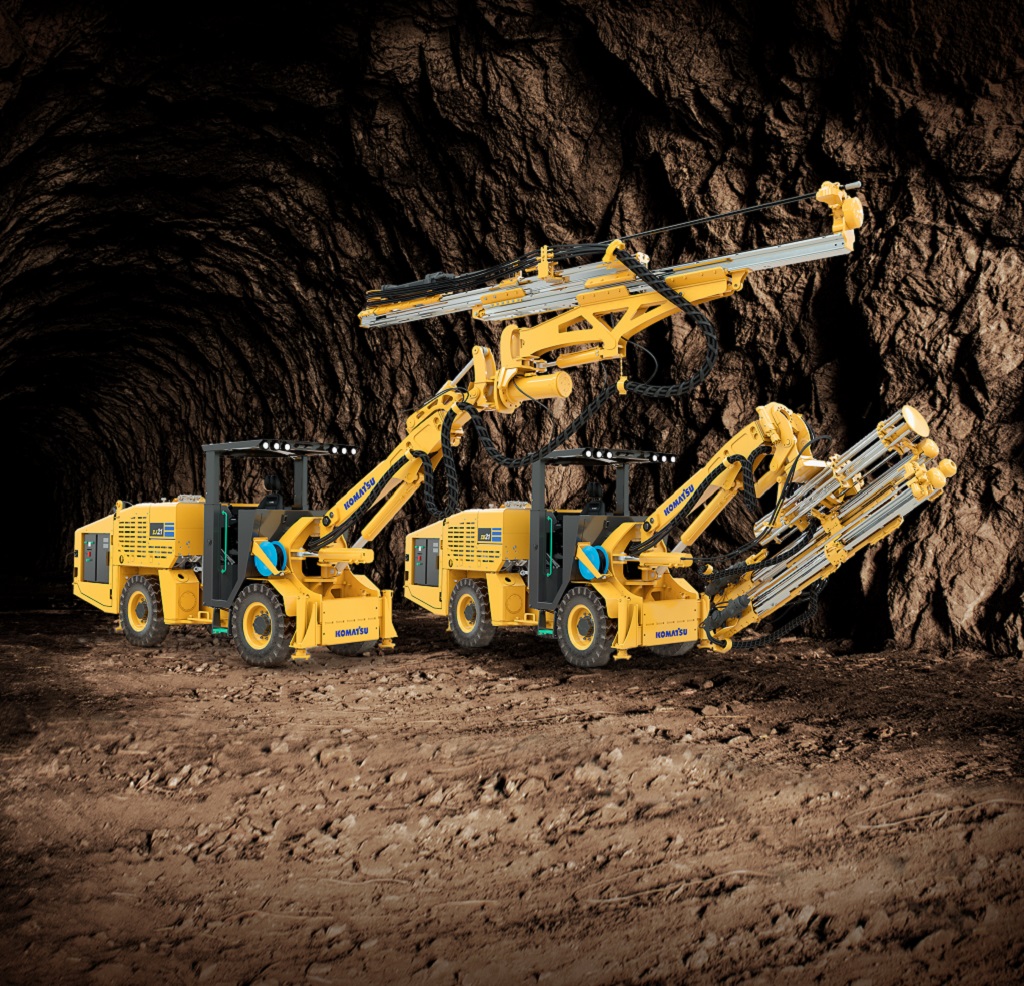 Common platform lets you seamlessly convert from jumbo to bolter
What if you didn't have to invest in two different machines to cover your demands for drilling and bolting? To support customers' needs for flexible fleets there's now a common platform between bolter and jumbo offerings from Komatsu that lets you seamlessly convert from one to the other. The new Komatsu ZB21 underground bolter, and the Komatsu ZJ21 jumbo drilling machine have a platform with 100% design commonality from the rear skirt to the outer boom structure.
Beyond the industry-first common platform, the controls of the ZB21 bolter and ZJ21 jumbo are similar too. The hydraulic pilot control system with universal bolting and drilling controls, simplifies user training and adoption across both models. Platform universality offers advantages with job site efficiency, leveraging common parts, service and maintenance.
Bring intelligence to your hard-rock operation
Trying to make inroads into automation at your operation? The ZJ32Bi medium-class development drill has an "organically developed" computer control system. (The "i" stands for intelligent.) With semiautonomous functionality and built-in operator augmentation features when in manual drilling mode, the computerized, smart platform features two-joystick functions, onboard manuals, parts books and semiautonomous operation. Modular controls, a self-diagnostic system and ground monitoring are designed for precision. Features such as fixed bit and actuator roll around can augment the skills of even the most experienced operators.
To address the significant downtime chafed and damaged hoses on the boom can cause, we've created a hoseless boom that completes all fluid and communication transfer inside of the boom cylinder. The ZJ32Bi jumbo with hoseless booms eliminates the need to account for hoses in our automation algorithms. A hoseless boom also eliminates wear between the inner and outer boom tubes to improve drilling accuracy over time — offering a potential game-changer in terms of automation and productivity.
And since not every application may need a hoseless boom, Komatsu engineers have designed an unconventional "conventional" boom offering. Leveraging smart hydraulics, this solution reduces the number of hoses to only six per boom, helping improve visibility. All sensors and electronics are integrated into the design, protecting the six hoses, yet making them accessible for maintenance.
Explore more
Want to learn more about these machines and other recent hard rock innovations from Komatsu? Check out the on-demand video from our recent virtual event "Explore beyond the surface: Innovations for hard rock mining." It can be viewed at https://mining.komatsu.
Our robust portfolio of products includes these innovative new additions as well as former Joy underground hard rock products now under the Komatsu brand; all connected to our vast global service and distribution network and supported by advanced technology to help optimise your hard-rock mining operations.