Robust biodiversity assessments reduce risk and maximise opportunities
Biodiversity disclosures represent an increasingly important aspect of Environmental, Social and Governance (ESG) reporting. Those companies with high ESG scores tend to have higher market value and are more attractive investment propositions (Refinitiv, 2020). Consequently, companies and their shareholders are recognising the need for rigorous biodiversity assessments and the ability to demonstrate positive biodiversity performance through an increasing range of certifications and disclosures (see table below). By setting commitments to avoid operating in protected areas and applying the mitigation hierarchy through evidence-based biodiversity action, companies can not only manage their risk, but also will soon have an opportunity to report positive biodiversity contributions in line with global biodiversity goals.
With the growing need to meet renewable energy goals as part of the urgent energy transition, mining companies also have a key role to play in delivering the minerals required for low-carbon technologies, such as wind and solar energy and batteries. However, many of the minerals needed for low-carbon technologies are found in developing countries and emerging economies, which exposes companies and their investors to additional biodiversity risk and the potential, if located in highly sensitive places, to result in stranded assets. Therefore, strategic mapping of environmental and biodiversity risks is crucial for the siting of new mining projects.
Mining companies have numerous dependencies on nature, in the form of ecosystem services that enable business continuity and the avoidance of biodiversity risk. Global trends of accelerating biodiversity loss represent an increasing risk for mining companies as recent analysis finds that over 40% of global mining activity occurs in regions that are experiencing a breakdown of the integrity of the environment. Consequently, ambitious biodiversity management to prevent the breakdown of ecosystem services across these locations is crucial for ensuring business continuity (ENCORE Biodiversity Module, 2022). Companies can manage their operational risk best by bolstering the ecosystem services they rely on, including mass stabilisation and erosion control.
The Integrated Biodiversity Assessment Tool (IBAT) can support mining companies and their investors to measure and manage biodiversity risk. IBAT is the world's most authoritative biodiversity tool, developed and maintained by the UN Environment Programme – World Conservation Monitoring Centre, The International Union for the Conservation of Nature, Birdlife International and Conservation International. IBAT currently supports over 14,000 users across more than 150 companies around the world to perform biodiversity assessments and screen the risk of impacting biodiversity across their portfolios or operations.
Hear from IBAT users:
"At Anglo American, we apply ecosystem-thinking in our management approach to address the interconnectivity of nature, our environment and the ecosystems in which we operate to deliver positive outcomes. We remain committed to the global objective of delivering positive biodiversity outcomes to ensure that the integrity of all ecosystems is enhanced, the rate of extinctions is reduced, and genetic diversity of species is maintained in line with the post-2020 Global Biodiversity Framework goals. This approach includes applying appropriate due diligence and assessment to identify, evaluate and report on our biodiversity related impact, dependencies as well as opportunities. IBAT provides an excellent pre-screening desktop resource to be used in these assessments focusing on species, habitats and legally protected and or internationally recognised areas of biodiversity importance. More recently, we have been using STAR to conduct site-specific assessments to identify actions that we can implement to deliver positive outcomes for identified threatened species. This is helping us develop and test site-based targets and indicators to support our Net Positive Impact journey and reporting on progress."
Warwick Mostert, Principal Biodiversity – Anglo American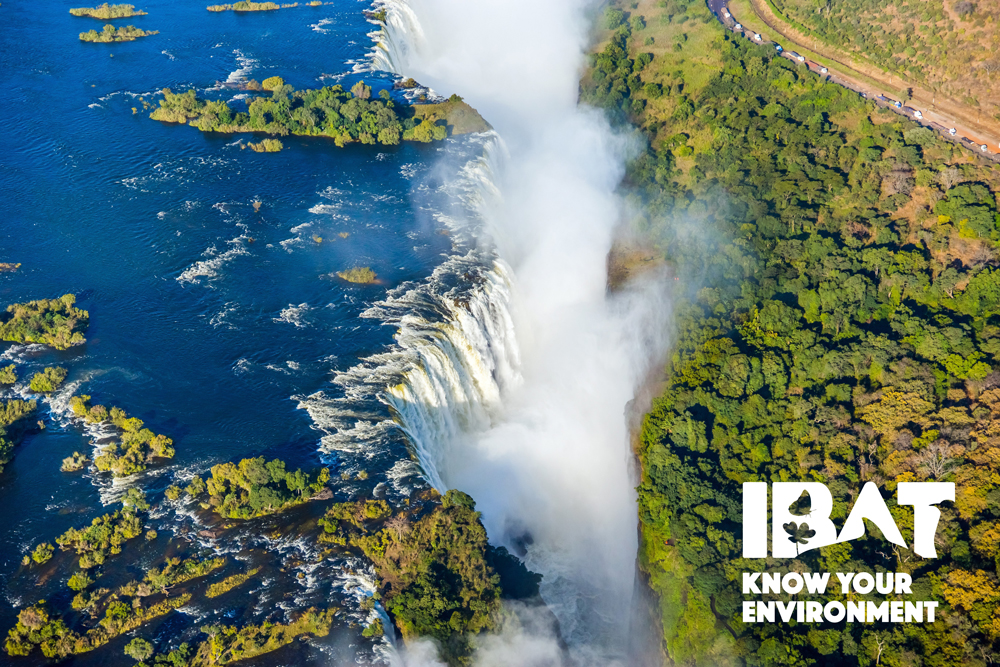 Foundation datasets for global biodiversity assessment.
Biodiversity risk screening requires an initial high-level and strategic approach, using robust and internationally relevant datasets. Best practice includes consulting the following datasets, which can be accessed under commercial licence through IBAT:
IUCN Red List of Threatened Species™ is the world's most comprehensive inventory of the global conservation status of biological species. Data can be accessed on distribution, threats, ecological requirements, and habitats of over 147,000 species; and on conservation actions that can be taken to reduce or prevent extinctions. Consequently, the IUCN Red List is also the foundation for The Species Threat Abatement and Restoration Metric (STAR), see below.
The World Database on Protected Areas (WDPA) is the most comprehensive global database of marine and terrestrial protected areas. The commercially licenced version of the WDPA in IBAT is fast-growing and currently contains more than 270,000 sites with updates issued monthly. Access to IBAT equips companies with the latest data through the aggregation of national and international designations into a global, one-stop-shop of protected area networks. Access to the WDPA ensures companies are ahead of national-level compliance when operating in or near protected areas.
The World Database of Key Biodiversity Areas currently includes the 16,500 most important places in the world for species and their habitats. KBAs include Alliance for Zero Extinction sites, which hold the last-remaining populations of 1,483 of the Earth's most threatened species. Protecting these sites is essential to preventing species extinction and avoiding biodiversity risk.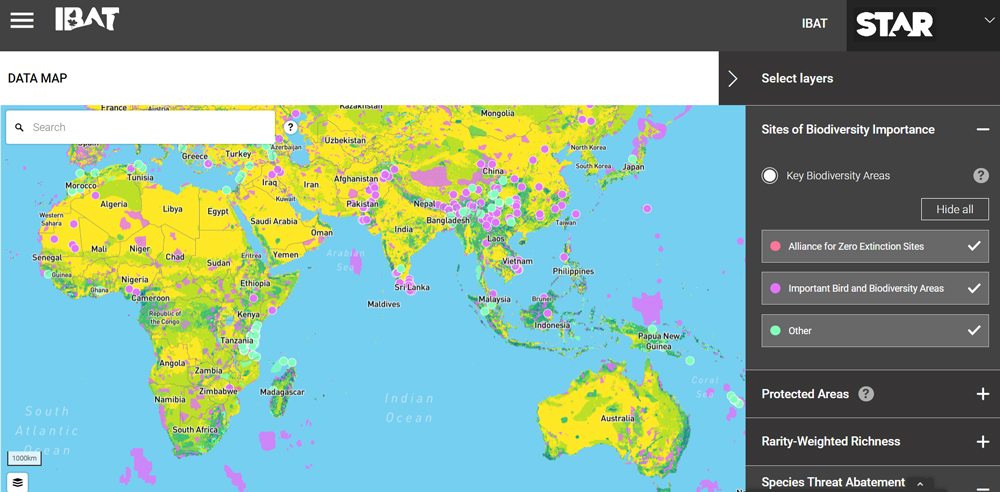 Biodiversity disclosure and certification
IBAT has supported mining companies and their investors for the past 15 years. However, in recent years, companies are increasingly being asked to report on their corporate proximity to protected areas, areas of high biodiversity value outside of protected areas and threatened species. IBAT's Multi-site Report and GIS data can help companies to meet corporate disclosure requirements, demonstrate positive biodiversity performance to stakeholders and investors, as well as contributing to requirements for mine expansion applications and re-evaluation of concessions.
IBAT and the Mitigation Hierarchy
Since its launch in 2008, IBAT has enabled the mining industry to assess their biodiversity risk and follow the mitigation hierarchy. IBAT data can inform this stepwise approach to managing impacts in the following ways:
Avoid – As the sole source of licensed access to the World Database on Protected Areas, World Database of Key Biodiversity Areas (ie areas of high biodiversity value) and IUCN Red List of Threatened Species for commercial users, IBAT is uniquely positioned to inform mining companies to avoid the most important places in the world for biodiversity. These data have been crucial for companies when strategically prospecting sites to avoid projects in locations that might negatively-impact biodiversity, as well as helping companies to avoid reputational risk and unforeseen costs of mitigation down the line.
IBAT data on protected areas already allows a significant proportion of the global metals and mining industry to meet ICMM's Principle 7.1: 'Avoid World Heritage Sites and respect legally designated protected areas'.
Minimise – Through interrogation of IBAT data on the likely presence of globally-threatened species, in addition to local monitoring data, companies can determine the greatest opportunities to minimise residual impacts of mining.
Restore – The STAR Metric in IBAT allows companies to identify opportunities for rehabilitation that are science-based, globally-significant and quantifiable. Responsible mine closure and relinquishment requires effective and timely rehabilitation. However, it has been found that a delay in biodiversity action of only 10 years, would likely double the cost of interventions over the next 30 years and make it infeasible to stabilise biodiversity intactness – even at current degraded levels (Vivid Economics 2021). The relinquishment of mine sites in future will require companies to plan their restoration activities for biodiversity much more carefully to align with government requirements – STAR is one way of guiding robust rehabilitation targets.
Offset – Additionally, STAR allows companies to identify spatially-explicit areas for positive biodiversity action, including locations where offsets can have nature positive impacts that are globally-significant and quantifiable.
To explore biodiversity data for your organisation today, please visit www.ibat-alliance.org or email [email protected]