LiuGong celebrated its 60th Anniversary at a ceremony in LiuGong International Industrial Park in Liuzhou, Guangxi, China, today, at the same time as heralding the production of its 400,000th wheel loader.
Attendees at the event included domestic and overseas customers, distributors, suppliers, government officials, shareholders, and stakeholders who have worked with LiuGong throughout its 60 years.
LiuGong, in addition, said the milestone wheel loader achievement was made through the "unremitting efforts and proactive technological innovation of all LiuGong people in the past six decades".
"This is a milestone worthy of celebration in the history of LiuGong," it said.
At the same time as all of these celebrations, the company debuted at the ceremony six new products including a 990F excavator, B170DL bulldozer, S935 sugarcane harvester, TC800C5 crane, 4180D motor grader and 886H loader.
Six decades of history
Established in 1958, LiuGong not only pioneered the production of loaders, it also laid a solid foundation for the technology, talent cultivation and management for the development of the construction equipment (CE) industry in China, the company said.
In 1958, Shanghai Huadong Steel Factory allocated some employees and pieces of equipment to Liuzhou, Guangxi, to facilitate the economic development in southwest China. In a wilderness on the west bank of Liujiang River, they built a factory from nothing.
In 1966, LiuGong rolled out the first wheel loader accredited by China, which opened a new chapter in the company's development. In 1993, LiuGong began trading on the Shenzhen Stock Exchange and became the first listed company of the CE industry and Guangxi. Since 2000, LiuGong has been looking beyond its loader business and working on cross-regional operations and expansion of its product lines. So far, LiuGong has 32 complete product lines in six categories to meet customer demands of various applications as well as extreme operations.
In April 2002, LiuGong successfully produced 899 loaders in one month, which was known as '899 Campaign', a huge leap of production at that time.
"Taking this opportunity, the company launched its reform towards becoming a modern company. Afterwards, its Board of Directors promoted to build an 'open and globalised' LiuGong, boarding the fast lane for the company's globalisation, which was shown in its fast growth of overseas revenues," the company said.
"Backed by its historical legacies, LiuGong has developed the core values of "customer oriented, assuring the future by quality; people foremost, create value through cooperation", striving to build an international brand that leads China's machinery industry."
Along with China's entry into the World Trade Organisation, LiuGong started to build its eastern bases and added multiple product lines into its portfolio. In 2003, LiuGong developed its first overseas distributor in Morocco, north Africa, and started its globalisation. LiuGong has been building its global presence of 10 overseas subsidiaries, nine overseas regional parts distribution centres and more than 300 distributors in over 100 countries. All LiuGong products and customers are supported by five R&D centres worldwide.
In 2012, by the acquisition of civil construction machinery segment of HSW in Poland, the company laid a solid foundation for export of China's proprietary technology and products to the European Union. Today, LiuGong produces its products in China, India, Poland, and Brazil.
Also, LiuGong India Company and LiuGong Dressta Machinery have been awarded the 'Best Foreign Investor', 'Model Enterprise for China-India Cooperation', and the 'Best Employer' by local governments.
As the "Belt and Road" initiative continues to advance, LiuGong has expanded its footprint to 85% of the countries among the 65 key countries along the route. Its products participated in many major projects along the belt such as the Pakistan PKM Motorway, China-Laos Railway, and Jakarta-Bandung Railway.
In 2008, LiuGong set up SinoEver Financial Leasing Company in Beijing, becoming the "pioneer company in manufacturer leasing" and LiuGong entered the crane business by acquiring Zhengchonganli Engineering Machinery Company in Bengbu.
In 2010, LiuGong acquired Liuzhou OVM, a world leader of pre-stressing products and technology, and started the construction of an eastern manufacturing base for excavators in Changzhou. In 2011, LiuGong bought into the piling foundation industry by holding shares of Jintai, China's leading brand in piling machinery, and opened a JV with Cummins in Liuzhou.
In 2012, LiuGong opened its hydraulic company and, in 2013, LiuGong and Metso started a joint venture to produce mobile mining crushers and grinding mills, while the company took over an air compressor business in Liuzhou.
In 2016, LiuGong entered the modern agricultural equipment sector when the Luzhai plant, with world-class technologies, was put into operation. And, in 2018, LiuGong started forward with producing intelligent manufacturing systems, mining machinery, forestry machinery, and aerial work platforms.
R&D
"LiuGong has never stopped investing in R&D even during the most difficult years. In 2015, LiuGong launched National Earthmoving Machinery Engineering Research Centre and LiuGong Global R&D Centre, making LiuGong the only national demonstration base for technological innovation and industrialisation of earthmoving machines.
"A total of 19 product lines at LiuGong have been upgraded and 18 new products have hit the market, including a range of machinery for sugarcane planting, heavy-duty mining excavators and loaders, mining trucks, large dual-wheel cutters, smart manufacturing system, and mobile compressors.
"LiuGong has evolved to be a global provider of total solutions. In 2016, LiuGong presented the world's first vertical lift wheel loader. And, the new generation products of H-series loaders, E-series excavators, D-series rollers and motor graders, and C-series forklifts now are available all over the world and have been contributing more and more in sales revenue.
"A custom designed torque convertor was independently developed and manufactured for LiuGong's 8128H with many innovative technologies and approaches; and the hydraulic grab by Shanghai Jintai is among the best of its kind globally."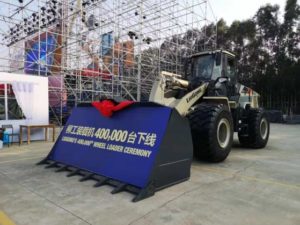 In the past five years, LiuGong, OVM and Jintai had numerous achievements in R&D, including three National First and Second Prizes for Progress in Science and Technology, and 14 ministerial and provincial-level science and technology awards. LiuGong also participated in drafting of industry standards, both for international and domestic markets, making its own voice heard in the industry.
"Today, with more than 1,000 engineers and a continuous investment in R&D, LiuGong comes up with an outpouring of products with cutting-edge technologies," the company said.
"Over the past six decades, LiuGong has kept a close bond with its customers, distributors, suppliers, shareholders, and other stakeholders to weather through difficulties and share success together.
"During industry downturns, LiuGong took a series of quick actions like capacity adjustment, organisational reform, team optimisation, cost control, sustained input into technological innovation and product development internally and optimise the marketing channels externally. As a result, distributers, direct subsidiaries and joint ventures have become new drivers of our rapid growth in China.
"As the economy warms up, the excavator business becomes our growth pillar with the highest revenue and profit and LiuGong has significantly improved market competitiveness on a global level."
Aiming for 100
LiuGong says it is committed to providing extraordinary construction machinery products and services to customers around the world.
"Our endeavour of developing first-class advanced technologies is a valuable asset to LiuGong's ambition to be a century-old enterprise in the world.
"Sixty years is but a brief moment for LiuGong, who is setting sail on its next journey. Amid the national reforms and industry transformation, LiuGong will adhere to a 'Total Globalisation, Total Solution, and Total Intelligence' approach with greater intelligence, courage, and passion.
"Standing at not only a historic stage but as at a turning point for the company, LiuGong will insist on SOE (state-owned enterprises) reform and development; insist on focusing on customer service; insist on innovation and independent R&D; insist on building a dynamic and motivated team to continue to write a new chapter for the company.
"And, in the future, we will continuously provide products and services tailored for local market; we will outdo ourselves in branding, manufacturing, R&D and marketing and strive for continuous progress; we will take on the mission of revitalising the CE industry in China."
The company concluded: "The one who digs deep will someday leap high and become a legend. Guided by our mission and vision, LiuGong will usher in a new era with much greater confidence and look forward to a centurial business."