Mines are getting deeper with every year that passes – 30 m deeper, if industry reports are correct.
With increased depth, comes increased ventilation and cooling needs, a fact Howden knows well from its experience of working with the deepest mines in South Africa.
Originally founded in 1854 by James Howden in Scotland as a marine engineering firm, Howden made an entry into South Africa in the 1950s seeking to cater to the demands of the mining and power industries. By the 1960s, it was helping equip the country's deep gold mines with all the ventilation and cooling products they needed to extract ore safely and productively from kilometres below surface.
"Initially mines used only ventilation as a method of cooling, but, as mining depth increased, mechanical refrigeration was required to counteract the increasing heat loads in mines," Theuns Wasserman: Team Leader – Howden SA's Mine Cooling and Compressor Division, told IM.
This saw many deep gold mines in South Africa install Freon™ centrifugal chillers above and below ground to provide the necessary cooling for personnel and machines underground.
While an improvement on the status quo, the heat rejection system for underground machines proved problematic, with the machines' cooling capacity limited by the temperature and amount of reject air available, according to Wasserman. At the same time, the water quality of the mines resulted in high fouling on the piping shell and tube heat exchangers employed on these early centrifugal chillers.
This resulted in the machines being limited to cooled water temperatures of 6-8°C, he said.
To rectify this, mines started to pump chilled air from surface to underground. While this boosted cooling capacity, the required infrastructure took up space in the shaft and the process was both energy- and opex-intensive.
Battling these issues, mines looked to maximise the amount of cooled air that was sent underground via chilled water plants.
This led Howden to introduce ammonia-based screw chillers into South African mines, which were initially employed in series after the existing surface centrifugal chillers. This enabled a step change in the amount of cooling that could be transported to these deep underground gold mines, bringing the average water temperature sent from surface down from 6-8°C, to 1°C. Mines were able to use the same shaft pipe infrastructure, which many of them had in place, while drastically increasing the amount of cooling sent to deep levels.
Some 20 years after their introduction, Howden, as a leading market player in the space, developed the WRV 510 – a large block screw compressor with a 510 mm rotor. This was, at the time, one of the largest screw compressors on the market, which suited the module sizes of the chillers required for refrigerating these deep South African mines.
"That changed the game as mines could install a single refrigeration machine with 10-12 MW of capacity, instead of a fleet of chillers," Wasserman said. "At the same time, ammonia, as a 'green' refrigerant, perfectly suited the screw compressor and plate heat exchanger combination."
The considerations around the use of ammonia were formalised into mining-specific ammonia codes and safety standards that Howden was instrumental in devising. These have since been updated and incorporated into South African legislation.
Such success is evidenced by more than 350 MW of ammonia-based refrigeration capacity installed in the South African mining sector, believed to be the most of any country in the world.
But Howden's South Africa-based innovations did not end there, with the company, in 1985, adding ice production plants on surface to its expanding mine cooling remit.
With surface and underground refrigeration options maximised or deemed too expensive, mines needed a new cooling solution to further expand mining into even deeper levels.
The first surface ice plant (example below) was installed by Howden in 1985 at the ERPM (East Rand Proprietary Mines) mine, east of Johannesburg, which had a final total cooling capacity of some 40 MW with an ice production capacity of 4,320 t/h.
The basis of operation saw ice produced on surface and sent down the mine shaft to an underground ice dam, with water from the ice dam then circulated to underground cooling stations or used as service water for drilling. The ice melt was then pumped back to surface.
The primary benefit of this ice system was the pumping cost reduction, being some 75-80% less than the opex associated with a system where chilled water is sent from surface. This is down to the inherent "cooling energy stored in the phase change of the water", Wasserman said, explaining that 1 kg/s of ice has the same cooling capacity as 4.5-5 kg/s of chilled water.
With a "superior positional efficiency", an underground water dam can be maintained at 2-5°C to enhance the thermal performance of underground air cooling stations – again, maximising the cooling capacity.
Another benefit of ice production plants that has specific relevance in South Africa – a country renowned for grid instability – is the ability for the system to be used as a method of thermal storage where ice is produced and accumulated in the underground ice dam and used during peak periods.
This latter advantage led to the development of an Eskom-backed industry collaboration project involving Howden looking at using an ice plant to reduce peak power demand, with test cases situated at Mponeng, the world's deepest underground mine, and Moab Khotsong.
"We froze up a dam of water during the night (off-peak) and that water and ice melt was used during peak time as a mine cooling source," Wasserman explained. "The baseload refrigeration plant was switched off during peak periods, taking the pressure off the grid."
It led to the development of a full turnkey ice plant at Mponeng where Howden carried out works including the civils, electrical and mechanical equipment for a 12 MW, 120 t/h ice plant.
The latest addition to the primary cooling strategy for Mponeng mine that already included soft ice, chilled water from surface, surface bulk air coolers (BACs) and underground refrigeration systems, the ice plant was equipped with duplex stainless steel plate ice makers to deal with the high concentrations of dissolved salts and chlorides present in the mine water at the operation.
It is this wealth of experience in South Africa and a focus on solutions rather than solely products that continues to be translated on a global scale, as MG Mynhardt, Howden's current Manager of Compressors in South Africa and soon-to-be Head of Global Mine Cooling, said.
With more mines going deeper and space within the shaft at a premium, it is easy to see such a solution having applications in other parts of the world, as Wasserman hinted at.
Mynhardt said: "Howden has been 'exporting' its South African deep mine cooling expertise for decades. Back in the 1990s, for instance, we provided a mine cooling solution for an underground gold mine in Nevada.
"One interesting technology utilised by some South African mines is thermal ice storage that is used for load shifting – where thermal energy is stored in large ice dams. The ice is produced during peak periods and utilised in peak periods," he said. "Conventionally, refrigeration plants are sized for maximum ambient temperature, which might be experienced for three hours a day in the summer months. Yet, if you have a facility to store your cooling energy, you could reduce this capacity."
The parallels with battery energy storage for replacing excess spinning reserves are obvious here.
"If you have an electricity tariff plan where you have a quite high peak power tariff that you want to shift to a cheaper off-peak tariff, these ice plant solutions could make for a strong business case," he said. "The upfront capital for the plant could be offset against the lower operating costs."
At the same time as these, BACs used at mines in South Africa for decades are gaining prominence across the globe.
The newest generation BACs have higher thermal efficiency than their predecessors, lower limits on the shaft air temperature and a reduced footprint when compared with traditional BAC construction types. They are also embedded with the cooling on demand (CoD) module within Howden's Ventsim CONTROL platform where the temperature of the shaft collar air can be automatically modified to meet the demand below surface.
Howden supplied three of these new-generation BACs in the past year to customers in Brazil and Burkina Faso.
The company can also manufacture customised solutions to deal with challenging operating environments; a recent example being the "unique BAC" operating with ammonia chillers installed at the Carrapateena mine in South Australia for OZ Minerals.
"Without any water available, in Australia, Howden installed dry condensers with Howden ammonia-based compressors along with a closed-loop dry bulk air cooler," Wasserman said of this installation. "These coolers were engineered for ultimate efficiency considering it was a 'dry' plant as opposed to an open-headed spray cooler installed in applications where water resources are available."
And the company is currently trialling an "uptime" condition monitoring solution at the 8 MW surface BAC plant (pictured below) it designed and engineered for Fortuna Silver's Yaramoko mine (previously Roxgold) in Burkina Faso.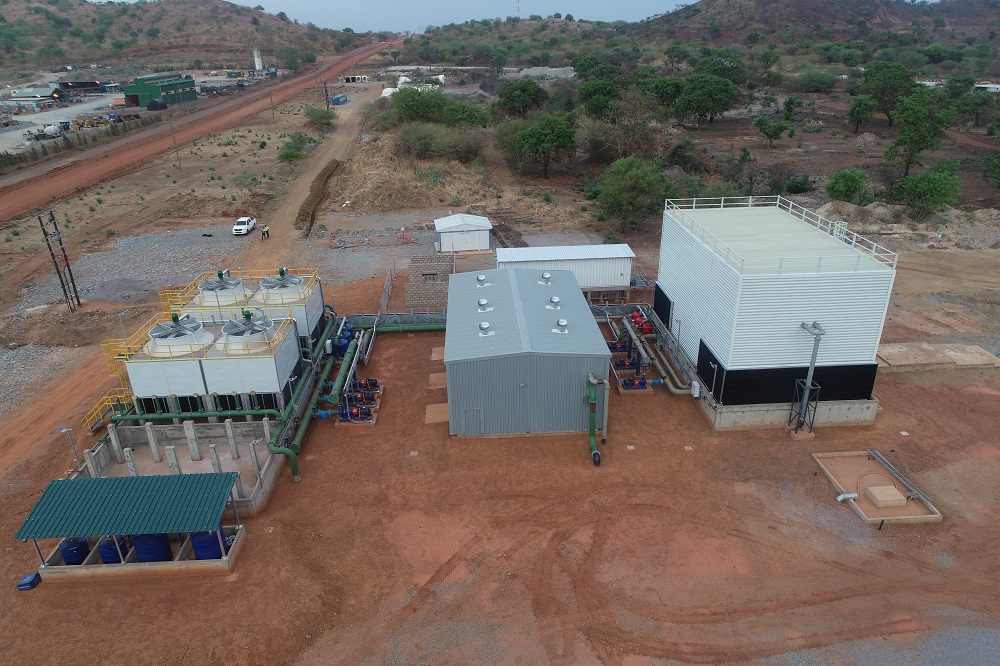 This system, monitored from Howden's Johannesburg facility, allows the company to advise of potential efficiency gains and maintenance issues to ensure the plant is run as optimally as possible. The BAC installation at Ero Copper's Caraiba mining complex in Brazil has also been designed to use such functionality.
This isn't to say Howden is only focused on projects outside of South Africa – far from it.
Its Total Mine Ventilation Solution (TMVS) platform is continuing to build sustainable, value-adding relationships, which saw the company carry out two ventilation on demand (VoD) feasibility studies in the country in 2021.
Just over the border in Zimbabwe, it is working on a project that could see VoD-enablement of an automated door at an underground mine, to allow it to open at different increments and supply the required quantity of cooled air based on specific vehicle demand.
Such technology developments – using existing available mine infrastructure and readily available data feeds – will become part and parcel of the Howden offering in the future.
Howden's South Africa experience – learning how to engineer cooling solutions to deal with the poor water quality at its deep gold mines, how to make solutions as energy efficient as possible to circumvent grid issues and how to cater to some of the strictest air quality, temperature and occupational hygiene regulations across the globe – will continue to pay off for mines all over the world.