While the El Soldado copper operation in Chile may be one of Anglo American's smaller assets, it has a big part to play as one of the company's FutureSmart Mining™ hubs, piloting some of its innovative mining and processing technologies, according to Phil Newman, Anglo American's Head of Innovation.
Including in this innovative technology bracket is Anglo American's patented Hydraulic Dewatered Stacking (HDS) technology.
Newman explained: "Mineral processing operations commonly use large amounts of water for the recovery of valuable minerals. This ultimately results in the production of large volumes of wet tailings which are disposed in conventional tailings storage facilities. If not safely constructed and maintained, they pose a major risk to communities and the environment. Eliminating these facilities is a key objective for a safe and sustainable mining industry."
With 75% of Anglo American's assets globally located in water-constrained areas, the company must reduce its dependence on water and it is working on technologies to help it achieve closed loop operations with respect to water, according to Newman. HDS is a key enabler of its FutureSmart Mining innovation-led approach to mining and a major step towards moving the company closer to water-less mining and reducing its footprint.
HDS demonstrates a new way to safely dispose of mining by-products and accelerates Anglo American's progress towards the end of wet tailings storage. Ultimately, it allows the company to reclaim and reuse water, its most precious and undervalued resource, and create stable, dry, economically viable land long after mining ends.
The adoption of coarse particle recovery (CPR), another valuable FutureSmart Mining technology, was instrumental in the development of HDS, according to Newman. "It allows larger-size particles of material to be processed, reducing the need for grinding to a smaller size, thereby lowering energy consumption," he said. "It also makes it easier for us to capture and drain water during the processing phase and recycle it."
HDS targets the geotechnical and water recovery performance of filtered tailings but without the carbon footprint, Newman claims. Laboratory and proof of concept testing has proved the robustness of fines-free sand as a filtering medium – promising a safe, dewatered facility with the possibility of re-purposing otherwise sterilised land within months of closure. Through effective and permanent desaturation of the tailings, the geotechnical safety of the facility can be enhanced and deliver stability in excess of new Global Industry Standard on Tailings Management (GISTM) standards.
Anglo American has embarked on an ambitious demonstration of this technology, having built a bespoke 250,000 cu.m capacity HDS tailings facility at its El Soldado copper mine in Chile. The sand transportation and placement system was commissioned in August and tailings placement commenced at the start of November.
Data is being collected in real time on water balance, moisture content and consolidation, according to Newman, who said, by the end of the year, the company will be able to understand the degree to which tailings consolidation and dewatering is accelerated through the adoption of HDS.
"Our early results are already promising," he said. "We have already measured water recovery at more than 80% (our initial target), and dewatering is continuing with up to 85% water recovery a possibility."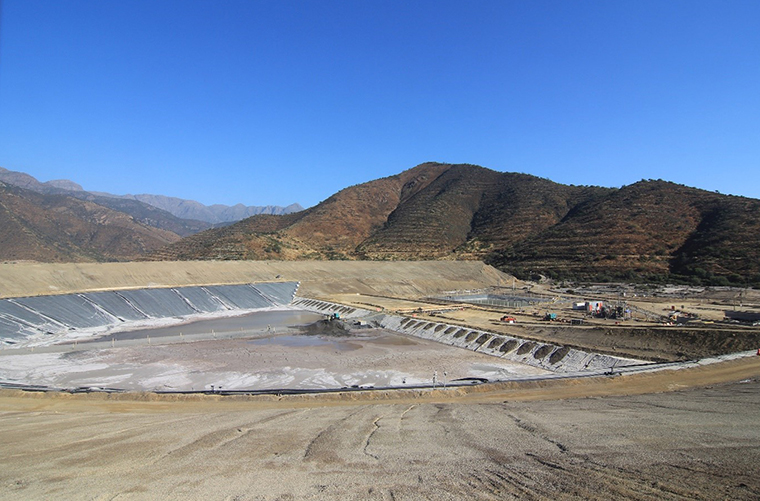 The trial will continue over the coming months with the second layer of the main sand berm being installed this month, followed by further tailings deposition.
Beyond the financial and environmental benefits, there is significant potential for the mining industry to leverage HDS to shift public perception on mining waste, according to Newman.
"Anglo American is keen to partner with other mining companies to accelerate the development and learning of this new technology and is open to synergistic licensing opportunities," he added.
"We believe HDS could demonstrate that tailings can move from a risk which needs to be managed, to a safe, water-generating asset that, on completion, can deliver value-generating land to the perpetual benefit of our communities. By ushering in a new era of tailings disposal we are demonstrating how we are re-imagining mining to improve people's lives."