The roots of IAMGOLD's automation ambitions at the Côté gold project in Ontario, Canada, can be traced back to remote and auto drilling developments at its 90%-owned Essakane mine in Burkina Faso, which, according to a recent presentation from Zhi Jun Zhu, has resulted in significant operational benefits.
IAMGOLD launched the first automated drill rig in West Africa with assistance from Epiroc back in February at Essakane. This followed a series of automation steps carried out on the company's fleet of Epiroc PV235 blasthole drills, beginning with the 'Operator Assist' phase back in 2016.
Added to the seven PV235 blasthole drills on site are five Sandvik D45KSs. These drills are working in medium-to-hard material of 100-250 Mpa rock where they drill 229 mm and 152 mm diameter holes on 10 m benches. They come with a single pass limit of up to 12.2 m in down-the-hole drilling mode.
The business case for adopting automation at the site, which began operating in 2010 and was expanded in 2013 to reach a mining capacity of 55 Mt/y, was centred around a capex versus opex dynamic – should the company purchase a new rig to increase drilling performance by 15%, or try to increase the use of automation on its existing seven PV235s to hit this goal?
Alongside this, the company wanted to provide its best drillers with the ability to operate multiple rigs simultaneously, enhance operational safety, support continued sustainability, and improve performance and productivity.
Zhu, who worked at Essakane as Technical Services Coordinator for five years prior to his current role as Autonomous Systems Engineer at Côté, explained during the recent GMG-led Autonomous Drills Virtual Forum: "During the start-up of the mine, the required fragmentation size was difficult to achieve because the ore was coming from the soft area where it was highly weathered and fractured. As the mine depth increased, the material got harder. As a result, the blasting fragmentation became harder to achieve. At the same time as the percentage of hard material increased, productivity of the crusher became a concern and bottleneck."
With the last life of mine study in 2018 showing a required increase in the total material mined to keep up an average gold production rate of 400,000 oz/y – and the requirement to strip hard material from phase four, five, six and seven to reach a new ore zone from 2026 – the company needed to embed a suitable level of blasthole drill automation in advance of another expansion in the mine life.
Prior to 2016, Essakane required two people to operate a PV235 – one to guide the machine to the desired location and another to operate it.
This was neither safe or efficient, Zhu said, adding that hole deviation and sub-optimal fragmentation were also common with this setup.
Breaking down the project key performance indicators after the initial ramp up of remote and autonomous operation, Zhu said the company was looking for:
An improved drilling penetration rate of 15%:

23 m/operating hour (propel + setup + drill); and
28 m/drilling hour.

Improved drilling productivity from 63% to 75%:

Eliminate stoppage delays associated with lunch and shift change;
Lean drilling, less propel/tram and setup/positioning time.

Increased drilling capacity from 81,714 to 108,800 drilling meters/rig/year.
Having progressed from the 'Rig Operator Assist' mode in 2016, which used Epiroc's Rig Control System, Surface Manager, Auto Level, first generation AutoDrill module, and Hole Navigation; the company has progressed to the 'Rig Remote Operation' phase where (Multi) Remote and AutoDrill generation two functions are employed.
This second-generation system represents a "big advance", Zhu said.
"The system is very smart and could continuously optimise the engagement to deliver the desired result," he said. "The only manual input required is the 'aggressiveness' setting, which balances the bit life with the penetration rate."
This led to the launch of its first fully automated drill rig on February 8.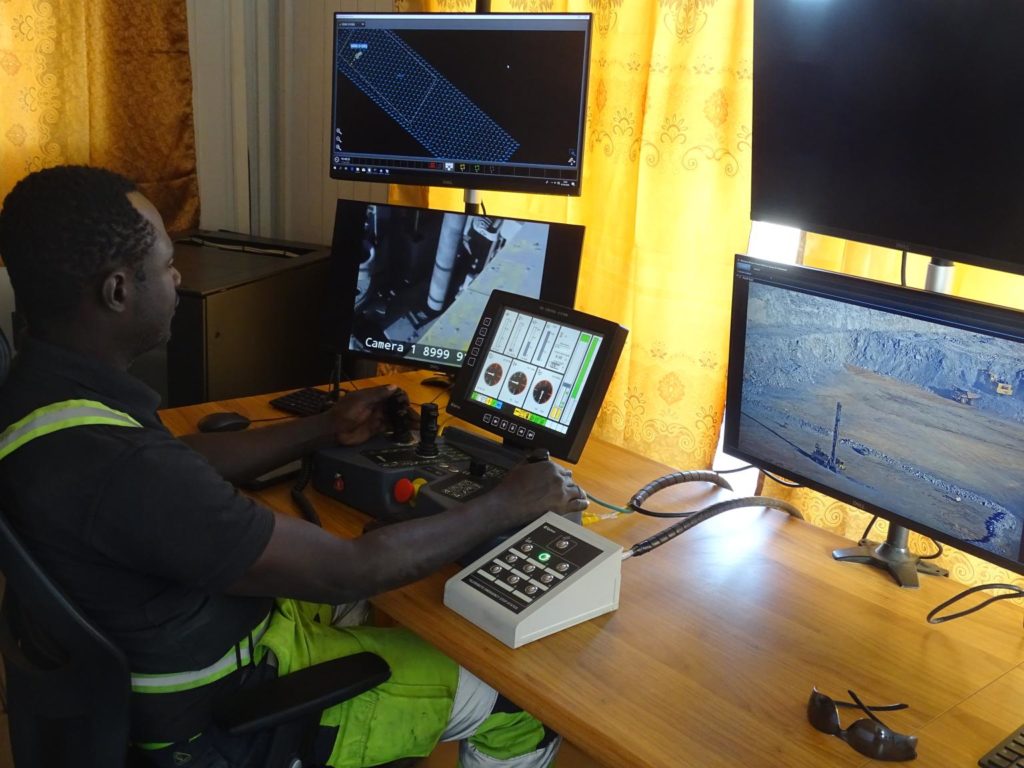 While the project is on course to hit all the above-mentioned KPIs, there have been other benefits including an operating hours improvement of 645 hours/year/rig; a 14,835 m/year/rig drilling metres gain; a $356,040/rig incremental annual production benefit; and a net cost saving of $202,794/rig compared with the equivalent rental equipment drilling cost.
All of these add to fewer people being in dangerous areas on the mine site – with all operators in remote operating centres – more consistent operation from a fuels/lubricants and drilling consumables perspective and, of course, less maintenance.
Reflecting on the implementation, Zhu noted several key required inputs for a successful automation implementation program.
"It is a critical requirement to have a reliable network connection between the on-board device and the remote operations office," he said.
On top of this, the sensors on the machines need to be kept in top shape, meaning maintenance teams should evaluate their health on a regular basis and always keep spare parts available.
And, while fewer people will be needed to oversee drilling in autonomous mode, the skills level of the required personnel will be that much greater.
Some of the next steps at Essakane include improving the bandwidth and latency time for real-time control of multi-automated drills, developing a preventive maintenance system checklist, and carrying out a business case study on upgrading four PV235s to either Teleremote/AutoDrill 2 operation.
Zhu will no doubt bring these learnings and opportunities to the Côté gold development in Canada, which is expected to operate six blasthole drills in fully autonomous mode when ramped up, alongside more than 20 fully automated haul trucks. These will help the mine reach an average production rate of 367,000 oz/y of gold.