One of the three underground projects to make up the El Teniente New Mine Level development, in Chile, is set to use state-of-the-art autonomous technologies, Codelco's Javier Cornejo told attendees at Massmin 2020 today.
In a presentation titled, 'Design of drawpoint spacing at Diamante Project – El Teniente Mine', Cornejo confirmed that the company planned to use 13 yd³ (9.9 m³) LHDs and 60 t haul trucks in autonomous mode at the copper project, with only assisted loading required on the LHDs.
The project, which will use conventional panel caving with hydraulic fracturing, is due to have a production capacity of 35,000 t/d, with each autonomous loader extracting 152 t/h to ore passes and each haul truck transporting 208 t/h to 420 t/h ore bins. From here, the ore will head to the processing plant via 830 t/h autonomous rail haulage.
Diamante's development will involve 40 km of horizontal development in total, along with 2 km of vertical development. It also contemplates a new access tunnel to El Teniente. In more detail, Diamante will include the main undercut at level 2060, production level (LHD transport from 102 drawpoints to ore passes – in total 1.4 Mm³) at 2038, ventilation level at 2020, truck haulage level at 2000 (trucks to ore bins), feeding the main existing mine rail haulage FFCC T8 system at 1980 level via two crosscuts.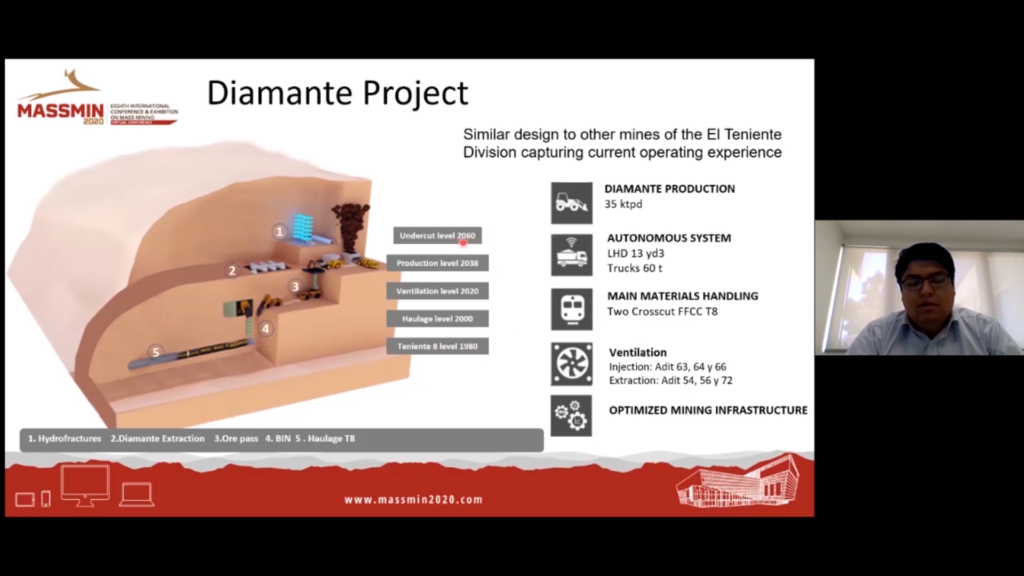 It is one of three underground projects that make up the El Teniente New Mine Level project. Diamante and the other two – Andesita and Andes Norte – will help access the deepest levels of the mine and extend operations by 50 years, according to Codelco.
In the company's most recent September quarter report, Codelco said the El Teniente New Mine Level project was 62.6% advanced. Due to COVID-19, the project was halted on July 4, with work restarting on Andesita and Diamante in August.
Codelco's Board of Directors recently approved $730 million and $513 million investments in Diamante and Andesita, respectively.