Leading mining contractor Thiess is looking at diesel abatement options across its fleet of haul trucks, which is where the company's recent agreement with Australia-based Mine Energy Solutions comes into play.
This tie-up will see the use of locally sourced methane gas to displace significant proportions of diesel in large mining trucks using MES' "currently available and proven" dual-fuel technology.
The agreement to bring lower emission, dual-fuel technology to Thiess' mining fleet represents a first for a mining services provider in the industry, according to the company.
The partnership has commenced with the planned conversion of a fleet of six 240-t class mining trucks and seeks to source coal seam gas from coal seams on site in the Bowen Basin of Queensland to allow the removal of the equivalent B Double diesel deliveries from local highways. Thiess said that, longer term, it and MES will seek to expand to full fleet conversion before exploring further opportunities both within Australia and Internationally.
MES' CEO, Adrian Abbott, said in the announcement last year: "We're proud to partner with Thiess and apply this technology in the Bowen Basin. Our focus is to use locally-sourced gas through the capture and use of fugitive methane contained in the coal resource to enable the average mine site to reduce their greenhouse gas footprint by more than 550,000 t of CO2-e per annum."
MES' High Density Compressed Natural Gas (HDCNG®) technology was previously trialled at the New Acland coal mine in Queensland, Australia, with help from New Hope Group and well-known heavy equipment specialists, Hastings Deering Group. This saw a Cat 789C haul truck converted from diesel use to dual-fuel operation using natural gas as the dominant fuel through sequential gas injection.
Graham Box, Business Development and Project Facilitation Lead at MES, says the project at New Acland enabled the company to develop an "industry-ready product" that was safe, reliable and delivered equivalent performance to full diesel operations while also driving reductions in the carbon footprint of the truck.
"There are a number of process and procedures taken from almost two years of the New Acland work related to safe and efficient operations as well as regulatory compliance that have formed the basis for establishing an execution plan for this Thiess project," he told IM.
"The equipment we are using has evolved to a further level of sophistication resulting in a most efficient and robust solution."
While the truck and engine models might have changed compared with the work carried out at New Acland – Thiess and MES are installing the dual-fuel technology on Cat 793F trucks with C175-16 engines, while the New Acland trial involved Cat 789s and Cat 3516B haul trucks and engines, respectively – the objectives remains the same.
"We're continuing to demonstrate the pathway to decarbonisation and the steps that can be achieved with current technology," Box said.
The plan with the Thiess project is to have a "familiarisation truck" up and running in August to allow all site personnel to get trained on the new system, with the five follow-on trucks coming online before the end of the year.
At the same time as Thiess and the mine site owner are familiarising themselves with this technology, MES will be running haul truck engine simulations with tri-fuel technology.
This solution – which incorporates diesel, methane and hydrogen – will see the "green" hydrogen blended into the methane, providing a "zero emission component" of the gas blend, Box said. With both tri- and dual-fuel, more than 70% of energy will be derived from non-diesel sources.
The company plans to start running simulations with this technology on its 3,500 hp (2,610 kW) dynamometer fitted to a large-format engine in the September quarter.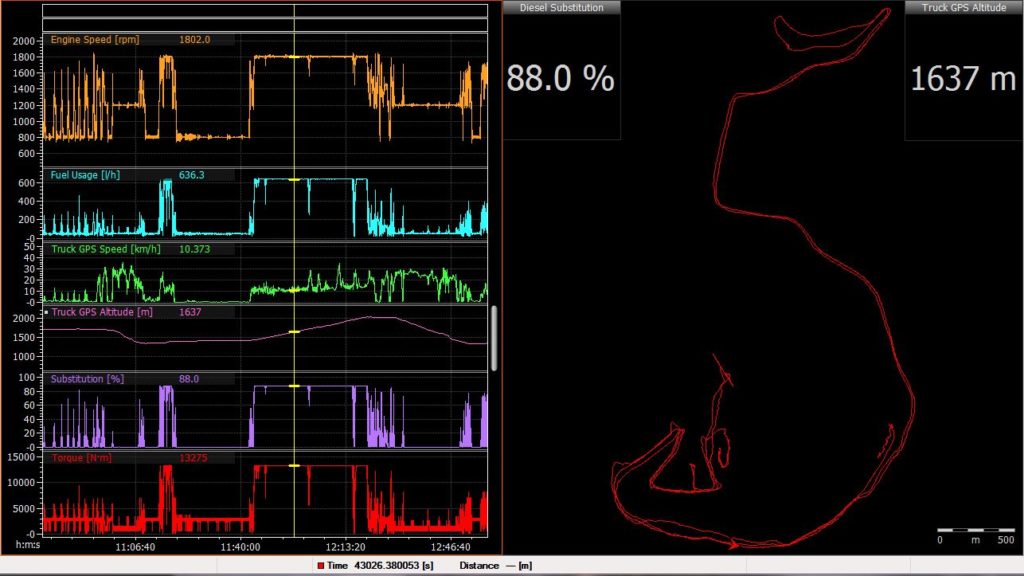 Box expanded on this: "We have a state-of-the-art dyno facility where we are able to operate the engine to its full rated power as if someone is physically operating the truck. We oversee that from a control room and run simulations based on actual circuit data that our mining clients provide us. This includes the haulage cycles their trucks are running, the grades and declines experienced, load profiles and many other operating parameters and conditions.
"All of our development work is carried out with this circuit simulation capable dyno and we then put it into a field-operations environment as we are about to do with Thiess."
MES intends to field test its tri-fuel program in the first half of 2023.