Mining solutions specialist BME has released a new version of its Xplolog system for capturing and analysing data on blast holes and decks.
BME – part of Omnia's mining segment – developed Xplolog as a powerful tool for mines to monitor their block progress in real time, providing the necessary data to track trends and continuously improve the quality of blasts, it says.
The focus in developing this next-generation Xplolog has been the detailed guidance by users, according to Christiaan Liebenberg, BME Product Manager Software Solutions. This has led to making the system more user friendly, scalable and streamlined with other BME digital solutions – while also benefiting from improved data security, the company says.
"We engaged our Xplolog users in a highly systematic way to inform us at every step of our upgrade process," Liebenberg said. "After our first structured interviews with users, for instance, we developed mock-ups and wireframes that we could take back to the user group for further testing. This approach was even taken into the design and prototype stages, ensuring that the system was in many ways actually built by the users."
With the design and application code built from the ground up, and with a new and upgraded database using Google's Cloud Services, the performance of Xplolog has been enhanced. The capacity of the system can also be rapidly increased, allowing better scalability; customers can have a site set up within a matter of hours, according to BME.
"Security has been improved through a more robust login and registration process," Liebenberg said. "There are different user access levels in the new version, giving customers more control over who can access information related to their role in the organisation.
"Users will appreciate how everything is centralised in this version of Xplolog, and how we have improved the workflow for third party blast design uploads in the system."
The look and feel of Xplolog has been revised in line with the progressive standardising of design across BME's Blast Alliance digital solutions. This makes users feel familiar with the BME offering, through increased brand identification and continuity of the customer experience with Blast Alliance, Liebenberg said.
"Another important aspect of our upgrade is that users can easily customise their dashboards, creating a personalised view of block information important to the user," he said.
Customised reports can be created and saved, allowing users to return to that recurring daily, weekly or monthly report each week or month as required. A summary view of block data is visible to track progress at a quick glance for the user.
"We have also given users the ability to better visually track block progress, with the creative use of colours and iconography," Liebenberg said.
The process of inputting data has been optimised by rationalising the number of steps or actions wherever possible. Importantly, Liebenberg pointed out that Xplolog's integration with BME's mobile manufacturing units (MMUs) has taken account of different regional preferences and conditions around the globe.
"The system also provides mines with a digital audit trail, so that they can track operator performance during the drilling and charging phases, as well as provide hole loading information per truck," he said.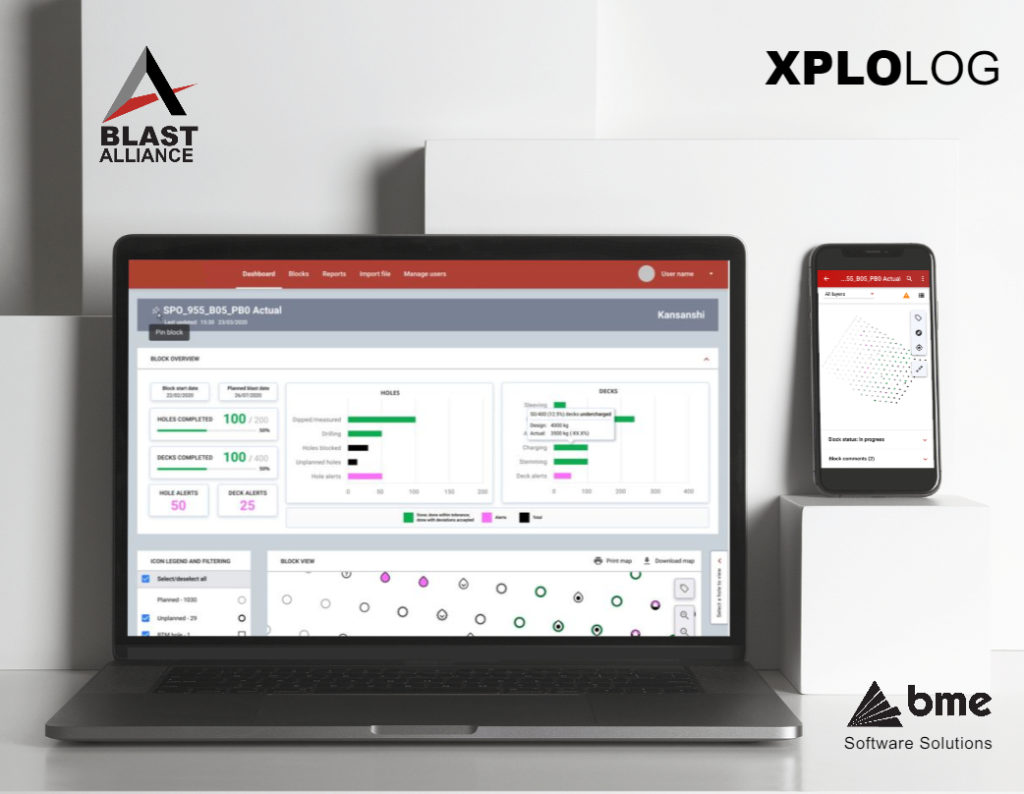 Xplolog is integrated with other BME offerings like its blast planning software Blastmap, and to third-party blast software.
Integrated with BME's MMUs, Xplolog, BME says, allows the MMU operator to charge and top-up holes accurately from the source application, which will have the latest blast design updates loaded. The actual charged and top-up values from the MMU's digital panel will automatically be sent back to Xplolog, which will make the data available on the cloud platform for review and analysis.
"Our new version of Xplolog continues to raise the bar in leveraging digital technology," Liebenberg said. "Our software engineering team continues to add new features and implement continuous improvements as we receive feedback from users of the system in the field – to help mines operate more efficiently, cost-effectively and safely."
These updates are released to all existing customers of Xplolog every quarter at no additional cost, according to BME.