After carrying out a successful pilot at its Bagdad copper operation, Freeport McMoRan says it is rolling out a program across its North America and South America mines involving the use of data science, machine learning and integrated functional teams.
The program, aimed at addressing bottlenecks, providing cost benefits and driving improved overall performance, was announced in its December quarter results this week.
It said: "During 2019, FCX (Freeport) advanced initiatives in its North America and South America mining operations to enhance productivity, expand margins and reduce the capital intensity of the business through the utilisation of new technology applications in combination with a more interactive operating structure."
It said the Bagdad mine (Arizona, USA) pilot program, initiated in late 2018, was "highly successful" in utilising these innovative technologies and it would build on this for the implementation across its other mines in North and South America.
According to a report in the Financial Times, the system at Bagdad found that the mine was producing seven distinct types of ore and that the processing method, which involves flotation, could be adjusted to recover more copper by adjusting the PH level.
The company didn't provide any details on who it was working with on this project, but confirmed at the back end of 2019 that the Bagdad trial was carried out with management consulting firm McKinsey.
In its investor presentation announcing its December results, the company provided a little more colour on these initiatives.
On the processing/concentration side, it was using a digital twin for processing plant, in tandem with a machine-learning algorithm. These used historical data to predict results and optimise throughput and recovery. In addition to this, the solutions were able to provide "quality recommendations", aiding real-time data-driven decisions. This allowed the processing teams to target "best performance every day", while unlocking bottlenecks and providing more consistent operations.
It was a similar story on the mine side. Data is being aggregated from multiple systems to help inform the data-science algorithms to predict the most efficient setups. It also sends commands to dispatch to adjust mining equipment and resource execution, allowing for clear visibility of the best possible performance for shift/day, again, effectively providing real-time decision making.
Under the title "agile way of working", Freeport said it was promoting a more interactive organisational structure that will challenge norms and identify and prioritise opportunities as part of these initiatives.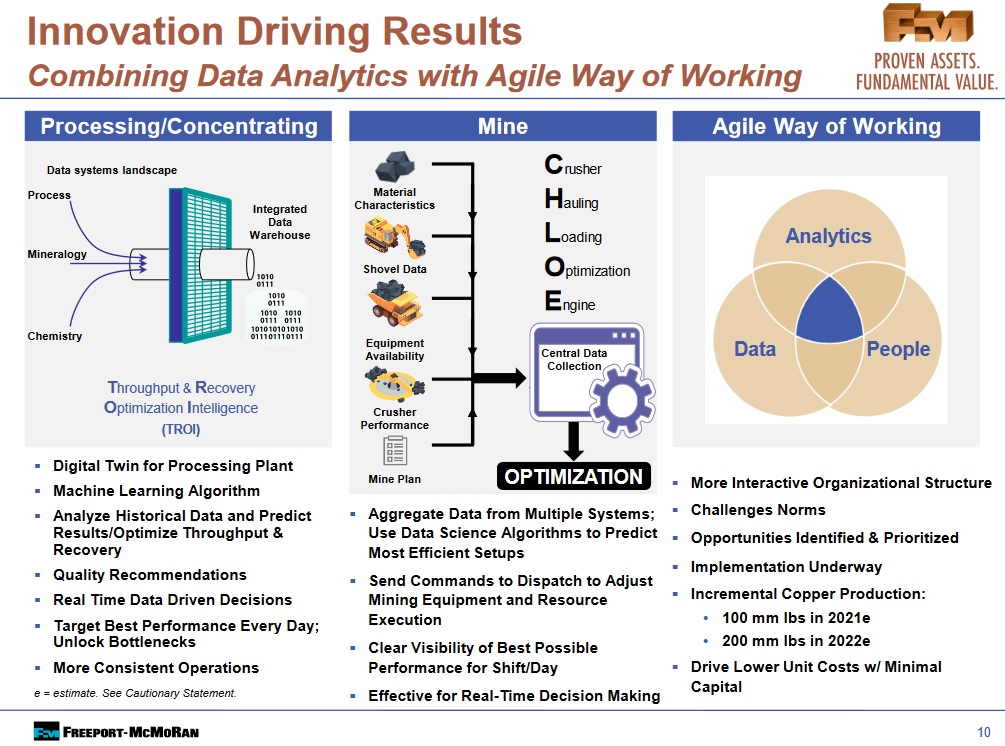 Freeport continued: "A series of action items have been identified, prioritised and are being implemented. Based on the opportunities identified to date, FCX has incorporated higher mining and milling rates in its future plans, resulting in estimated incremental production of approximately 100 MIb (45,359 t) of copper in 2021 and around 200 MIb in 2022."
Freeport said capital expenditures associated with these initiatives are expected to be "attractive" in relation to developing new copper supply, with the company estimating capital costs – principally associated with mining equipment and ongoing development of data science and machine-learning programs – of some $200 million.
Looking back at the quarterly production figures, it is easy to see the impact this trial had on Bagdad. In the March quarter of 2018, the mine produced 49 MIb of copper, with 48 MIb coming out in the June quarter of that year. It dropped to 45 MIb in the September quarter before stepping up to 57 MIb in the last quarter of that year (when the trial commenced). In the March quarter of 2019, output dipped slightly to 55 MIb, before heading back to 57 MIb in the June quarter and surpassing that (58 MIb) in the September quarter. Output fell back to 48 MIb in the most recent December quarter.
The Bagdad operation consists of a 75,000 t/d concentrator that produces copper and molybdenum concentrate, an SX/EW plant that can produce up to 32 MIb/y of copper cathode from solution generated by low-grade stockpile leaching, and a pressure-leach plant to process molybdenum concentrate.