Having already achieved the highest documented level of aerial autonomy – level 4A – with its drone-based solutions, Exyn Technologies is striving for further industry firsts, Raffi Jabrayan, VP of Business Development and Commercial Sales, says.
One of its more recent breakthroughs came in Germany at the K+S' Werra mine site, where a team demonstrated the use of the ExynAero™ and ExynPak™ at an underground salt mine.
Over the course of three days underground, Exyn's field engineers successfully flew multiple autonomous missions in hard-to-reach areas while capturing rich, high-fidelity point clouds in a fraction of the time it would take traditional cavity monitoring systems, according to the company.
Jabrayan explained: "Several drone companies had previously attempted an autonomous mission to scan the immense cavities this specific site has, but the dust interference meant most of these missions ended within seconds.
"We were able to fly in some cavities completely beyond visual line of sight, mapping areas in a fraction of the time the teams would normally take for such manual inspections. In all, we were able to carry out a six-minute autonomous flight at the site."
While the company did not carry out any specific modifications to its ExynAero platform to conduct such a flight, Jabrayan acknowledged that ongoing design and software improvements over the last year had enabled the company to accurately detect both dust and thin wires underground.
In addition to this, the company also displayed the capabilities of its handheld ExynPak solutions while on site in Germany.
The ExynPak, according to Exyn, can provide the world's first real-time colourised point cloud visualisation on a handheld LIDAR scanner, capturing precise, colourised 3D models 20-30 times faster than a traditional stationery tripod or terrestrial scanner.
Powered by ExynAI™, the ExynPak 'drapes' real-time RGB information captured through two hemispherical fixed cameras onto point clouds created by a gimballed Velodyne LIDAR Puck LITE, providing operators a complete colourised 360° view of their environment, Exyn says.
At the Werra mine site, the Exyn team was able to capture a colourised cloud where the stratification of the rock could be clearly seen in the scan, enabling the K+S team to obtain data it would likely never be able to replicate in any other way, according to the company.
Jabrayan says such information could see operators plan their mining processes around the colourised captures, following mineralisation identified by the scans to ensure no economic ore had been missed after mucking out.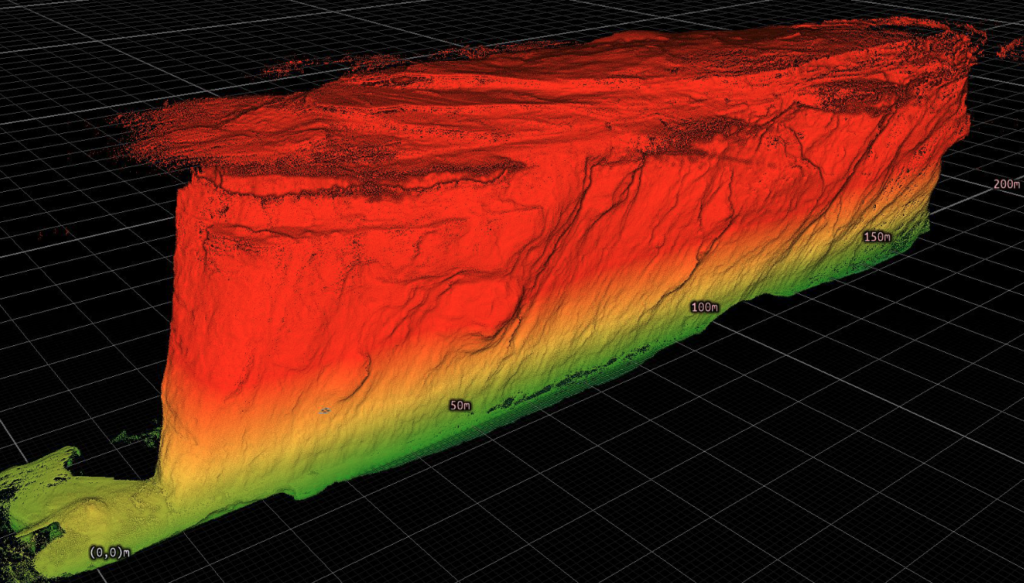 The ExynPak is likely to become a core part of Exyn's next aerial autonomy offering for open-pit mining, powered by ExynAI, which enables safe flight in the most dangerous industrial environments.
"We have done some work in terms of moving our flights to the surface," Jabrayan said. "It could cover various aspects – tailings monitoring, highwall scans…there are lots of requirements for it. We are actively working on integrating GPS into our ExynAI stack for outdoor autonomous flights, however, it's not ready to be pushed to customers just yet."
The company is currently working on surveys of ground-based resources, such as stockpiles, using a handheld ExynPak, plus carrying out aerial flights in manual mode.
Reaching the level of autonomy it has underground will most likely involve the help of its collaboration partner, EY, and a third company providing "software and visualisation input", Jabrayan says, adding that he expects to see this autonomous solution come to light in 2023.
Earlier this year, Exyn, in partnership with Maestro Digital Mine, presented an aerial drone fitted with a Maestro gas monitoring Industrial Internet of Things (IIoT) device.
This new gas monitoring drone, which integrates critical gas sensors onto the ExynAero and ExynPak platforms, is effectively the "quickest and safest mobile gas monitor on the planet", Michael Gribbons, CEO and Co-founder for Maestro, said.
Powered by ExynAI's multi-sensor fusion capabilities, gas sensor readings are captured while the robot is in flight and displayed in real time via a ruggedised tablet, Exyn explained. These sensor readings are saved with precise coordinates in a high-fidelity point cloud that can be exported and examined in a variety of mining software.
Jabrayan says a lot of mines have reached out to the companies since first presenting the solution at the SME MineXchange Annual Conference & Expo in Salt Lake City, earlier this year.
"They are interested in the benefits such a solution could provide in terms of safety and productivity," he said. "By flying the gas sensing drone underground soon after a blast, it could take the necessary readings and issue a notice to another system that it is safe to re-enter the area."
This could see more mines shift away from re-entry processes based on out-of-date manual gas readings, to a system that is much more accurate and shaves – potentially – hours off operational downtime.
Exyn is closing in on a long-term trial agreement with at least one miner in Australia looking to test out this gas-sensing drone solution, according to Jabrayan.
"The long-term plan is to develop a drone-in-a-box solution that can reside underground and be flown immediately after a blast to offer the quickest possible readings," he said. "Remote autonomous mapping of this type could see Exyn provide data to shift operators as they are heading underground, allowing them to get a picture of the environment ahead of reaching the location."
The incorporation of such data into mine site operational processes could see drone-based solutions become vital to the running of mines in the future, and Exyn, through its post-processing pipeline, ExSLAM, is looking to enable this.
ExSLAM extracts the raw cloud from robot logs and refines it for third-party software, using a factor graph optimisation algorithm to create low-drift point cloud maps.
Jabrayan says the company continually receives plaudits from customers about the ease of use of this solution, explaining that Exyn is one of the few companies that georeferences its maps inside an existing coordinate frame.
"From there, we are able to detect all the survey points, download them, georeference them and push the data to any end-user software," he said.
Exyn, Jabrayan says, is software agnostic when it comes to this process, but he did admit the company was in advanced talks with some leading mining software companies that could see its mapping data integrated directly into their platforms.
"We are also working with certain companies to use robotic process automation to make it a one-button process to scan, go directly into the end-user software, and create a mesh that can be used," he said.
"We remain focused on using our technology and R&D to provide the best solution to customers in order for them to be as productive as possible and, of course, work in a more efficient and safe manner."