GHH is not in the business of forcing its customers to move in one direction or another; it is focused on delivering solutions that work for operators and mine sites today while offering options for what may come tomorrow.
The Schmidt Kranz Group-owned company has made a habit of supplying market niches across the globe, creating machines for the low-profile mines of southern Africa or narrow-vein operations in Latin America.
It has done this while retaining a key focus on the soft-rock sector in its German homeland – one dominated by a major salt and potash player.
Now, having assembled an impressive line-up of new machines over the last three-or-so-years and re-birthing a 10-t loader that the company expects to garner appeal across some major mining markets, GHH is out to claim more significant hard-rock mining share than it has in the past.
"Solid as a rock" is not just a catchy tagline the company attaches to its logo; it is also representative of the GHH machine point of difference.
"Robust, durable and reliable" are the three standout qualities the company highlighted at its most recent product launch in Gelsenkirchen, Germany. One can add to these traits an in-cab operator focus that isn't always top priority for its fellow OEMs.
The latter element is reflective of the types of customers GHH has traditionally served in the mining space, as well as the need to treat operators with the respect they deserve – especially when there is less of them available to service mining operations in line with the global skills shortage.
The robustness and durability are easy elements to unpick given the company's standard operating procedure for underground loaders is to allow them to run for 20,000 hours, carry out a machine re-build and let them work for another 15,000 hours thereafter, Ingo Rath, Product Manager for Loaders at GHH, explained.
"In fact, we sometimes have machines that are re-built a third or a fourth time and continue to operate in the field," he told IM, emphasising this durability.
The reliability benefit is tied to the company's careful engineering and design, aiming to remove unnecessary electronics that can lead to machine downtime and focusing on hydraulics wherever possible.
Some of the only electronics on-board your average GHH machine are specifically designed to improve uptime.
Take GHH inSiTE, for instance, a condition monitoring solution operating around the globe. This platform – in simplified terms – highlights potential issues that could lead to time in the workshop, while also reporting on individual machine performance.
On top of this, the company can provide real-time brake wear via sensor-based solutions. This is a critical element for both safety and maintenance.
It is not only the sparing use of electronics that bolsters GHH machine uptime.
Take the company's tethered loaders as an example. Here, the company has designed the cable reel to be carefully distributed and retracted via a vertical coiling mechanism, as opposed to the horizontal equivalent some other manufacturers have elected to use.
This allows the company to offer cables up to 250-300 m in length that have drastically improved cable life, according to Jan Petzold, CEO of GHH Group.
"We've analysed the two options – vertical and horizontal reel configurations – and see that we can improve the lifetime of the cable more than twice with the vertical reel due to the reduced tension from controlled spooling," he told IM.
Design for an outcome
The clever design goes beyond the robust, durable and reliable pillars GHH has built its reputation on.
The introduction of z-link kinematics on the body frame of the new LF10-NEO – as well as relocating the steering cylinders – has allowed the company to boast a 10-t-payload loader with the highest tipping height in its class. It is also a full 0.5 m above the tipping height offered by its predecessor, the LF10.
This is a significant point of difference in this popular class of underground loader and one that the company is confident will be appreciated in key markets like Latin America where the machine will be able to three-pass load not only the company's MK-30 truck (to be launched next year), but also any other 30-t-payload underground truck on the market.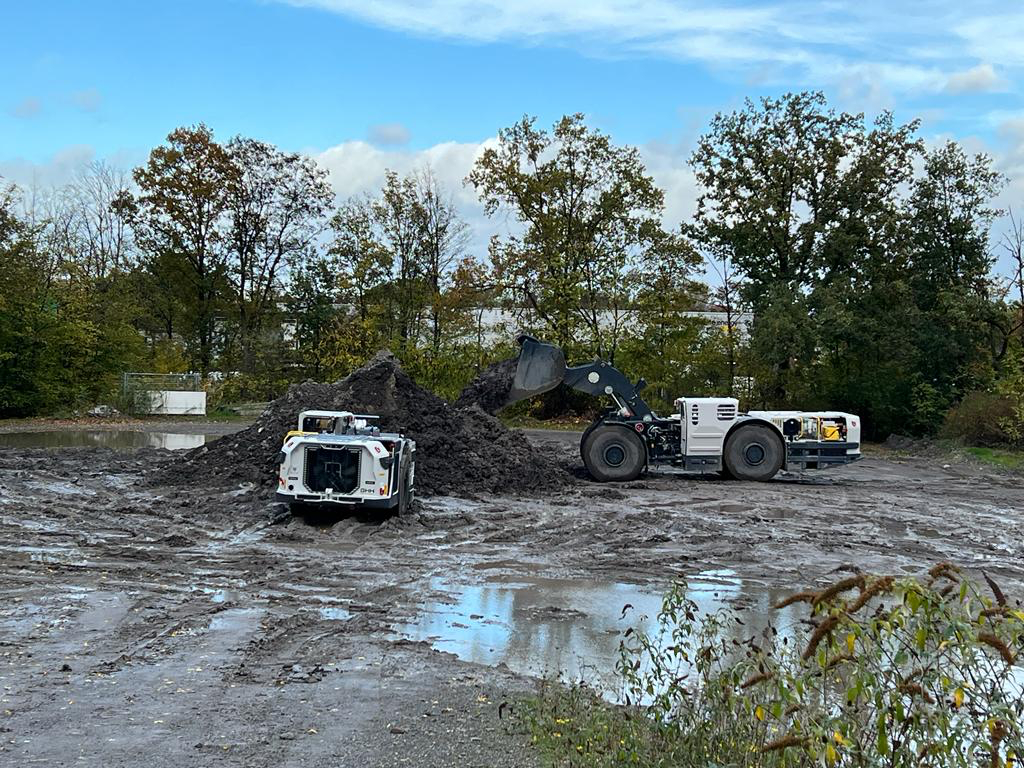 While the company has earned a reputation for delivering machines tailored to the application, it has also been attempting to incorporate more modular design into its newest models to improve maintenance times and reduce assembly durations.
The LF10-NEO, for instance, has the same cab as the larger LF14. It also has left- and right-hand saddles that are bolted onto the back of the loader and can be removed and replaced if required for underground shaft transport.
Within this modular blueprint, GHH is also able to offer a choice of engines on the same block from Volvo Penta or Mercedes for the LF10-NEO, ranging from EU Stage 3, to US Tier 4 Final and EU Stage 5.
This modularity is enabling the company to turn around machines quicker, which proves highly valuable when bidding on contracts from new hard-rock mining clients.
All the while, the company can design a tailored machine for a specific application should the right client come knocking. This was displayed when touring the factory in Gelsenkirchen, where a low-profile SLP-14E tethered electric machine was in the shop awaiting final build and factory acceptance testing.
This machine, like others in the company's range, came about from collaboration with one of its key strategic customers in the underground mining space.
Pull, not push
GHH is focused on reducing engineering and maintenance complexity on its machines for its clients, but also wants to offer advanced options to those further down the road on their digitalisation and automation initiatives.
Thanks to the help of Schmidt Kranz Group company, Nerospec SK, the company provides an interface to be able to bolt on Level-9 compliant collision avoidance systems to any machine. This, according to Harald Bornebroek, Business Development Manager at Nerospec, represents the first level of automation, with the neroHUB on board these machines able to automatically take over the braking function should an impending accident arise.
The company is also able to offer OEM-agnostic teleremote applications where machines are operating in particularly dangerous areas of a mine – where high seismicity has been observed as an example – but it can also help fully automate loading or haulage operations.
Eric Pohlmann, CEO of Nerospec, highlighted two such applications in Germany – one at an underground salt mine in Germany where a GHH loader is dumping into a crusher and one at a quarry involving a fully-autonomous load and haul pairing from the Germany-based OEM.
And, on the topic of automation, GHH can also claim a world first, having, with the help of the University of Chile's Advanced Mining Technology Center, run a loading operation at a room and pillar mine without any human interaction in the South American country.
The difference between GHH and most of the other OEMs it is competing with is that GHH is not actively 'pushing' these solutions on clients. It is reacting to their evolving needs.
Petzold brought up an excellent example of this when questioned about if the company will create a battery-electric loading and haulage line-up in the future.
To this point, the company only has one machine, the LF19-EB, that has a battery on-board. The battery, however, is used solely for relocating the machine between one loading area and another. Most tasks are carried out with the machine tethered to the existing mine power network via a cable.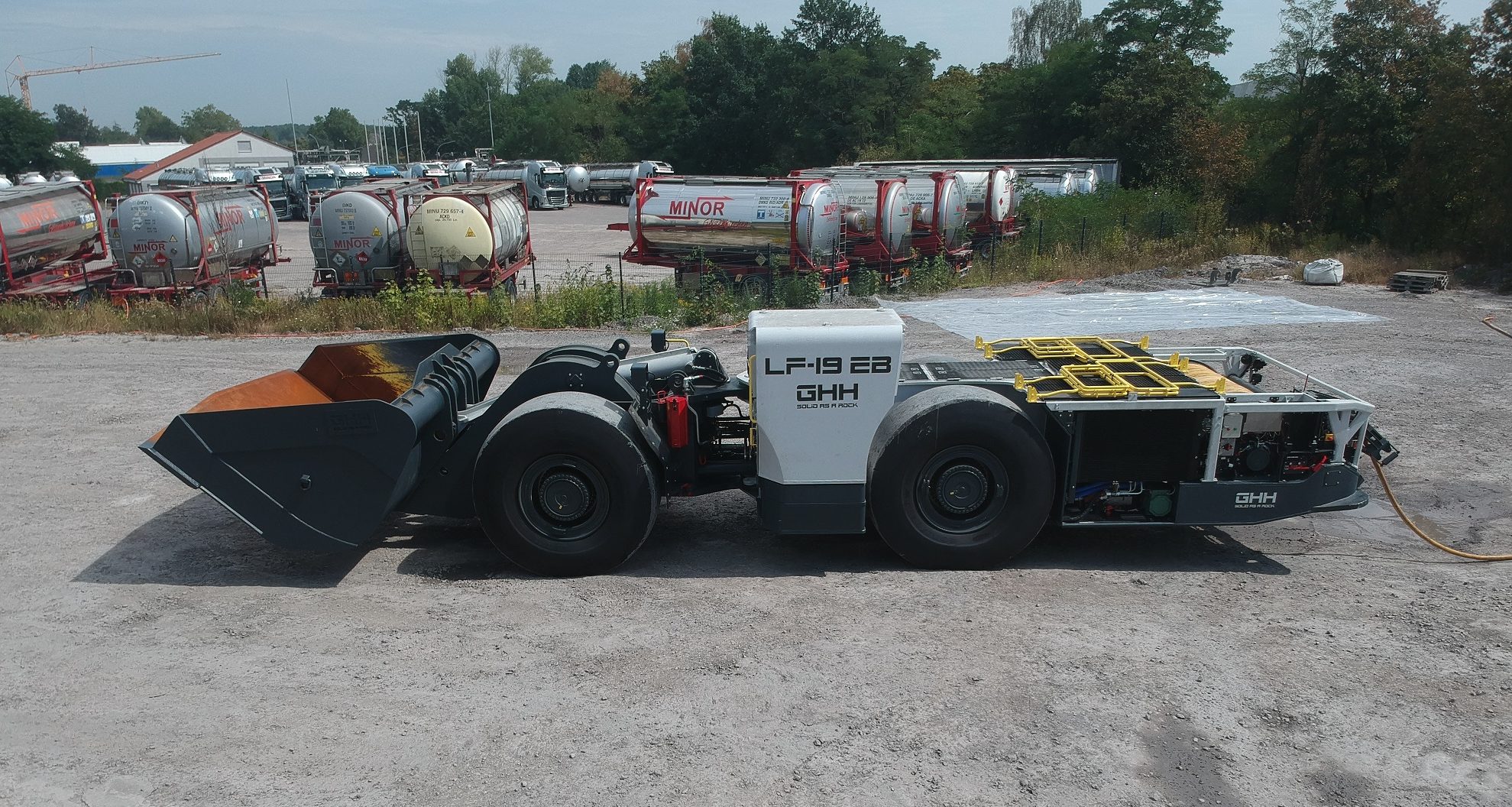 This machine has been performing well for one of GHH's key soft-rock customers and, recently, has come to the attention of one of Europe's biggest underground hard-rock mining companies – interest that could soon result in a machine order.y
For Petzold, this is a much more realistic way of introducing electrification to the underground sector, allowing mine operations to utilise existing power infrastructure as opposed to forcing them into a major redesign.
"While battery-electric loaders may have their application, the need to recharge a whole fleet of them and put extra pressure on the grid means most operations will not be able to support them with their existing power infrastructure," he said. "With more flexible cable-electric solutions, like that offered with the LF19-EB, this is not an issue."
Petzold added that higher diesel prices, on top of the need to decarbonise operations, will lead more mining companies to look at these 'entry-level' cable-electric solutions sooner rather than later.
For the time being, GHH Group is happy to stick with this philosophy knowing the niche it is mining in the sector continues to make it stand out for all the right reasons.