MacLean Engineering has been a fast mover when it comes to leveraging battery-electric equipment, having announced an EV Series platform back in September 2016 and rolled out electrified machinery across its production support offering in the five-and-a-half-years since.
A family-owned company with roots in Canada's mining technology heartland – Sudbury – MacLean is continuing to innovate with new solutions that leverage not only electrification, but the latest in automation and digitalisation too.
IM spoke to Maarten van Koppen, VP Product Management, ahead of his presentation at The Electric Mine 2022, in Stockholm, Sweden, to find out how these three industry trends are converging in line with the company's Application Intelligence philosophy.
IM: As a mine engineer with experience integrating both battery-electric and autonomous equipment into mining operations (at the Borden operation, among others), what new perspectives have you brought to MacLean since you joined in 2020?
MvK: It's a little atypical for a mining engineer from a mining company to join an OEM. Mine engineering graduates do join OEMs, but the typical route is to head there straight from school.
In terms of electrification and automation, the perspective that I brought to MacLean was an acute awareness of what is 'on the other side of the fence'. Having that knowledge has slightly changed the way we interact with customers.
I made a point of preparing material for consultants and study managers that could be very useful in preparing tradeoff studies and inspiring more discussion. We now have an overview for consultants that lists the budgetary prices – based on an 'average' MacLean vehicle – for both electric and diesel equipment in an apples-to-apples comparison. We also have crude cost models that can be customised with different energy prices, labour rates and a couple of other key drivers. That really helps consultants with these early tradeoff studies.
Having been a study manager at Borden, I can appreciate what it takes to make consultants and study managers' lives easier. We are now getting positive feedback from industry that speaks to that.
The good news for me and MacLean was that there was a solid team with Stuart, Anthony and others already doing this work. They understood what the industry was looking for and our key strengths as an OEM.
Since coming in, I have also taken over the static simulations for our EV Series offering. A lot of customers still have range anxiety and I have been able to help with that by customising these simulations for their own sites factoring in, for example, their ramp grades, lengths, etc. Through those simulations, you can outline different scenarios and explain the opportunity charging philosophy in a way that is specific to their operation.
And, finally, MacLean was already on this track, but I reiterated that our battery rental arrangements were very simple and needed to remain so. It is typically just a fixed rate, single number per month. Other OEMs use other arrangements that are a little more complicated, but my experience is that, in terms of forecasting and budgeting, these systems can become onerous to administer and difficult to model out accurately without encountering a bias around expected machine utilisation rates.
IM: At the same time, what was it that attracted you to a company like MacLean?
MvK: First and foremost, my dad, until he retired, was a heavy-duty mechanic who was promoted up the ladder in the company he worked for. This was primarily in the Port of Rotterdam where he helped maintain the big forklifts that operate there – these can be quite complicated from an operational point of view. In that regard, I have always had an affinity and interest in equipment, something that has carried through to my siblings, all of whom are involved in engineering.
Second, joining a family-owned company with three generations of MacLeans involved is a sign of long-term commitment. That was also very attractive.
On a slightly different note, I felt that joining an OEM would allow me to affect the greatest amount of change across the industry. In my role, I get to talk to customers all over the world with a wide range of projects, enabling me to explain where electric machines might make most sense for them in terms of generating increased shareholder value, improved working conditions for employees, etc. That also had a bearing on my decision to join MacLean.
Then, of course, there was an opportunity to embark on a steep learning curve – learning about powertrains, drive trains and all the mechanical and electric bits and pieces that go into our machines. It has been very rewarding so far.
IM: Have you been surprised by the industry take-up of these new solutions since joining MacLean? What trends have supported this acceleration in demand?
MvK: That's an interesting question. Taking it back a little further, when I started off at Borden, I expected the industry adoption to be quite rapid – perhaps more so than it has been.
We were on a good track in 2019, but the pandemic caused a brief interruption. I think a lot of operations took that time to re-evaluate certain choices or projects.
We were very busy with consultants on tradeoff studies in the early days of the pandemic – that never really stopped – and we're starting to see these studies result in fleet orders.
The other thing that went under the radar with the pandemic is, in 2020, all the big mining companies made massive commitments to carbon reductions. Part of that is now starting to trickle through with quotes and interest.
For companies that have aggressive targets for 2030, this is impacting fleet decisions today. If you buy a machine now, it will most likely last for 15 years or more, so you are effectively deciding today about what machines you will be operating in 2037.
IM: MacLean initially announced an equipment electrification plan all the way back in September 2016 at MINExpo, selling your first EV Series machine that year. Since then, you have accrued in excess of 100,000 operating hours on these machines. When evaluating this data, what has surprised you in terms of operating performance, industry acceptance, cost outcomes, etc?
MvK: We have a lot of experience with all our BEV equipment, which is spread out across the offering. We have, through this experience, confirmed operating performance and proven the increased speed of these machines going up-ramp. For instance, with the new batteries we are using on 17% ramps, providing the road conditions are OK, you can drive up that ramp at 15 km/h with an empty battery-electric boom truck. You are looking at 8 km/h with a diesel-powered boom truck, so the speed difference is quite significant.
We have also carried out some very targeted trials, one of which was with a customer in British Columbia, Canada, last summer, where we captured those carbon savings with a bit more detail.
In that trial, we recorded 315 hours on the machine over the course of three months. If you had used a diesel machine over those hours, it would have consumed about 5,000 litres of diesel, generating about 18 t of carbon. With the grid being as clean as it is in BC, the carbon emissions from powering up the machine were about 100 times lower than pure diesel – about 130 kg in total.
Even when we do the back calculation using conventional diesel generation to power up these electric machines, it is still three times cleaner than a machine with a diesel engine.
The one thing we still need to do at our test facility in Sudbury is to confirm what heat savings we can achieve when using BEVs compared with diesel vehicles. We know from other work in the industry that we should see an order of magnitude lower heat emissions, and we are looking at building on our own in-house simulations with real-world test data.
IM: Has this data and feedback influenced your EV Series product line developments over this timeframe? What new products/concepts have come to light on the back of analysing this data?
MvK: Absolutely. Our on-board chargers, for instance, now come from a different supplier that offers better performance, a lower price point and an improved tolerance to less-than-ideal power infrastructure. If you have more robust electronics on these batteries, it is always likely to be better suited to more underground mines.
We have also been able to simplify the drivetrain by removing the transfer case for some of our lighter machines such as the shotcrete sprayer.
As well, we have some exciting changes coming up with the offering of a CCS-2-type off-board charger receptacle. For all-electric mines where off-board chargers are required to power other equipment, such as trucks and loaders, we figured it would make sense for our equipment to be compatible. This means we can charge machines with up to 250 kW of power, provided the off-board charger can push that kind of energy. As for on-board charging, we hit a practical limit to our maximum 100 kW charging capacity. Most mine grids have a limit of about 150 kW on their 400-1,000 V AC mine grids to accommodate jumbos, so we have to stay within that limit. Depending on customer needs, we can configure the charging solution to what makes sense for their project or operation.
MacLean, on the charging front, is also working with the BluVein consortium out of Australia to explore overhead battery charging. While primarily focused on haul trucks, this type of charging solution could be a good fit for our battery-electric grader. Graders typically work on ramps – where this charging infrastructure would be located – and, out of all the machines in our portfolio, a grader is the one machine that should not stop moving in ideal circumstances. The overhead charger matches the application in that regard.
We don't blanket everything with one solution at MacLean – there is a niche for every solution when it comes to batteries and charging. Yet, knowing and understanding what the application is provides us the opportunity to configure a better product for the customer. That type of Application Intelligence is at our core.
Where this ties back to our battery-electric vehicle experience is in the importance of the ramp quality in these types of operations. In every haulage operation, you know the smoother the ramp, the faster you can tram and the more efficient it is for the overall mine. Yet, the added benefit that comes with battery-electric machines is the regeneration opportunities presented with a smoother ramp. That is why we felt it was necessary to come up with a product like this.
IM: On-board, opportunity charging with a standardised battery capacity has been the order of day for the majority of machines you have deployed in mining to this point. Is this blueprint changing for the next generation EV Series in line with the different applications?
MvK: We're open to evaluating just about everything, but the one thing we are married to is the idea of the battery staying on our vehicle. This makes sense for the type of equipment we make and the applications we serve. Outside of that, we're pretty flexible.
On top of the CCS 2-type charger coming out in 2022, we have a chiller for active cooling available to allow BEVs to work at higher ambient temperatures. That is currently on a boom truck in South Africa. As you can imagine, it is easier to test a chiller in a South African summer than a Canadian winter. We think we can operate those machines effectively up to 50°C ambient temperature and possibly more.
The battery supplier change is very big for us and we now have a roadmap to improve performance where we can more easily switch between battery products with that one supplier, taking advantage of future improvements.
It is interesting times as that whole battery-electric vehicle component field is changing so much with the world going greener in general terms. The more components we can pick from that are meant for mobile industrial uses, the better we can configure our machines. The one thing I don't think people realise is that mining equipment manufacturers are way too small to mandate customised components on a machine. We are at the mercy of what components are available on the market.
Those technology improvements will also hopefully put some downward pressure on costs when all the supply chain interruptions settle down.
IM: Where is the industry's level of maturity with battery-electric solutions? Have many of the initial barriers to entry (upfront cost, worries over range, etc) been overcome?
MvK: I think there is still a bit of a 'sticker shock' when people see the quotation for a BEV, which is common among the OEMs. Yet, people are now looking beyond the initial capital cost, taking into consideration the cost savings that can be realised over the lifetime of the machine.
What I find interesting is how capital markets are now playing a role.
For example, underground coal miners, on top of the regulatory pressures they are facing, are now finding it very difficult to attract capital for their operations. The flipside is true when we think about some junior companies out of Canada that have announced plans to go carbon neutral and fully electric – they have been able to attract capital from investors that would typically steer away from mining. This is especially true when they are looking to mine 'battery minerals'.
There is still a level of scepticism and hesitancy, but customers that have trialled BEVs generally realise the need to go all-electric. I do expect with the regulatory changes in certain jurisdictions where we do a lot of business, there will be more enquiries. If it becomes a tradeoff between going all-electric or spending a tonne of money on upgrading your ventilation infrastructure to abide by regulations, the battery-electric vehicle value proposition for existing operations will become a lot clearer.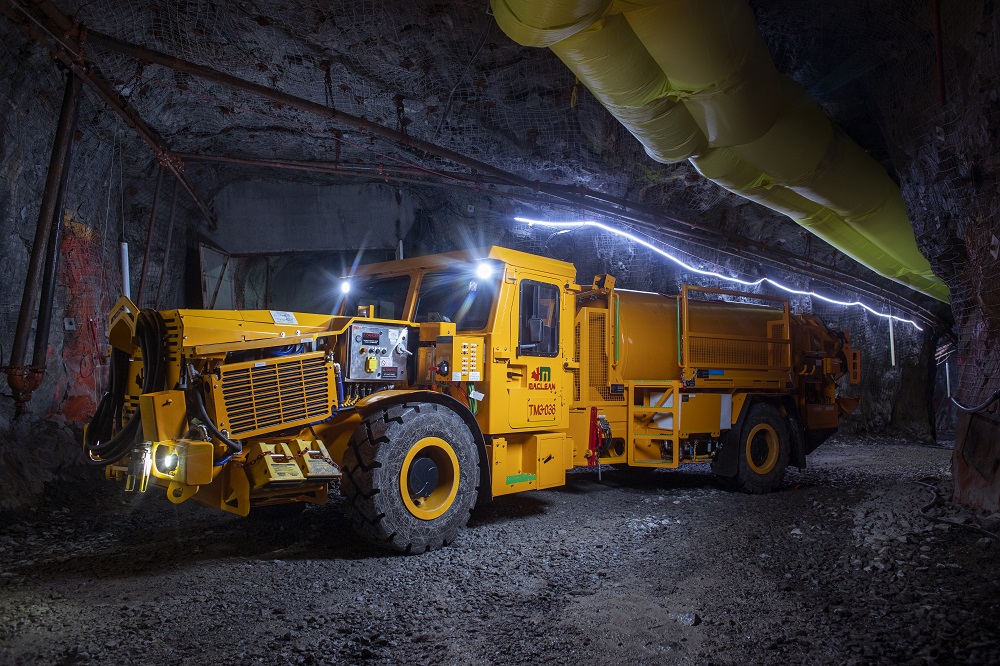 IM: In terms of technology development, MacLean has also been developing automation and digitalisation solutions. How do you see all three – electrification, automation and digitalisation – complementing each other?
MvK: The combination of electrification and digitisation is a good match. A lot of our telemetry developments came from the BEV side where we needed those diagnostics; these are now carrying over to the diesel side. Also, integrating automation and digitisation makes a lot of sense for a lot of the same reasons that you need the data to automate operations.
A lot of the engineering challenges will be around automation and electrification working together, and how you get energy into the machine. Driving, stopping and controlling the machine is not a problem – it is actually probably easier on an electric machine – it is how to get energy into it. The consortium we are in with BluVein is one solution, but I don't think it is the 'only' solution. There are others on the market, but they currently come with a price point that makes them prohibitive.
IM: I know you have partnered with universities and colleges on the robotics side of things in recent years. What's the latest on these developments?
MvK: A lot of the collaboration, to this point, has focused on boom movements. We are starting to automate boom movements as we think it will have applications in not just oversize management with water cannons, blockholers, or secondary ore reduction drills, but shotcrete and explosives loading too.
We are also partnering on several other things with universities and colleges on tech development. One of the things that comes to mind is the Robobolter we are working on right now. Here we are looking to put a robotic arm on the deck of our tried and proven Omnia bolter platform to take the operator out of the environment.
Customers have been telling us for a while that, due to the travel times, heat or seismic exposure, they would like to see the operator further removed from the face when it comes to bolting operations. At the same time, we wanted to make sure this solution had all the strengths of our proven platform bolter – being able to load up for an entire round, provide multiple types of support without extensive retooling, etc. We're looking to introduce that product in 2023.
Like many of our new products coming out, these vehicles will primarily be designed around battery-electric operation, with a diesel option. That is a shift in thinking – designing for electric with a diesel consideration, instead of the other way around. The grader is the exception to that as we had to make the first one in diesel form. But, when we look at our new explosives rig coming out next year, that is primarily designed as an electric machine, which we will make available in diesel as well.
IM: Is the Robobolter likely to be your most advanced machine in terms of automation, digitalisation and electrification when it comes out in 2023?
MvK: I think the Robobolter, at launch, will be our most advanced machine, but there is increased internal competition within MacLean to reach new benchmarks across our offering. That competition is good for the business and the industry.
It's refreshing and encouraging that the MacLean ownership is big on growth in both product lines and the territories which we operate in. We also want to disrupt the sector in the niches we operate in, having full support in terms of innovating and coming up with new products.
On top of that, as it is family-owned company, you can make decisions that best suit our customers. For example, our ownership will not allow us to sell machines we cannot support in the field.  This philosophy has somewhat saved our bacon with the supply chain pressures the industry is experiencing of late, ensuring we have enough spares to supply new machines as well as service those in the field.
Maarten van Koppen will be presenting 'Electric, automated and digitally-connected: the MacLean machine pipeline' at The Electric Mine 2022 conference in Stockholm, Sweden, on February 17-18, 2022. For more information on the event, click here.