Komatsu Australia says it has, for the first time, entered the hard-rock underground mining market with a concerted solution made up of two larger hybrid LHDs and two diesel-powered narrow-vein loaders.
Two high-tech hybrid drive underground loaders, equipped with durable independent electric motors in each wheel, headline this substantial investment by Komatsu to provide a complete service solution to miners and contractors, it said.
"Providing hard-rock miners with reliable underground loaders is part of a broader understanding of the need to assist their overall productivity in the face of global competition," Joshua Foale, Product Manager Mining, Komatsu Australia, said.
The hybrid Komatsu WX22H and WX18H LHDs each claim to be the lowest total operating costs in their class.
Meanwhile, Komatsu's analysis shows the conventionally powered Komatsu WX07 7 t loader (pictured) is 14% more productive than any other machine in its category. The WX04 4 t LHD offers 20% more breakout force in its class, based on published information.
Komatsu hybrid loaders
Komatsu's WX22H and smaller WX18H achieve up to 20% increase in tonnes moved, compared with conventionally powered loaders, the OEM said. They also have an up to 20% decrease in fuel costs, based on operating trials.
An independent life cycle analysis identified a 30% reduction in operating costs, compared with their conventionally powered counterparts.
Improved work cycle performance is achieved by use of high efficiency electric traction motors in each wheel, making conventional mechanical power drive redundant, resulting in substantial reductions in operating costs, Komatsu said.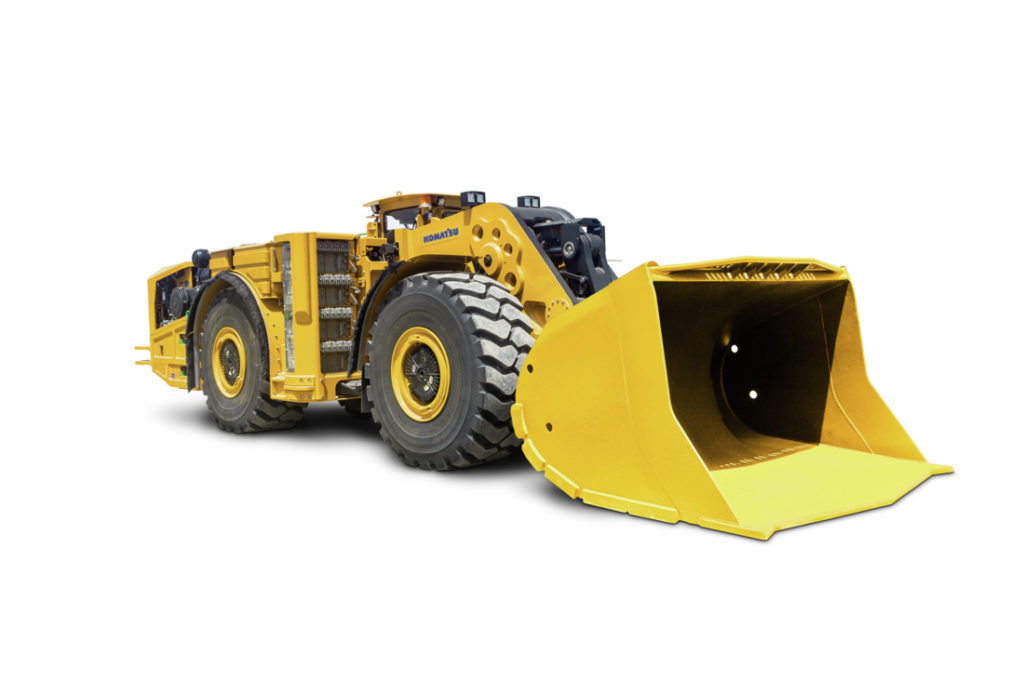 The Kinetic Energy Storage System (KESS) is at the heart of the switched reluctance hybrid drive, which captures and reuses braking energy from each of the four wheels. Heat-energy generated when the machine stops abruptly at the dig face is captured by the bi-directional KESS loop instead of being lost to the atmosphere.
KESS stores and releases 3 MJ of energy, supplementing power from the conventional diesel engine for greater acceleration to maximise cycle performance, according to the company.
A smart traction system provides smoother acceleration and results in less tyre wear and component degradation. It generates less inertia at each stop, significantly reducing potential damage to the drive train.
Fewer underground emissions, lower heat rejection and greater operator comfort are all intended benefits of the hybrid system.
Komatsu's 22 tonne WX22H produces 320 kW, with the smaller WX18H producing 280 kW.
Both engines are rated to the strictest EU Stage V requirements for emission control, and both use the same KESS, capable of delivering 410 kW, effectively doubling power delivery on demand.
A Joy 22HD hybrid LHD using SR drive and KESS has previously been tested at OZ Minerals' Prominent Hill copper-gold mine in South Australia, in addition to Codelco's El Teniente underground mine in Chile.
Narrow-vein focus
Komatsu has designed the WX04 and WX07 for maximum productivity, with the WX07 a forerunner of a new breed of LHDs using improved chassis, power train and operator cabin environment.
Large capacity fuel tanks – 243 litres in the case of the WX07 – allows longer operational cycles between refuelling, while the cabin access, visibility and ergonomics have been optimised. Critical service points have been placed at ground level to minimise the need for technicians to climb or use ladders to reach key areas, the company said.
A new more efficient bucket design enables greater penetration into a load pile for fast bucket filling.
The Komatsu WX04 delivers 97 kW and the WX07 delivers 160 kW.
Komatsu says it range of hard-rock mining machines establishes new standards of strength and durability.
"In developing our machines, we have been specific in providing protection for critical structural components, linkages and joints," Foale said. "Reliability has been a paramount consideration in the design of long-life moving parts.
"In the case of our hybrid drive machines, there are no commutators, brushes or rotor windings to replace, and our wiring systems are double insulated."