Giyani Metals has completed the feasibility study tendering process for its K.Hill manganese project, in Botswana, selecting SRK Consulting and a joint bid by Coffey, a Tetra Tech Company, and Royal IHC to conduct the study.
The tendering process began in early November with six service providers invited to bid.
The scope of work in the request for proposal (RFP) was divided into two work packages to run in parallel.
Work Package 1 (WP1) encompasses all the technical mining disciplines but will exclude processing, infrastructure and environmental/social. Work Package 2 (WP2) mainly encompasses the processing, infrastructure, and project execution disciplines.
Bidders were given the option to bid for both work packages, but the RFP stated that work packages may be awarded individually.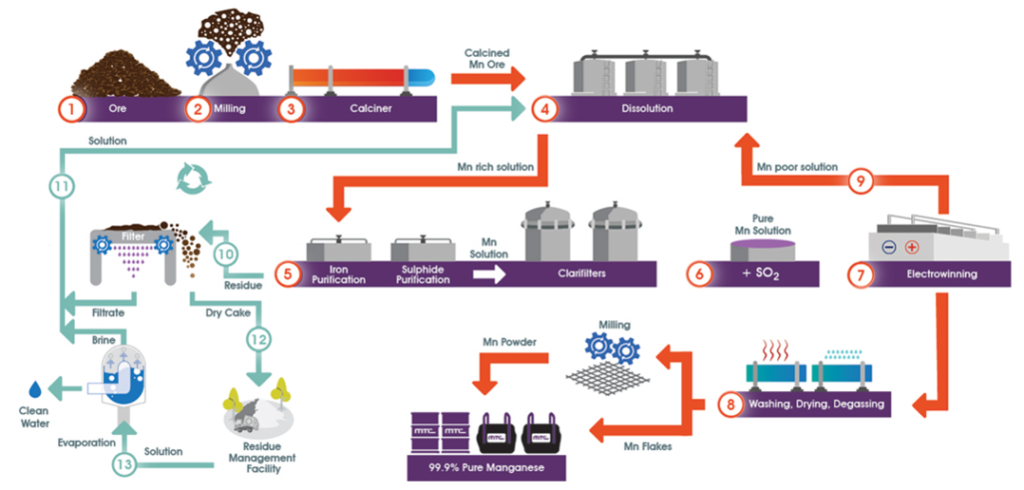 SRK, who completed the preliminary economic assessment for K.Hill earlier this year, was awarded WP1 while WP2 was awarded to the joint Coffey and Royal IHC bid. On the latter, the company said: "The joint bid provides Giyani with specialised experience from Tetra Tech in the process of making electrolytic manganese metal (EMM – pictured) in a solvent extraction/electrowinning plant and mining engineering and construction experience from Royal IHC."
The environmental and social impact assessment (ESIA) was tendered separately and bids are currently being assessed by the company, Giyani said.
Giyani will now move to the contracting phase which commences with a site visit with SRK, Coffey, and Royal IHC during the week of December 16.
Robin Birchall, CEO of Giyani, said: "Commencing the FS for K.Hill, along with the ESIA which we will kick off shortly thereafter, is a very important step forward, one that will prepare the company for the next and most important phase of its development, becoming one of the leading independent producers of high purity manganese for the battery electric vehicle market."
Mike Beare, Project Manager for SRK, said: "SRK is very much looking forward to building on the work of the PEA and applying its skills to further development of the K.Hill project. This will assist Giyani with their continued growth into the burgeoning battery metals sector which we see as an area of considerable investment in years to come."
Jacques du Toit, Project Director for Coffey & Derk Hartman, Director EPC & Project Delivery for IHC Mining, part of the Royal IHC Group, said: "We recognise that Giyani's K.Hill manganese project offers outstanding potential for investors and look forward to providing our combined services and solutions to Giyani for the development of the K.Hill manganese project."
The PEA on K.Hill was based on the 1.1 Mt inferred resource and showed a nine-year potential life of mine producing 245,000 t of what the company called "high-purity electrolytic manganese metal" (HPEMM). Pre-production capital was estimated at $108.5 million and the post-tax net present value (10% discount) was estimated at $285 million based on a projected average price of $4,700/t for HPEMM of 99.9% Mn over the life.