John A McCluskey, President and CEO of Alamos Gold, tends to look forward, not back, when talking about strategic decisions the Toronto- and New York-listed miner has made during his 18 years heading up the company.
When discussing the acquisition of Richmont Mines, which included the flagship Island Gold Mine asset in Ontario, he allows himself a brief rumination on the market's first impressions of the deal: "We acquired the asset for around $620 million in November of 2017. The consensus view in the market was we had overpaid for the asset."
That consensus view considered 1.8 Moz of mineral reserves and resources and production around the 100,000 oz/y mark, among other factors.
"In less than three years, we had Island over the 4 Moz reserve and resource threshold – we're now nearer to 5 Moz – and the consensus valuation for the asset from analysts covering us is around $1.4 billion."
That new valuation factors in a production rise – the company is anticipating gold output of 130,000-145,000 oz this year – and long-term growth prospects for the asset. The latter is evidenced by an Island Phase Three Expansion study published last year that envisaged a 2,000 t/d operation (currently 1,200 t/d) able to produce 236,000 oz/y starting in 2025.
While McCluskey says the company was aware of these growth prospects back in November 2017, most market observers will be surprised they have been proven up so quickly after the Richmont Mines transaction.
They probably underestimated what the use of surface directional drilling could do at Island.
Originally leveraged by Richmont Mines' Chief Geologist and now Island Gold Chief Geologist, Raynald Vincent, back in 2015, the exploration technique has allowed Alamos to successfully step out from and infill holes Richmont and predecessors previously drilled.
Scott R.G. Parsons, VP of Exploration for Alamos, says surface directional drilling, in combination with the exploration team's understanding on the controls on gold mineralisation at Island and Alamos' financial backing for exploration, has helped the company grow the asset rapidly.
"The significant resource and reserve growth at Island in the last three years – adding 3 Moz net of 500,000 of mining depletion – was largely driven by surface directional drilling," he told IM. "We could not have moved the asset forward in such a significant way without it."
The use of what Parsons says are "standard" surface drill rigs and Devico's DeviDrill™ steerable wireline core barrels are allowing the company to hit mineralisation far below the mine's existing underground infrastructure. The DeviDrill tool can make multiple branches from a pilot hole, dramatically reducing both the time spent and the cost of drilling when compared with standard core drilling methods. At the same time, no time is lost on moving the drill rig between branch holes, as the core barrel can be steered from surface to complete the optimal drill patterns.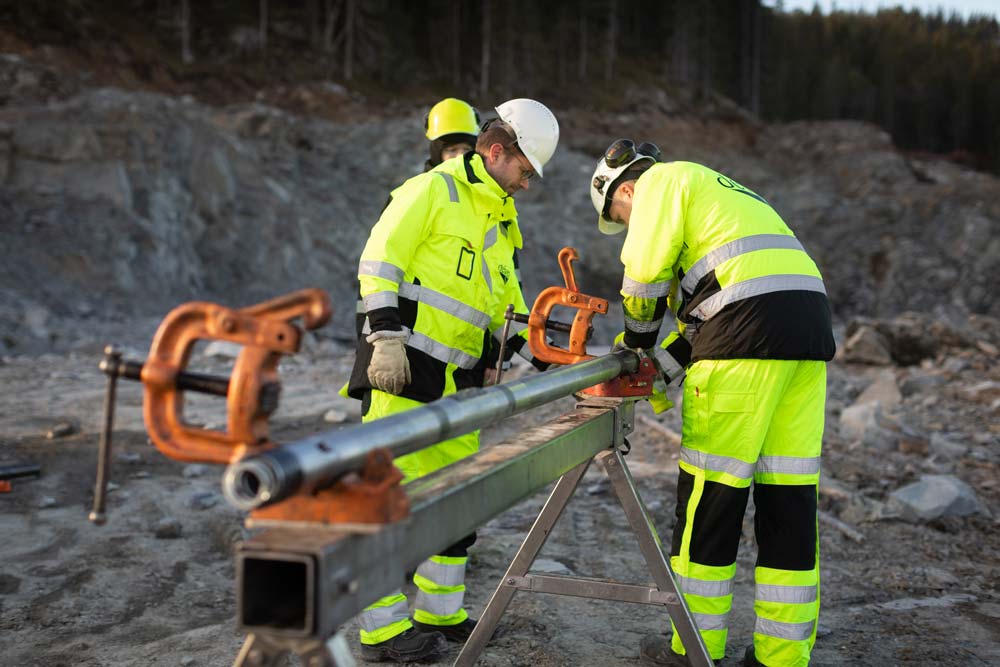 The company has drilled 240 surface directional drill holes at Island for about 200,000 m of drilling using only 27 drill sites, Parsons explained.
"Using conventional surface drilling, the 240 holes would have required significantly more drill sites," he said.
This would have involved moving the rig more frequently, making the process that much slower and expensive.
Instead, thanks to this directional drilling technique, the company is sitting on an additional 3 Moz of gold resources and reserves garnered in the last three years. This has come with a discovery cost of just $11/oz.
Accuracy, as Devico indicated, is another benefit of this technology.
"Surface directional drilling is not only more effective than standard drilling practices, but we can hit our targets with 1% accuracy," Parsons added. "So, if we're drilling a 1,500 m hole, we can typically intersect our target within 15 m from plan, 1,500 m downhole. This predictable drilling spacing is critical for defining a mineral resource with the appropriate confidence level.
"You'd never be able to do that with standard surface drilling."
This technique is not a silver exploration bullet, though. According to Parsons, it does not work everywhere.
"It really all hinges around the quality of the orebody and our understanding of the deposit and the controls and the mineralisation," he said. "Knowing we require a certain drill spacing to be able to define inferred mineral resources, we strategically target the down-plunge extensions of the ore shoots."
At Island, these ore shoots – which are the high-grade portions of the deposit – are laterally extensive in the lateral and vertical sense, Parsons explained.
"With the surface directional drilling, we are able to specifically target these down-plunge extensions," he said. "With one or two pilot holes and branch patterns, we can evaluate a large area down-plunge and along strike of the existing mineral reserves and resources. In some cases, other gold deposits can have ore shoots that are less predictable, or are not as extensive, so it would be a challenge to apply surface directional drilling without having a strong understanding of the controls of these shoots for targeting."
And, it should not be forgotten, it requires an investment in exploration that goes beyond simply reserve and resource replacement on an annual basis. Richmont, a much smaller company, was unable to bankroll such a strategy.
Alamos has made a commitment to do this, as evidenced in the 16-year mine life outlined in the Island Phase III study and the $25 million it intends to invest in exploration this year.
The use of surface directional drilling looks set to continue paying off beyond this study, with the company recently drilling its best-ever hole to date by leveraging the technique.
Drill hole MH25-08 – 71.21 g/t Au (39.24 g/t cut) over 21.33 m – is the hole in question. This hole, in addition to the previously reported MH25-04 (28.97 g/t Au (26.89 g/t cut) over 21.76 m), have true widths approximately four times greater than the average width of the large high-grade inferred resource block defined up-plunge of them. This, the company said, demonstrates the zone has widened in this area, providing even further potential beyond the company's current growth plans.
"That one – MH25-08 – is the best drill hole ever drilled at Island," Parsons said. "And that is after 1.3 million metres of drilling and over 7,000 drill holes dating back nearly 100-years.
"That speaks to the potential of this deposit to continue to grow through exploration, and also highlights the prospectivity of the Michipicoten Greenstone Belt."
More to come
With 27,500 m of surface directional drilling scheduled for 2021 – and only 6,683 m carried out as of May 31 – more of these high-grade intercepts could soon come to the fore.
And Parsons says the company can continue to use surface directional drilling some 500 m below where it is currently drilling down to at Island.
On top of that, the company, having established the necessary underground exploration infrastructure, is equipping its underground drill rigs at Island for directional drilling, with 24,000 m of underground directional drilling planned this year (3,233 m completed as of the end of May).
"This is allowing us to reduce our cost per metre compared with surface directional drilling and allowing us to drill more targets in a shorter amount of time," Parsons said. "We will continue applying directional drilling technology as long as the orebody is continuing at depth to drill off those ore shoots."
At Young-Davidson, the company's other core asset in Ontario, Canada, the company is also making plans to use underground directional drilling.
"One of our plans going into 2022 is to evaluate opportunities to utilise directional drilling from underground exploration drifts established in lower and mid mines at Young-Davidson to target mineralisation down-plunge at depth," Parsons said.
More broadly, Parsons thinks the company's exploration team can leverage their understanding of the technology at other assets.
"For us, it is a competitive advantage," he said. "With a solid geological understanding of the deposit you are looking at and an understanding of the application and the benefits of directional drilling, we can recognise opportunities of what could be occurring at depth where others might not see potential until well into the future after underground infrastructure is established at depth."
There are obvious cost, time and accuracy benefits to using directional drilling, yet there is another benefit that may get lost along the way.
Without the need to constantly move the surface drill rigs between drill pads, the footprint of these rigs is reduced.
McCluskey says the technology has brought another ESG advantage to Island too.
By being able to quickly drill off more targets and convert these into the resource base, Alamos has been able to think long term with its Island Gold Phase III Expansion and justify the expense of a shaft and paste backfill plant.
This comes with a 35% reduction in emissions compared with using the mine's existing ramp and diesel-powered truck haulage, he said, explaining that much of the Ontario grid is powered by renewable hydroelectricity.
"This technology has given us the exploration success that has been converted into scale and allowed us to think longer term and afford the infrastructure to make it a 'greener' operation," he said.
With such a long list of benefits, more companies will be looking at directional drilling to prolong the life of their assets and make long-term decisions that make economic and sustainable sense.