The electric revolution looks to be well and truly underway in the mining space, with underground mines of all sizes planning, trialling, or ordering various battery-electric machines to help them decarbonise their operations. Yet, the latest report on the off-highway vehicle market from Interact Analysis has indicated the transition above ground will take a little longer than many anticipated.
Homing in specifically on the 85-t-plus global hauler/dump truck market – broadly applicable to the medium-large construction space and the small-large open-pit mining sector – the market research firm laid out estimates for the annual number of new truck deliveries to 2029.
The surprising aspect of this research was the continued dominance of internal combustion engine (ICE) vehicle deliveries over this time frame.
The team at Interact Analysis expected the adoption rate/market share to go from 100% in 2020 – when 1,330 new vehicles were delivered – to 96.2% in 2029 – when it expected 1,716 units to be delivered.
The growth is slightly extreme in this comparison, but is partially accounted for by a drop off in deliveries in 2020 due to the effects of COVID-19. For reference, in 2019, 2,065 units were delivered.
Included within the ICE stats are biofuel vehicles, which have been gaining prominence in the mining space as miners realise they can both reduce diesel costs and emissions by incorporating biofuels into their operating mix.

Over the same time frame – 2020-2029 – the analysts see "hybrid" trucks commanding zero percent market share, with no sales.
Fully-electric trucks fare better, moving from zero deliveries in 2020 to two in 2021, five in 2022, six in 2023; to 72 in 2028 and 67 in 2029. The fully-electric adoption rate moves from 0% in 2020 to 3.8% in 2029.
Among these new fully-electric dump trucks is an XCMG EDF531 90 t battery-electric truck that was on show at the Bauma China show late last year (pictured below).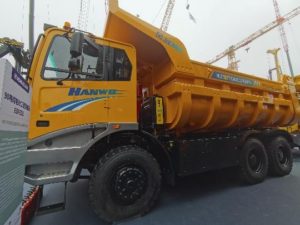 Jan Zhang, Senior Research Director at Interact Analysis, based in China, said this dump truck has already been delivered to a customer.
"In fact, quite a few dump fully-electric trucks below 100 t have already been used in China (in Guangdong)," she told IM. "Many of these have payloads of below 60 t, but a few are 90 t, and are in trial runs, and a few have also been exported to New Zealand, using the LiFePO4 battery from CATL."
There has been much talk about hydrogen haul trucks taking hold in the mining space. This has been catalysed by Anglo American's plans to test a 291 t fuel cell electric vehicle, a conversion to hydrogen fuel cell and lithium battery operation of a diesel-powered Komatsu 930E, at the Mogalakwena platinum mine in South Africa. If successful, these tests could lead to a rollout of 40 FCEVs across the global miner's operations, it says.
Despite this, Interact Analysis' research has no plus-85 t payload hydrogen trucks included in its forecasts to 2029.
Alastair Hayfield, Senior Research Director at Interact Analysis, based in the UK, explains: "Our statistics only look at new builds and not retrofits. My understanding is that the Anglo American vehicles would be retrofit (although there is limited detail at this point).
"Should some be new build, then we would update our forecast accordingly once we have better visibility."
It's worth asking the question: what about hydrogen trucks in mining beyond 2029?
Zhang said: "At present, mining trucks are mainly used in medium and large-scale coal and metal mines, and the use scenario is mainly for downhill heavy payload applications. That is to say where mineral resources are situated in a high up location, and it is necessary to load them from the mountain to the conveyor belt or transfer vehicle (the short distance transportation path is generally 2-3 km)."
She said mining truck electrification is mainly driven by two factors, with the first being operational cost advantages.
"For example, a mine truck with a total weight of 90 t will cost $45,000-75,000 in standard fuel annually, whilst the cost of electricity is only a third of the cost of fuel under the same circumstances, which means that $30,000-45,000 can be saved in the annual cost, not to mention other costs which are also higher for ICE mine trucks such as repair and maintenance," she said.
The second factor is environmental protection and policy promotion.
"In China, the 'National Green Mine Construction Specification', issued by the Ministry of Natural Resources, has been implemented since October 2018," Zhang explained. "This measure will surely help to grow the market share of hydrogen trucks in China, although the overall percentage will remain small."
The last category included in Interact Analysis' research was "Others" in the global hauler/dump truck market for 85-t-plus vehicles.
No deliveries for this category were registered in 2020, but the company anticipates one delivery in 2021, followed by three in 2022 and five in 2023. This gets as high as eight deliveries in 2025, but, by the end of the forecast period (2029), this category still commands 0.0% of the total.
So, what trucks fit into this category?
Hayfield explained: "We're talking about diesel-electrics that will enter service into a trolley line operation – we essentially have to make an estimate on how we think the vehicle will predominantly be used. This is analogous to what we do in our on-highway research where we have to make estimates on how class 8 trucks are used for different applications ie long haul, distribution, vocational applications."
This is not to say there will be no trolley assist trucks coming into the mining space, but, as far as Interact Analysis is concerned, these will not be new trucks coming out of the factory destined to head onto trolley lines. They will more likely be AC drive trucks that are retrofitted later for trolley assist operation.
When consolidated, these numbers show an underlying trend.
Back in 2019, there were 2,065 truck units delivered to the market in this 85-t-plus category, but, even out to 2029, this level is not reached, according to Interact Analysis.
In 2020, total deliveries dropped to 1,330 and, in 2021, Interact Analysis sees this rising to 1,545 units. A continual rise is expected in the years following, but it only reaches 1,783 in 2029.
What about beyond this timeframe?
Hayfield answered: "You have two fundamental pressures: a growing, resource-intensive population and a need to re-use/cut consumption because of environmental and/or legislative pressure. I suspect we will continue to see the growth of new mines throughout the 2030s in developing regions, fuelling demand for new trucks. However, I suspect we will see increasing pressure in Europe and North America on sustainability and the need to re-use materials and, hence, a slowing in the opening of new mines."
This means demand for new trucks could start to drop during the 2030s in Europe and North America, he deduced.
This is not an exhaustive look at trends in the open-pit mining dump truck market – it is more of a taster – but Interact Analysis plans a detailed, mining specific study later in 2021. Such analysis could include forecasts for the retrofit market, providing the complete picture mining industry onlookers are after.