The emergence of Adria Power Systems' latest charging solution is evidence of just how quickly the industry is adopting battery-electric vehicles underground and on surface, while highlighting an incoming interoperability issue the industry is likely to face.
The charger in question – a 1 MW bi-directional system with four bridgeable outputs – has been designed as part of a federal and provincial government electrification program centred around Nouveau Monde Graphite's Matawinie project in Quebec, Canada.
The collaboration, involving the Innovative Vehicle Institute, Propulsion Québec, the National Research Council of Canada, Adria, Dana TM4, Fournier et fils and NMG, would result in the development of a new electric propulsion system with a rapid recharging infrastructure adapted to heavy vehicles in the open-pit mining industry.
For Adria's part, it was tasked with creating a charging platform that could energise a battery-electric converted Western Star 6900XD truck with a 40 ton (36 t) loading capacity.
Jean-Francois Couillard, President of Adria, told IM that this charger, initially planned as an 800-kW model, would be used for a "slower and opportunity charging application" at Matawinie, with the site's operating philosophy not requiring a fast charge solution.
While 800 kW and a slower/opportunity charging solution was all that was required, the company has outdone itself, developing a 1 MW model that, Adria says, can be used in a variety of applications in both underground and surface mining.
It is a step up from the CCS-type charger deployed at Alamos Gold's Young-Davidson mine in 2020, which had two DC/AC outputs and offered Level 3 DC fast charging with a type 2 plug as recommended by the GMG BEV guideline.
Such a change required a revamped design philosophy, according to Couillard.
"Technically, when we started to plan for this prototype, we wanted to be conservative, but, down the road with the design work, we realised we could go to 1 MW with this same system," he said.
This watt capacity is high when compared with other charging solutions to have recently hit the market.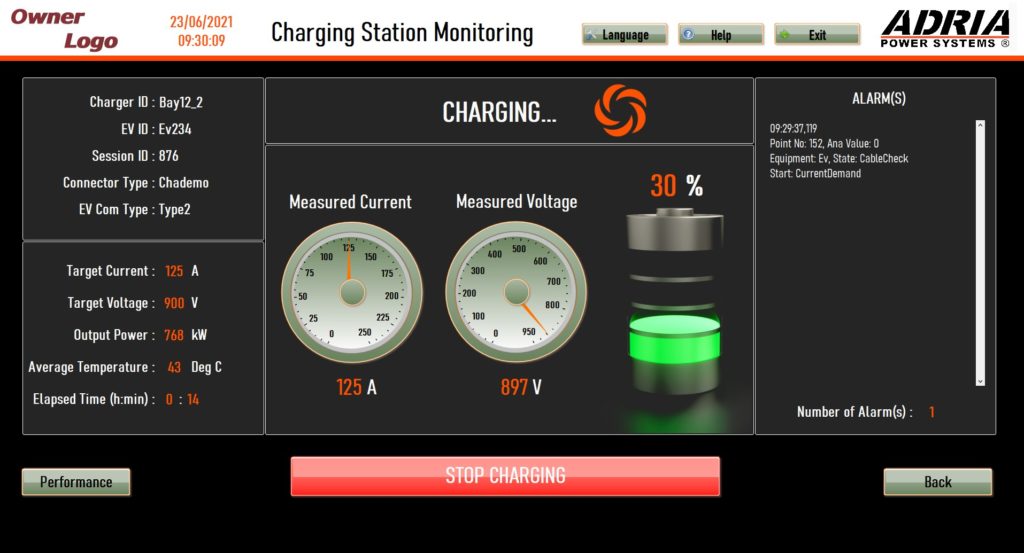 The new Cat® MEC500 Mobile Equipment Charger, for instance, comes with a 500-kW capability able to charge its R1700 XE in less than 20 minutes (when using parallel charging units), while the Tritium RT175-S charger re-energising Miller Technology's Relay utility vehicles at BHP Mitsubishi Alliance's Broadmeadow mine in Queensland, Australia, comes with 175 kW of output and a stated battery charge time of as little as 20 minutes.
The flexibility of Adria's new solution is greater than many chargers on the market too, with Couillard saying the charger could end up being used as a 1 MW solution where all four outputs are bridged together for an extremely fast charge, or where one LHD from one OEM is fast charged with a 500 kW input from two of the charger's bridged outputs while two utility vehicles from two different manufacturers are plugged into the other vacant outputs, each taking 250 kW of charge.
"The four outputs are totally independent; you can charge with four different protocols to communicate with various batteries at the same time, and you can charge with different power levels at the same time," Couillard said. "It really can adapt very easily to any situation."
This is the ideal solution for an industry still transitioning to electrification, where different applications may require fast charge, battery swap, opportunity charging or some other option.
On top of this, Adria's new charging platform can be connected directly to a mine site's medium-voltage infrastructure. There is no need for them to acquire an additional transformer to step down/up the voltage, according to Couillard.
"There are no other accessories required, which brings a lot of savings to customers," he said.
Couillard sees the 1 MW charger in question as proving sufficient to fast charge the new higher tonnage battery-electric vehicles coming onto the market – Sandvik's upcoming 65 t BEV being a good example here – yet he anticipates future requirements to go beyond the 1 MW mark with the introduction of bigger trucks and larger electric fleets on surface and underground.
Adria is more than prepared for this.
"We expect the power needs to go higher, but there will be a technical limit at one point, probably driven by customer infrastructure," he said. "If you talk about high power for fast charging, then you will have a very big peak on the network that will have to be compensated somehow."
Even with this theoretical technical limit, Adria is currently engaged with one mining company on a 5 MW charging system for surface mining trucks.
While recognising this as a "good challenge" for Adria's team, Couillard says the new charging platform has been designed to accommodate this scale and potential problems that may come with it.
"We know there are a lot more challenges coming up at these higher power levels, namely harmonics," he said. "With a small number of smaller capacity chargers, you don't really see a harmonics impact. By the time you get to using multiple chargers, it can be a really big problem."
The draw of highly distorted currents and voltages caused by high harmonics levels can potentially cause additional power losses and failures in distribution transformers, feeders and some conventional loads, such as AC motors, according to industry reports. It can also lead to higher power consumption costs, according to Adria.
This issue is not something many battery charging companies and mine site operators are considering, according to Couillard.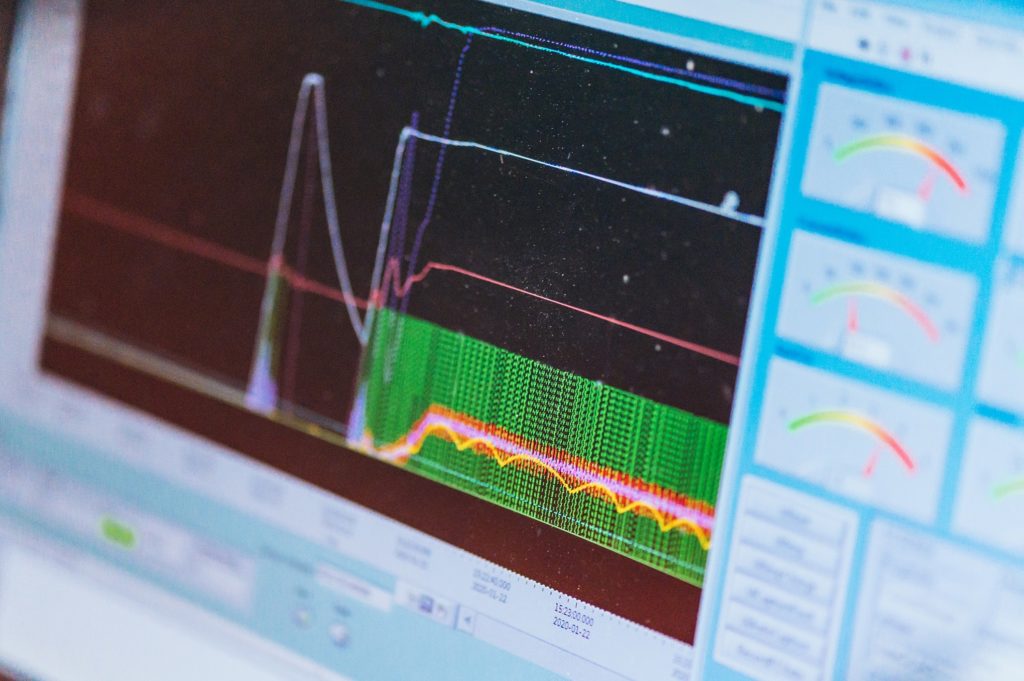 "You see a lot of studies right now that mention the ease of building a charger up to 100 kW capacity, but, when they get to a higher power, the management or mitigation of the harmonics becomes more problematic," he said.
"This is an issue we have solved on our platform, making it easy to scale to a different power level while keeping the same efficiency and low harmonics."
The 1 MW charger to be used at Matawinie could end up charging more than just the Western Star truck conversion, with Adria using standardised industry protocols that all OEMs can subscribe to.
Whether all OEMs will follow such protocols is up for debate, according to Couillard.
"Some OEMs see these proprietary charging infrastructure solutions as very strategic," he said. "A lot of them know that if they sell their charger to a mining company, they can lock that mining company into using their equipment.
"That makes strategic sense from their perspective, but it doesn't make sense for the mining customer. The mining customer needs to have maximum flexibility and be in control of their future if they are to adopt electrification across their fleet. They cannot tie themselves to one manufacturer for the lifetime of the mine."
This interoperability issue is one the industry knows well given the ongoing struggle to access machine telemetry data to improve fleet efficiency and reduce downtime.
And, it should be remembered, these charging systems are not cheap, so the idea of having multiple proprietary chargers to energise a mixed fleet is not something mine operators will want to consider.
"I think the mine operators will put a lot of pressure on the OEMs to offer some standardised options, or make their machines compatible with alternative platforms," Couillard predicted.
As the industry ponders this predicament, Adria is continuing its in-house testing of the 1 MW charger. With plans to finish this testing and the charger assembly early in 2022, and the current schedule at Matawinie requiring the arrival of the charger next year, Couillard is hoping to take advantage of that spare time to test the charger underground in real mine-site conditions.
"We have a couple of prospects already, but we're open for solicitation," he said. "Ideally, we would have a couple of 2-3 month mine site trials under our belt before the charger arrives at Matawinie."
He concluded: "I can say with confidence that this is the most interesting offering on the market right now. We are looking forward to putting this charger into service and show the charging advancement to mining companies."