DataCloud's MinePortal solution has links to the 'artificial intelligence', 'big data' and 'digitalisation' buzzwords that are heard throughout the conference halls at any global technology conference today, but, unlike some of its competitors, the concept is very easy to understand.
Simply put, MinePortal collects existing datasets from within a mining company's operation and aggregates that data into a model that shows the entire process – from drilling through to processing in the plant.
Technology-agnostic, it uses cloud computing to ingest and process this data in near real-time, applying the company's proprietary geostatistical and machine learning algorithms to continually update models.
The fact it can look at the entire mining process – from end-to-end – makes it almost unique in the industry, according to DataCloud Chief Technology Officer, Krishna Srinivasan.
"Data is no longer the problem in mining," he told IM on the side lines of the Mines and Technology conference in London last week. "What mines haven't got is a place where all of this data is displayed together for analysis. This is what MinePortal brings."
In addition to leveraging off a mine's existing fleet management and condition monitoring platforms, it also uses its own RHINO blast hole measurement package on production drills to enhance geology data right from the source.
RHINO (below) uses vibration signatures in the drill steel, acquired via IoT-enabled sensor devices, to calculate blast-critical subsurface information such as compressional and shear moduli, compressive strength, density, velocity, and more. This can help detect waste boundaries, faults, fractures, and many grade indicators, according to the company. Once this data is recorded, it is streamed to MinePortal and analysed to characterise the orebody.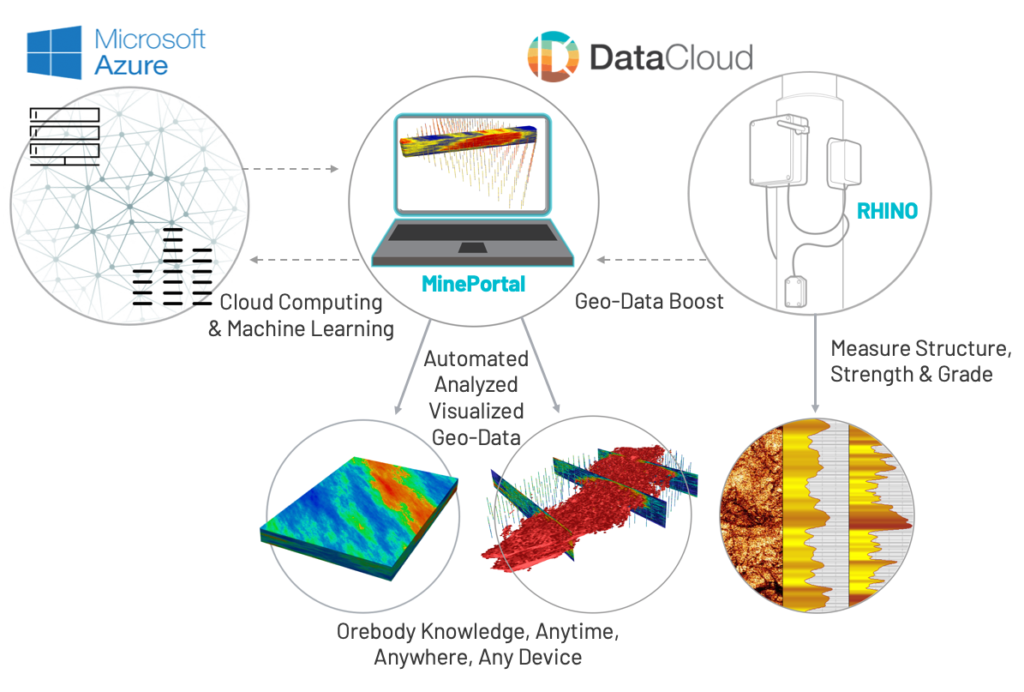 Srinivasan says the integrated visualisation capabilities MinePortal offers allows companies to find out where the obvious opportunities are to improve performance in their operations.
Such analysis could, for example, highlight that drill and blast patterns need to be amended to improve rock fragmentation for improved recoveries at the milling stage, or, conversely, milling needs to be tweaked to account for the increased hardness of ore coming into the plant.
It connects the dots between the various processes in mining and "provides the context" mining companies need to increase production and productivity, according to Srinivasan.
In addition to being able to visualise the mining process in an integrated fashion from anywhere in the world through the cloud, DataCloud's geostatistical and machine learning algorithms can predict the processing outcomes should a site, for example, amend their drill spacing at the drill and blast stage.
Srinivasan was keen to stress these algorithms do not 'take over' a mine's processing procedures, instead offering up estimates based on previous operating data and existing industry data MinePortal has analysed.
MinePortal has, until now, mostly been used as a visualisation tool at open-pit mines, but DataCloud recently signed an agreement with Trevali Mining to use the software on its Caribou underground zinc mine in New Brunswick, Canada.
DataCloud said of this agreement: "Unleashing MinePortal will provide vast feedback applications across the value chain empowering their teams to make geology data-driven decisions."
This is part of the mining company's wider plan to digitalise its operations through its T90 business improvement program. T90 is targeting $50 million in pre-tax annual sustainable efficiencies by the beginning of 2022 through "operational improvements, standardisation, and the deployment of technology".
Outside of its work with Trevali, DataCloud is encouraging miners to get in touch for a customised demonstration of MinePortal's capabilities to a mine site's specific data, workflow and goals.
"Give us a year's worth of data and we'll display this in MinePortal for you," Srinivasan said, explaining that the company is confident miners will be able to see areas for improvement through this visualisation and that it will lead to them engaging with DataCloud over a longer timeframe.