Gold Fields and Yamana Gold have entered into a definitive agreement, under which Gold Fields will acquire all the outstanding common shares of Yamana pursuant to a plan of arrangement in a deal that could create a top three gold producer (by production).
Under the terms of the transaction, all outstanding Yamana shares will be exchanged at a ratio of 0.6 of an ordinary share in Gold Fields or 0.6 of a Gold Fields American depositary share for each Yamana share. The transaction, which has been unanimously approved by the Board of Directors of both Gold Fields and Yamana, implies a valuation for Yamana of $6.7 billion and represents a premium of 33.8% to the 10-day Volume-Weighted Average Price of Yamana's shares on May 27.
Upon closing of the transaction, it is anticipated Gold Fields shareholders and Yamana shareholders will own approximately 61% and 39% of the combined group, respectively.
Based on 2021 production, the combined group would have a 3.4 Moz profile along with a 25-year reserve life. It would also benefit from the near-term growth of Gold Fields' Salares Norte (Chile) and South Deep (South Africa) mines, and longer-term growth from Yamana's Wasamac (Canada), Malartic Odyssey (Canada) and MARA (Argentina) projects as well as additional opportunities in Yamana's high-quality exploration pipeline, the companies said.
Gold Fields and Yamana currently have 14 mines providing regional relevance across premier, rules-based mining jurisdictions including North America, South America, Africa and Australia, they said.
The deal would create the third largest gold company by gold production in 2024, and fourth largest by market capitalisation, according to the companies, but there is also a clear near-term path towards some 4 Moz of gold-equivalent steady-state annual production, Gold Fields said.
Wasamac, in feasibility study stage, is included within this, but beyond that, the company also outlined growth potential from Jacobina, El Peñón, Minera Florida and Lavra Velha, plus longer-term upside that included the development of MARA.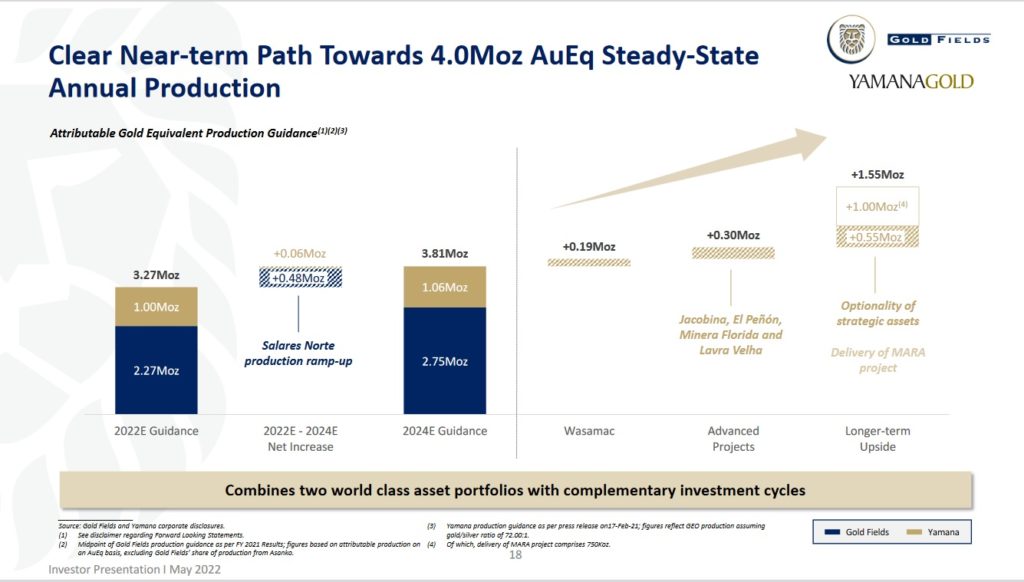 MARA, owned 56.25% by Yamana, is a joint venture with Newmont and Glencore. It is a brownfield operation leveraging existing Minera Alumbrera infrastructure that has 38.9 Moz of reserves.
A feasibility study on the project is expected to be completed by year end, with the report published in the March quarter of 2023.
Chris Griffith, Chief Executive Officer of Gold Fields, said about the combination: "Today we are announcing the acquisition by Gold Fields of Yamana, two companies with complementary portfolios, cultures and strategic priorities.
"The result is a combination with much greater capacity and potential value than the sum of its parts. Each company brings with it a unique set of skills and geological knowledge, enabling the combined group to enhance its assets more efficiently over the long-term than they could as separate companies.
"Like Gold Fields, Yamana is focused on operational delivery, disciplined capital allocation, portfolio management, maximising shareholder returns, and upholding leading sustainability, safety and ESG performance. These shared priorities are foundational to this transaction."
Peter Marrone, Executive Chairman of Yamana Gold, added: "This is an outstanding opportunity for our shareholders, employees and the local communities in which we operate throughout the Americas. The transaction delivers an immediate and compelling premium for Yamana Shareholders, reflecting the inherent fair value of our assets, while also offering an opportunity to benefit from the creation of a new global gold producer with an attractive value proposition.
"The combination of Yamana and Gold Fields creates a world-class, globally diversified company with regional relevance across premier, rules-based mining jurisdictions that is underpinned by low cost, long life mines."
The initial target for pre-tax synergies is approximately $40 million/y, anchored in operational integration, as well as potential financing synergies and a streamlining of overhead cost structures, they said.
The deal, which is subject to several approvals, is expected to close in the December quarter.