Medallion Resources says it has engaged international engineering group Stantec to evaluate sites in the US for its planned rare earth element (REE) extraction plant.
The plant, which will use feedstock sourced from the southeast US, will leverage Medallion's proprietary hydrometallurgical process to extract a REE concentrate from by-product monazite sand in a clean, safe, and automated fashion.
Medallion, after many years of test work and development, recently completed the design of this process.
Key features of the enhanced "caustic crack" REE extraction process include:
Full automation for low manpower requirements and worker isolation from harsh operating environments (chemical, thermal and radiological) for enhanced safety;
Highly-energy efficient design;
Option for a zero liquid discharge plant to provide additional flexibility on planning/permitting;
Waste production options; and
Employment of only "off-the-shelf" equipment — with innovations on their application.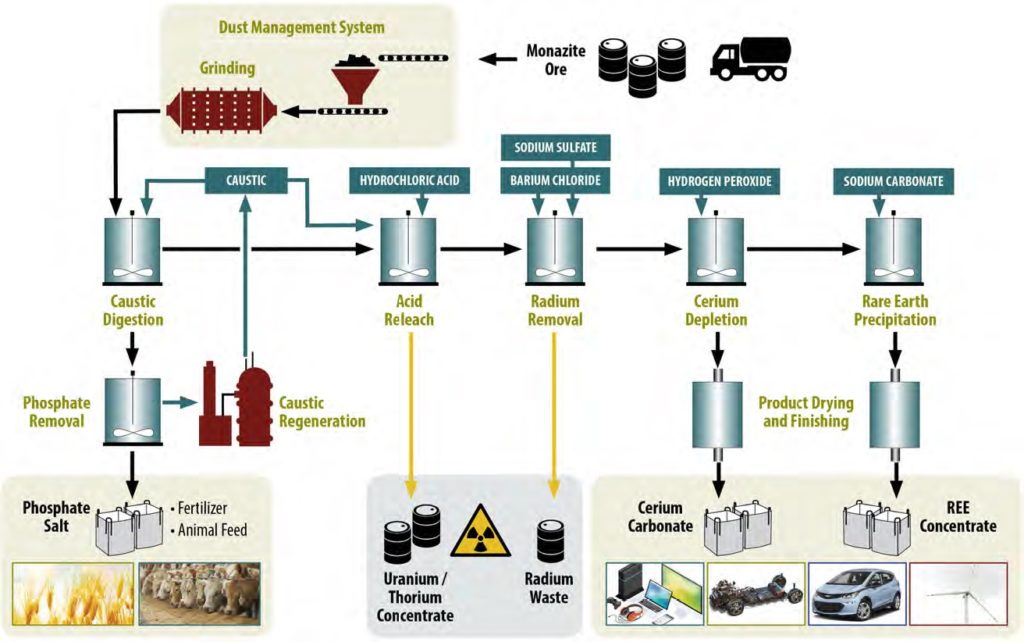 The process design was led by Medallion's Metallurgist Kurt Forrester, with the developmental test work performed at the Saskatchewan Research Council's Mineral and Metallurgy Division, in addition to using input from thermodynamic model analysis and solubility testing development at the University of Toronto's Chemical Engineering & Applied Chemistry Department. The test monazite feedstock was provided by a heavy-mineral sands (HMS) producer in the southeast US.
The plant's output will be rich in  and praseodymium (or NdPr), the critical input to the rare-earth permanent magnets that power the lightweight and powerful motors required in electric vehicles (EVs), defence applications, and numerous clean technologies, according to the company.
Don Lay, President & CEO of Medallion, said: "Based on recent announcements from the US Department of Defense on funding programs for rare-earth separation and magnet stockpiling as well as automakers' desires for non-Chinese sources of NdPr, we're taking this important step toward production."
The proposed US-based REE plant has a small footprint and capital costs that are a fraction of the traditional REE mining and processing facilities, according to Medallion. "This provides a quick pathway to production of rare-earth products for domestic markets," the company said.
The company said its plant location will be a "modern chemical processing setting with top-tier environmental standards and employ highly trained technicians". The evaluation also covers both upstream and downstream logistics options related to the transport of monazite feedstock, reagents, produced concentrates and waste material.
Medallion plans to extract REEs from monazite tailing streams, which are a by-product of the HMS industry, with sources in the US, South America, Africa, Australia, and Southeast Asia.
"Medallion has established relationships with many HMS firms to coordinate upgrading potential, volumes and timing of available material," it said.