Metso's industry-leading crushing and grinding technology status is well known throughout the mining world, but its valves expertise is, perhaps, not as familiar.
Complementing both the minerals processing and pump technology the group produces, Metso has been engineering valve solutions for over 90 years. One of the group milestones was the establishment of Neles Oy in 1956, with a focus on Finland's pulp & paper sector flow control solutions.
Neles®has since become a household name across multiple industries, famous for premium engineered metal-seated valve solutions. The company also acquired the Jamesbury® business some decades ago to add a premium-performance soft-seated valve solution to the portfolio.
Ville Kähkönen, Director, Industry Management, Metso Flow Control, told IM on site at the company's Hakkila facility, close to Helsinki-Vantaa airport, Finland, that there is a clear distinction between the two product families.
"Jamesbury valves are used in temperatures below 260°C," he said, adding that the Neles metal-seated valves are the best choice for higher temperatures or when the process media includes abrasive fluids and solids like sand.
Touring the facility and hearing from Kähkönen and Heikki Kärki, Industry Manager, Mining & Minerals Processing, Metso Flow Control, IM discovered just how many of these valves have found their way to mining operations around the globe.
The company manufactures not only the valves, but also the actuators and smart controllers; a fact that sets it apart from many of its competitors supplying just one or two of these elements.
On average, in a minerals processing plant, there can be around 10,000 valve installations across an operation each serving a specific purpose, according to Kärki.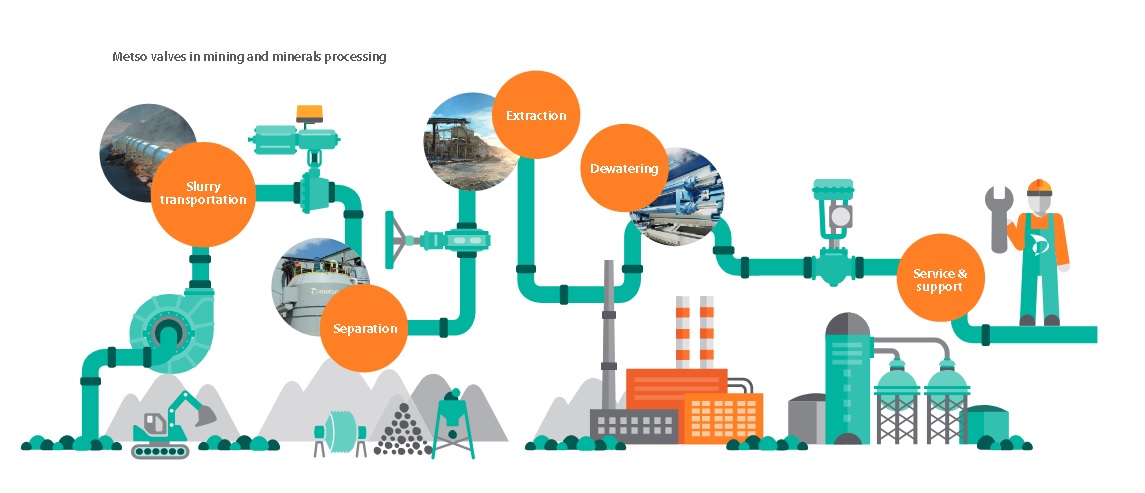 He told IM it is not only Metso knife-gate valves – used for isolation purposes in the mill circuit – that are found in the separation and refinery stages of mining operations; the company provides several types of valve solutions that can be tailor made to the specific application.
This wide-ranging expertise is reinforced by a quick scan of the number of valve installations Metso has carried out over 2000-2018. During this period, the company's supplied base has covered all but one continent (Antarctica the exception), with applications across what it terms "slurry, utility and severe services".
In addition to being one of the few companies able to supply the complete valve assembly, including the valve, the actuator and the intelligent valve controller, Metso is rare in having the capability to custom-engineer valves for the harsh, abrasive and acidic conditions that come with autoclave processing. This is a field that has been growing in the nickel, copper and gold space in recent years, Kähkönen said. Standard valves last a matter of weeks in these applications – where pressures can exceed 30 bars, temperatures can exceed 200°C and concentrations can be highly acidic.
A materials technology team with decades of experience, plus an on-going relationship with an autoclave manufacturer, has enabled the company to come up with valve solutions offering a robust coating specifically designed to outlast other solutions in the autoclave market.
The company was also keen to highlight its digitalisation capabilities within the valves space during the visit.
Metso launched its first NP™ series pneumatic positioner already fifty years ago. A digital valve controller – the Neles ND9000 – was introduced by Metso all the way back in 1995 and, since the launch of this product, the company has established smart controllers that collect data to be analysed by Metso's in-house team or the client themselves, the latest being its Neles NDX® controller.
These controllers have gained such a reputation that other valve manufacturers regularly acquire them to complement their own valve solutions.
Hakkila, which focuses on the Neles engineered valves and intelligent positioners, is one of several Metso valve technology centres worldwide. Its Shrewsbury factory, in Massachusetts, in the US, caters to demand for the Jamesbury valves, while its Horgau, Germany, facility specialises in high performance Neles butterfly valves.
Chungju, in South Korea, looks after Neles globe valves, and its two plants in the Mumbai area, India, concentrate on Jamesbury EasyFlow valves and Neles scotch yoke actuators manufacturing for the India and global markets.
On top of this, it has a second US facility in Minnesota (Fergus Falls), a service and supply centre in Brazil (Sorocaba), a technology hub in Shanghai, China, which manufactures standard Neles and Jamesbury products globally and provides service in the region, and a technology centre in Jiaxing, China, set to open next year.
Annually, Metso delivers around 400 000 valves to different process industries. Additionally, Metso completes over 20,000 valve overhauls and 3,000 site visits. It also carries out over 250 major planned valve shutdowns a year – an element that is important to ensure valves keep working for as long as possible.
And, the company has recently enhanced its valves manufacturing process with the ability to use 3D printing in certain valve components. This is a process offering previously unavailable engineering options that can, for example, improve some of the design features and decrease the weight of valve components.