"It's clear that the pressures on us are unsustainable, whether it is around our carbon footprint, water footprint, or physical footprint, and we are always looking for different ways to push us in this future direction where our footprint will be very different."
Tony O'Neill, Anglo American Technical Director, knows the company he works for is up against it when it comes to retaining its reputation as one of the world's leading sustainable mining companies.
It's clear from the company's 2018 sustainability report – which saw it achieve a best-ever performance in terms of injuries, a cut in energy use and an increase in greenhouse gas emission savings – that Anglo is going down multiple paths to reach its goals. O'Neill, who joined the company almost six years ago, believes Anglo's FutureSmart Mining™ programme will play a major role in confronting and overcoming many of the issues it (and the industry) is facing.
"If you look at FutureSmart Mining, at its absolute essence, it is about footprint; how do you change the footprint of mining? How do you have a mine that draws no fresh water? Mines without tailings dams? Mines that look very different?" he told IM.
"It's getting people to believe there is a different way for mining in an industry that has, to this point, been quite traditional. It is not going to happen overnight, but I think we have a genuine vision that is, in my view, quite feasible."
IM spoke with O'Neill and Donovan Waller, Group Head of Technology Development, this week to get to the bottom of how technology is making Anglo ever more sustainable.
IM: Could you explain how the Anglo operating model facilitates and fosters innovation within the context of FutureSmart Mining?
TO: The Anglo American operating model is the chassis that underpins everything, giving us certainty in the delivery of our work. When you have got that stability – and the lack of variability – in your business outputs, it is much easier to overlay new technologies and processes. When you then see a difference in operating or financial results, you can confirm it is down to what you have implemented, rather than the underlying processes.
I look at it a little bit like a three-legged stool: you have the operating model on one leg, the P101 benchmark-setting on another, and technology and data analytics on the third leg. They all co-exist in this system and work off each other. Without one, the stool falls over.
The operating model has given us a drumbeat of delivery, and we get the licence to innovate because of this drumbeat.
IM: Do you think FutureSmart Mining is starting to be understood and valued by investors?
TO: They're awake to it now. I think it is still in the early stages of the story, but they can see what we are doing and the ambition behind it. Ultimately, it will result in a different investment profile, or more investors because of it, but I am not sure that it's translated in full up to now. The recognition has been more around the general results of the company.
With all these technologies coming through – much of them driven by higher levels of data and the ability to interrogate that data – the vision we imagined way out into the future, I think, is a lot more tangible than when we started out four years ago.
IM: Out of all the tailings dam elimination work you are carrying out (around passive resistivity, fibre-optics, micro-seismic monitoring, coarse particle recovery, polymers, and dry stacking), which innovation will have an impact on Anglo's operations in the next three-to-five years?
TO: All of them. We started out with our tailings programme in 2013; in fact, our group technical standards were re-issued at the beginning of 2014 and they are now one of the main guidelines the ICMM (International Council on Mining and Metals) uses.
Tailings dams have always been at the back end of the mining process and, in a way, the science behind them has never been part of the mainstream operation. Our view, internally for many years, is tailings dams are one of the industry's greatest risks.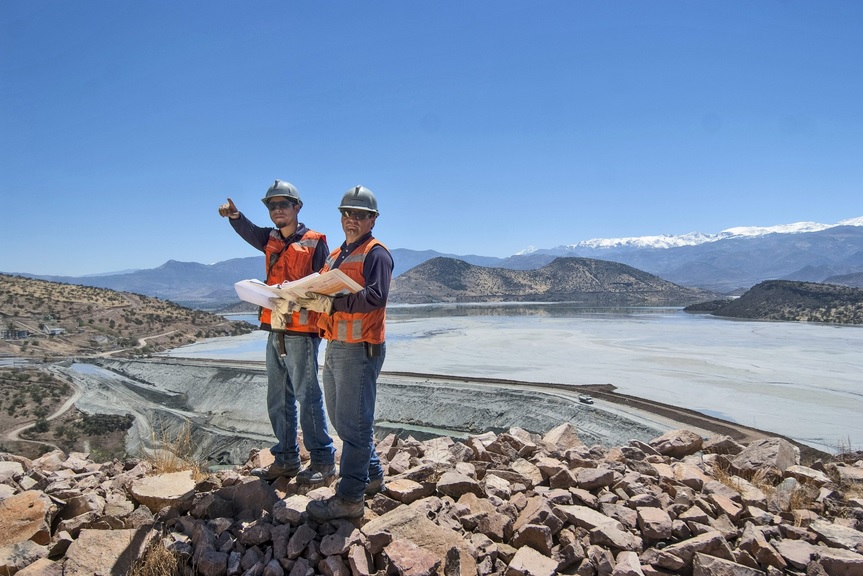 Ultimately our aim is to eliminate tailings dams. Period. Coarse particle flotation – getting that coarser particle size that drains much more freely – is core to that and you can see a development pathway there. For example, with some of these new flotation techniques, we now only need 1% exposure of the mineral for it to be effective. In the past, it was much higher.
When we upgraded the capability of our tailings organisation, it became clear we needed to get a lot more data off these tailings dams. About three years ago, we started putting fibre-optic sensors into the dams. We have since developed, through our exploration arm, passive resistivity seismic monitoring, which basically tells you where your water sits in the dams. And, we're putting into Quellaveco micro-seismic measuring techniques, which will be more granular again. You can see the day coming really quickly where tailings dams are a real-time data source for mining companies.
We're also, with our joint venture partner Debswana, building the first polymer plant in Botswana, which could have an impact on dry tailing disposal.
The thing we need to crack – both ourselves and the industry – is how to dry stack at scale. At the moment, that is still a work-in-progress, but it is doable in the long term.
IM: How is the bulk sorter you have operating at El Soldado, which is equipped with a neutron sensor, working? How has it made a difference to recoveries and grades at the operation?
TO: With the bulk sorter, we're taking packages of tonnes rather than individual rocks to enable us to get both speed and volume. At El Soldado, we are sorting in four tonne packages. You can adapt the sorting profile by the characteristics of the orebody. We're generally looking to sort tonnages that are less than you would put in a haul truck body or bucket.
If you step right back, in the past, most processing plants wanted to blend to get an average feed. We are going the other way. We want to use the heterogeneity of the orebody to its advantage; the less mixing we can get ahead of these sorting processes, the better it is for recoveries.
Being able to remove an orebody above the cut-off grade alongside waste tonnages and upgrade the latter has led to an effective lift in head grade. It has been enabled by new sensing technology with a particular type of neutron sensor.
What we have seen in early results has surprised us on the upside. We thought we would see a 5% uplift in head grade, but in fact we have seen about 20% – to qualify that, it's in its early stages.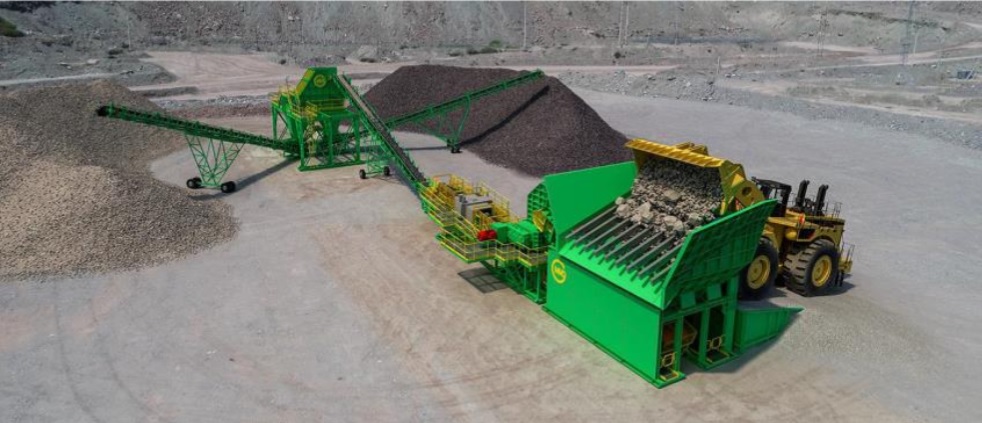 If you take this to its logical conclusion, you can see the day coming where you would cut the rock – no drilling and blasting – immediately sort the rock behind the machine cutting it and distribute said rock efficiently into its value in use; you don't have stockpiles, you have plants sensing the material right through and adapting in real time to the change in mineralogy. I think there is another 3-4% increase in recovery in that whole process when we get it right.
Our sweet spot when we created FutureSmart Mining was always the orebody and processing plants, more so than automation (although that is part of the potential mix). That was different to a lot of the other players in the industry. This focus could lead to the development of different types of plants; ones that are flexible, more modular and you can plug and play.
IM: Do you see these type of neutron sensors being applied elsewhere across a mine site?
TO: Yes, through processing plants and conveyors. In fact, we're preparing for this on conveyors right now.
What we have found with all this new technology is that, when we implement it, quite often another opportunity arrives. They end up playing off each other, and that is the context for the bulk sorting and coarse particle flotation.
IM: How have Anglo's Open Forums played into these developments?
TO: We have held eight Open Forums on sustainability, processing, mining, exploration (two), future of work, energy and maintenance.
Out of those eight, I think we have got around 10,000 ideas from them. These forums have been specifically designed where only about a third of participants are from the mining industry, with the other two thirds coming from the best and brightest analogous industries we can tap into – automobile, oil & gas, food, construction, even Formula 1 racing and NASA.

The reality is that out of those 10,000 ideas, the success rate is about 1:1,000, but the one that makes it is quite often a game changer.
IM: Going back to the bulk sorters, am I right in thinking you plan to put these into Mogalakwena and Barro Alto too?
TO: The aim is to have them across our business. At El Soldado, the copper angle is very important. The technology – the sensing and using the data – is probably a touch more advanced in copper, but we are building one currently in our PGMs business at Mogalakwena and a bit behind that, but ready to be built, is one in nickel, yes.
In terms of our programme, you will see them spread across our business in the next, hopefully, 18 months.
IM: Where does your approach to advanced process control (APC) fit into the FutureSmart Mining platform?
TO: We want to have APC in some form across all our business by the end of this year. We have probably come from a little behind some of the other players in the industry, but we're pushing it quite aggressively to give us the platform for data analytics. The upside we have seen just by putting the process control in so far has surprised me a bit – in a good way; power reductions, throughput, having this different level of control. All of it has been pleasing.
We spent about 12 months looking at the whole data analytics space to see how we were going to implement our solution. If you look around at the sector, everyone wants to be involved and profit share. If you add it all up, you could end up with not a lot of profitable pieces at the end. We have strategically chosen the pieces we think are important to us and our profit pool and have been happy to be a little looser on some of the non-core areas.
The other key plank to the APC is that we own the data. The reality is, in the new world, data is like a new orebody and we're not willing to let go of that.
IM: Your Smart Energy project involving a haul truck powered on hydrogen has certainly caught the attention of the market: how did you come up with this innovation?
TO: Initially, we couldn't make renewables work from an investment criteria perspective – it was always close, but never quite there. Donovan's team then took an approach where they said, 'forget the normal investment criteria. All we want to do is, make the business case wash its face.' In doing so, it enabled them to oversize a renewable or photovoltaic energy source – the power plant – using that extra power to produce hydrogen and putting that hydrogen to use in the haulage fleet. Re-engineering the haulage fleet gave us the business outcomes we were looking for.
DW: These business cases bring you to temporary barriers. When you hit that temporary barrier, people normally stop, but what we said was, 'OK, just assume it is not there and go forward.' That brought the whole business case back again by looking at it differently again.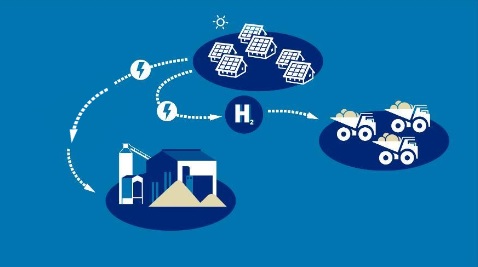 IM: Where is this project likely to be situated within the group?
TO: We're still not 100% fixed as the initial work will be done here (the UK). You are talking about quite specialist skills working with hydrogen.
When the system has gone past its initial testing, it will go to a site, probably in South Africa, but we are not 100% locked into that at this point.
IM: On the 12-month timeline you have given, when would you have to be on site?
TO: The infrastructure will be pre-built here in the UK. We're effectively testing it here. In a way, the physical truck is the easy bit.
It's going to be using a 300-t class truck. The guys have already done quite a bit of the detailed measuring and the design elements are well under way.
We've also taken the approach to use pre-approved technology, which Donovan can talk about.
DW: This minimises the risk on the first go and allows us to, later, tailor it. For example, if you don't have a right sized fuel cell currently available off-the-shelf, you just use multiple standard-size fuel cells for now. Then, when you get into the final version you could tailor them into something more specific.
IM: On mechanised cutting, you recently mentioned the building of a "production-sized machine" for at least one of your mines in South Africa. Is this a variant of the Epiroc machine – the Rapid Mine Development System – you have been using at Twickenham?
TO: It's the next generation of machines. It's fair to say that, in the last 12 months, the technology has come to the point where we are confident it is viable.
What we're looking for is a fundamental breakthrough where, for example, we can take the development rates up three or four times from what you would usually expect. That is what we're chasing. It would involve some sort of pre-conditioning of the rock ahead of the cutting, but the cutting, itself, works.
For us, mechanised cutting is a real solution to some of the safety issues we have had on our plate. Regardless of whether it goes into South Africa or another underground mine, we see it as a key part of our future underground design and operation.
IM: What type of rock pre-conditioning is this likely to be?
TO: I think around the world, people are looking at electricity, microwave, laser, a whole suite of things. None of them have yet quite landed, but they all have potential.
IM: Where does haul truck automation fit into the pipeline for Anglo American?
TO: All the equipment we buy, going forward, will be autonomous-capable, which means we can run it in either format (manned or unmanned). You are then left with a number of decisions – have you got the design to retrofit automation? Is there a safety issue to be considered? Is there a weather issue to contend with? There are a whole series of gates that we'll take it (automation projects) through.
It's good to go back to P101 here. Where P100 is getting all of our key processes to world-class benchmarks, P101 is about establishing a new benchmark. By definition, if you get your operations to that point, the gap between that manned performance and autonomous performance is not that great.
Autonomy is part of our future armoury, but when and where and how, we'll have to wait and see. For example, we are currently looking at the option of autonomous haulage trucks at one of our open-cut mines in Queensland.
When you look at our portfolio of operations, it's often a more complex environment than when you are just working in the wide open Pilbara.