Komatsu has made automation headway in several different underground mining areas, with the room & pillar (R&P) space being another key market where it is making inroads to improve safety and increase productivity by moving operators away from harm's way.
IM caught up with Toby Cressman, a Senior Product Manager for R&P Automation and Data Solutions at Komatsu, to gauge how advanced the market is with its automation transition, as well as where the focus areas are for the company going forward.
IM: Compared with both the underground longwall sector and underground hard-rock haulage and loading sector, how advanced is your automation offering for the R&P sector? What elements are yet to be automated within the R&P mining setup?
TC: Compared with the longwall (LW) sector and hard-rock (HR) sector, R&P automation is not as advanced. These reasons are market-, application- and regulatory-driven.
When it comes to market demand, we saw a much earlier push from the longwall side as customers were dependent on these high productivity systems. We have spent considerable time and focus on automating longwall faces over the years as they are critical to the success of our customers. We now see that demand trending into entry development machines and our continuous miners (CMs) as they become the limiting factor for our customers.
Regarding the application, as the LW sector operates in a more controlled and consistent environment, the act of automating the process becomes easier because the number of variables is reduced. Since this is a system, things like utility management have been designed into the system before automation – not to mention the lack of requirement to bolt as the roof is allowed to subside as the system advances.
On the HR side, their application has haulage routes that are similar for long periods of time and operate in an environment where regulatory controls around the types of sensors used are not as rigid when it comes to the approval process (ie explosive environment).
Currently when it comes to R&P automation, we have automated the CM to cut repeated sump and shear cycles in a straight line. We have the technology to keep the heading of the CM straight. In applications using our Flexible Conveyor Train (FCT), the FCT has been automated to follow the CM in and out of these cut cycles until the sequence is stopped by an operator. The FCT can make steering corrections to adapt to the direction of the CM.
IM: Do you tend to offer all new equipment as 'automation ready', or are many of these advances being made with hardware and software upgrades to existing equipment?
TC: This really depends on the market, product type and level of automation. Today, most of our original equipment CMs leave the factory automation ready, all the way up to our highest commercially available automation package. Even for our higher levels of automation that are currently being tested, those kits could easily be retrofitted in the field. When machines come in for rebuild, upgrading is an easy option that some customers take advantage of.
For our haulage products, the automation option we offer is on our FCTs. We have an option for FCT follow-me mode where the FCT will follow the CM in and out of the cut, making miner steering corrections. Though the field upgrade is a simple task, these are only being shipped equipped as such when requested by the customer.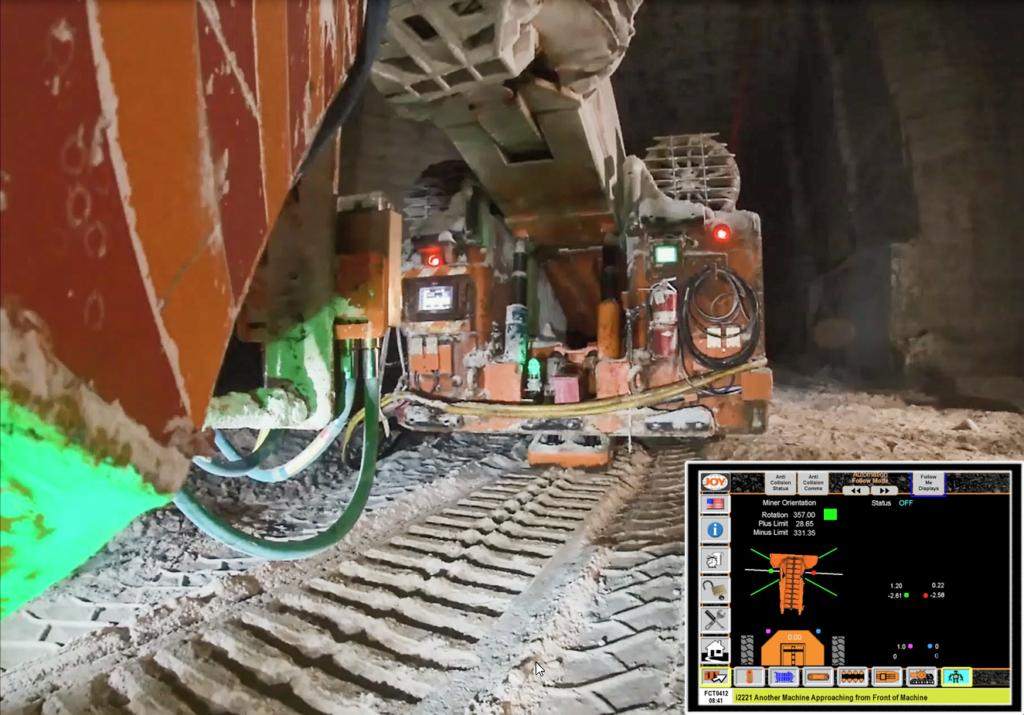 IM: Are the majority of your clients taking advantage of these automation advances, or does it differ between sectors (ie are coal clients more open to this than those in potash, for example)?
TC: A majority of our clients are taking advantage of our level-one continuous miner automation (CMA). This is our one touch shear option. In this mode, the roof and floor points are set, and the operator simply controls the sump depth. This has been popular in the market for years. Our level-two CMA is growing in popularity and now running successfully in more than five countries. At this level, the machine functions are controlled by a sequence table and the CM will complete multiple cycles until stopped by the operator.
We have seen the adoption of automation features more widely implemented in our industrial minerals markets, where the coal markets lag some. I would generally credit this difference to cutting conditions, application and haulage methods.
IM: Can you single out some major automation releases or upgrades in the last few years that represent 'game changing' innovations? Were these developed specifically from customer requests?
TC: Our level-two CMA is definitely making waves in the industry. We are rolling it out on more and more machines globally and it is proving to be valuable in various applications. Some of the best news – in terms of technology and automation features – is that it is highly affordable. This feature wasn't directly requested by the customer (our customers are always asking to assist in moving operator's further from harm's way, increase productivity, extend component life, etc).
This feature is excelling at those things, based on the data we have analysed to date. We can do this in near real time with customers who have connected machines (machine to surface communication) taking advantage of our Smart Solution product offerings. Even with customers who don't have connected machines, this can be accomplished manually through data dumps taken locally at the machine. This feature is also critical in enabling customers who want to operate their equipment from remote management centres. Automation and operator assist features will be key in teleremote mining.
IM: What part of the R&P mining process is next up for an automation advance? Where is this potential product/solution in terms of your R&D pipeline?
TC: We are currently working on field trials for bolter automation and in the initial phases of automating our batch haulage products. These are next for the room and pillar products.
IM: Anything else to add on trends within the room and pillar sector?
TC: When it comes to R&P automation, we are focusing on those repetitive tasks an operator is performing that could be completed by the control system. This allows an operator to focus on the task at hand and reduce fatigue. As we continue to assist the operator with these tasks, it also enables flexibility of where the operator is positioned, improving the overall operating environment for them.