Ferrexpo is used to setting trends. It was the first company to launch a new open-pit iron ore mine in the CIS since Ukraine gained its independence in 1991 and has recently become the first miner in Ukraine to adopt autonomous open-pit drilling and haulage technology.
It plans to keep up this innovative streak if a conversation with Acting CEO Jim North is anything to go by.
North, former Chief Operating Officer of London Mining and Ferrexpo, has seen the technology shift in mining first-hand. A holder of a variety of senior operational management roles in multiple commodities with Rio Tinto and BHP, he witnessed the take-off of autonomous haulage systems (AHS) in the Pilbara, as well as the productivity and operating cost benefits that came with removing operators from blasthole drills.
He says the rationale for adopting autonomous technology at Ferrexpo's Yeristovo mine is slightly different to the traditional Pilbara investment case.
"This move was not based on reduction in salaries; it was all based on utilisation of capital," North told IM. While miners receive comparatively good salaries in Ukraine, they cannot compete with the wages of those Pilbara haul truck drivers.
North provided a bit of background here: "The focus for the last six years since I came into the company was about driving mining efficiencies and getting benchmark performance out of our mining fleet. This is not rocket science; it is all about carrying out good planning and executing to that plan."
The company used the same philosophy in its process plant – a philosophy that is likely to see it produce close to 12 Mt of high grade (65% Fe) iron ore pellets and concentrate next year.
Using his industry knowledge, North pitted Ferrexpo's fleet performance against others on the global stage.
"Mining is a highly capital-intensive business and that equipment you buy has got be moving – either loaded or empty – throughout the day," North said. "24 hours-a-day operation is impossible as you must put fuel in vehicles and you need to change operators, so, in the beginning, we focused on increasing the utilised hours. After a couple of years, I noticed we were getting very close to the benchmark performance globally set by the majors.
"If you are looking at pushing your utilisation further, it inevitably leads you to automation."
Ferrexpo was up for pushing it further and, four years ago, started the process of going autonomous, with its Yeristovo iron ore mine, opened in 2011, the first candidate for an operational shakeup.
"Yeristovo is a far simpler configuration from a mining point of view," North explained. "It is basically just a large box cut. Poltava, on the other hand (its other iron ore producing mine currently), has been around for 50 years; it is a very deep and complex operation.
"We thought the place to dip our toe into the water and get good at autonomy was Yeristovo."
This started off in 2017 with deployment of teleremote operation on its Epiroc Pit Viper 275 blasthole drill rigs. The company has gradually increased the level of autonomy, progressing to remotely operating these rigs from a central control room. In 2021-2022, these rigs will move to fully-autonomous mode, North says.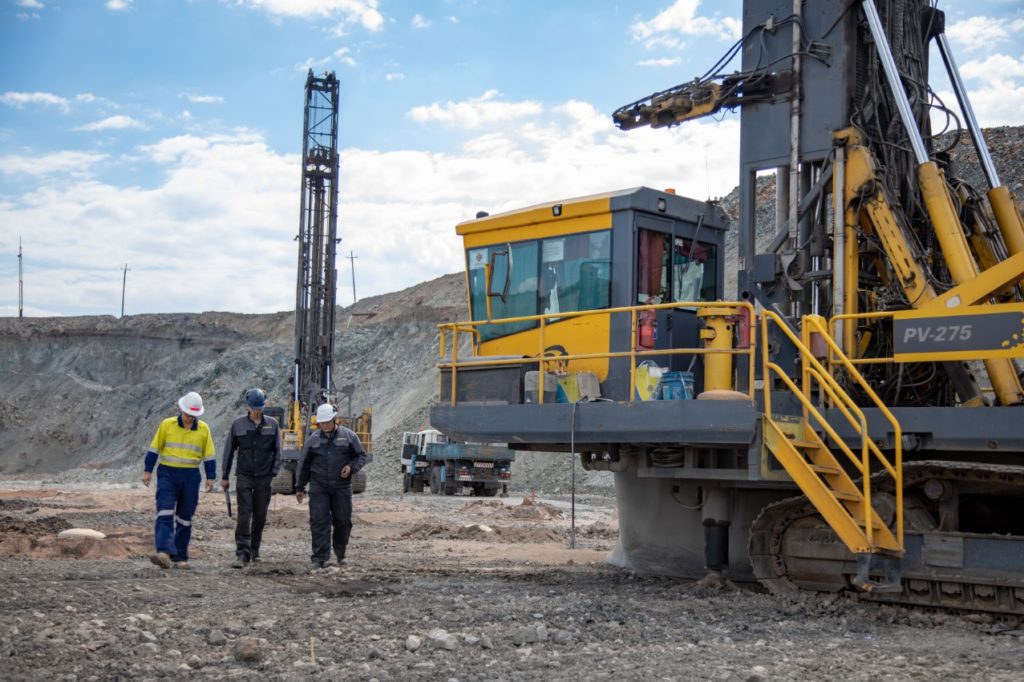 Ferrexpo has also been leveraging remotely-operated technology for mine site surveying, employing drones to speed up and improve the accuracy of the process. The miner has invested in three of these drones to carry out not only site surveys, but stockpile mapping and – perhaps next year – engineering inspections.
"The productivity benefits from these drones are huge," North said. "In just two days of drone operation, you can carry out the same amount of work it would take three or four surveyors to do in one or two weeks!"
OEM-agnostic solution
It is the haul truck segment of the mine automation project at Yeristovo that has caught the most industry attention, with Ferrexpo one of the first to choose an OEM-agnostic solution from a company outside of the big four open-pit mining haul truck manufacturers.
The company settled on a solution from ASI Mining, owned 34% by Epiroc, after the completion of a trial of the Mobius® Haulage A.I. system on a Cat 793D last year.
The first phase of the commercial project is already kicking off, with the first of six Cat 793s converted to autonomous mode now up and running at Yeristovo. On completion of this first phase of six trucks, consideration will be given to timing of further deployment for the remainder of the Yeristovo truck fleet.
This trial and rollout may appear fairly routine, but behind the scenes was an 18-month process to settle on ASI's solution.
"For us, as a business, we have about 86 trucks deployed on site," North said. "We simply couldn't take the same route BHP or Rio took three or four years ago in acquiring an entirely new autonomous fleet. At that point, Cat and Komatsu were the only major OEMs offering these solutions and they were offering limited numbers of trucks models with no fleet integration possibilities.
"If you had a mixed fleet – which we do – then you were looking at a multi-hundred-million-dollar decision to change out your mining fleet. That is prohibitive for a business like ours."
Ferrexpo personnel visited ASI Mining's facility in Utah, USA, several times, hearing all about the parent company's work with NASA on robotics. "We knew they had the technical capability to work in tough environments," North remarked.
"We also saw work they had been doing with Ford and Toyota for a number of years on their unmanned vehicles, and we witnessed the object detect and collision avoidance solutions in action on a test track."
Convinced by these demonstrations and with an eye to the future of its operations, Ferrexpo committed to an OEM-agnostic autonomous future.
"If we want to get to a fully autonomous fleet at some stage in the future, we will need to pick a provider that could turn any unit into an autonomous vehicle," North said. It found that in ASI Mining's Mobius platform.
Such due diligence is representative not only of the team's thorough approach to this project, it also reflects the realities of deploying such a solution in Ukraine.
"It is all about building capability," North said. "This is new technology in Ukraine – it's not like you can go down the road and find somebody that has worked on this type of technology before. As a result, it's all about training and building up the capacity in our workforce."
After this expertise has been established, the automation rollout will inevitably accelerate.
"Once we have Yeristovo fully autonomous, we intend to move the autonomy program to Belanovo, which we started excavating a couple of years ago," North said. "The last pit we would automate would be Poltava, purely due to complexity."
Belanovo, which has a JORC Mineral Resource of 1,700 Mt, is currently mining overburden with 30-40 t ADTs shifting this material. While ASI Mining said it would be able to automate such machines, North decided the automation program will only begin when large fleet is deployed.
"When we deploy large fleet at Belanovo and start to move significant volumes, we intend for it to become a fully-autonomous operation," he said.
Poltava, which is a single pit covering a 7 km long by 2 km wide area (pictured below), has a five-decade-long history and a more diverse mining fleet than Yeristovo. In this respect, it was always going to be harder to automate from a loading and haulage point of view.
"If you think about the fleet numbers deployed when Belanovo is running, we will probably have 50% of our fleet running autonomously," North said. "The level of capability to run that level of technology would be high, so it makes sense to take on the more complex operation at Poltava at that point in time."
Consolidation and decarbonisation
This autonomy transition has also given North and his team the chance to re-evaluate its fleet needs for now and in the future.
This is not as simple as it may sound to those thinking of a typical Pilbara AHS fleet deployment, with the Yeristovo and Poltava mines containing different ore types that require blending at the processing plant in order to sustain a cost-effective operation able to produce circa-12 Mt/y of high-grade (65%-plus Fe) iron ore pellets and concentrate.
"That limits our ability in terms of fleet size for ore mining because we want to match the capacity of the fleet to the different ore streams we feed into the plant," North said.
This has seen the company standardise on circa-220 t trucks for ore movement and 300-320 t trucks for waste haulage.
On the latter, North explained: "That is about shovel utilisation, not necessarily about trucks. If you go much larger than that 320-t truck, you are talking about the need to use large rope shovels and we don't have enough consistent stripping requirements for that. We think the 800 t-class electric hydraulic excavator is a suitable match for the circa-320 t truck."
This standardisation process at Poltava has seen BELAZ 40 t trucks previously working in the pit re-assigned for auxiliary work, with the smallest in-pit Cat 777 trucks acting as fuel, water and lubrication service vehicles at Poltava.
"The Cat 785s are the smallest operating primary fleet we have at Poltava," North said. "We also have the Hitachi EH3500s and Cat 789s and Cat 793s, tending to keep the bigger fleet towards Yeristovo and the smaller fleet at Poltava."
In carrying out this evaluation, the company has also plotted its next electrification steps.
"Given we have got to the point where we know we want 220 t for ore and 300-320 t nominally for waste at Yeristovo, we have a very clear understanding of where we are going in our efforts to support our climate action," North said.
Electrification of the company's entire operation – both the power generation and pelletising segment, and the mobile fleet – forms a significant part of its carbon reduction plans.
A 5 MW solar farm is being built to trial the efficacy of photovoltaic generation in the region, while, in the pelletiser, the company is blending sunflower husks with natural gas to power the process. Fine tuning over the past few years has seen the company settle on a 30:70 sunflower husk:natural gas energy ratio, allowing the company to make the most of a waste product in plentiful supply in Ukraine.
On top of this, the company is recuperating heat from the pelletisation process where possible and reusing it for other processes.
With a significant amount of 'blue' (nuclear) or 'green' (renewable) power available through the grid and plans to incorporate renewables on site, Ferrexpo looks to have the input part of the decarbonisation equation covered.
In the pellet lines, North says green hydrogen is believed to be the partial or full displacement solution for gas firing, with the company keenly watching developments such as the HYBRIT project in Sweden.
On the diesel side of things, Ferrexpo is also charting its decarbonisation course. This will start with a move to electric drive haul trucks in the next few years.
Power infrastructure is already available in the pits energising most of its electric-hydraulic shovels and backhoes, and the intention is for these new electric drive trucks to go on trolley line infrastructure to eradicate some of the operation's diesel use.
"Initially we would still need to rely on diesel engines at the end of ramps and the bottom of pits, but our intention is to utilise some alternative powerpack on these trucks as the technology becomes available," North said.
He expects that alternative powerpack to be battery-based, but he and the company are keeping their options open during conversations with OEMs about the fleet replacement plans.
"We know we are going to have to buy a fleet in the next couple of years, but the problem is when you make that sort of purchase, you are committing to using those machines for the next 20 years," North said. "During all our conversations with OEMs we are recognising that we will need to buy a fleet before they have probably finalised their 'decarbonised' solutions, so all the contracts are based on the OEM providing that fully carbon-free solution when it becomes available."
With around 15% of the company's carbon footprint tied to diesel use, this could have a big impact on Ferrexpo's 'green' credentials, yet the transition to trolley assist makes sense even without this sustainability benefit.
"The advantages in terms of mining productivity are huge," North said. "You go from 15 km/h on ramp to just under 30 km/h on ramp."
This is not all North offered up on the company's carbon reduction plans.
At both of Ferrexpo's operations, the company moves a lot of ore internally with shuttle trains, some of which are powered by diesel engines. A more environmentally friendly alternative is being sought for these locomotives.
"We are working with rail consultants that are delivering solutions for others to 'fast follow' that sector," North said referencing the project already underway with Vale at its operations in Brazil. "We are investigating at the moment how we could design and deploy the solution at our operations for a lithium-ion battery loco."
Not all the company's decarbonisation and energy-efficiency initiatives started as recently as the last few years.
When examining a plan to reach 12 Mt/y of iron ore pellet production, North and his team looked at the whole 'mine to mill' approach.
"The cheapest place to optimise your comminution of rock is within the mine itself," North said. "If you can optimise your blasting and get better fragmentation in the pit, you are saving energy, wear on materials, etc and you are doing some of the job of the concentrator and comminution process in the mine."
A transition to a full emulsion blasting product came out of this study, and a move from NONEL detonators to electronic detonators could follow in the forthcoming years.
"That also led us into thinking about the future crusher – where we want to put it, what materials to feed into the expanded plant in the future, and what blending ratio we want to have from the pits," North said. "The problem with pit development in a business that is moving 150-200 Mt of material a year is the crusher location needs to change as the mining horizons change."
It ended up becoming a tradeoff between placing a new crusher in the pit on an assigned bench or putting it on top of the bench and hauling ore to that location.
The favoured location looks like being within the pit, according to North.
"It will be a substantial distance away from where our existing facility at Poltava is and we will convey the material into the plant," he said. "We did the tradeoff study between hauling with trains/trucks, or conveying and, particularly for Belanovo, we need to take that ore to the crusher from the train network we already have in place."
These internal 'green' initiatives are representative of the products Ferrexpo is supplying the steel industry.
Having shifted away from lower grade pellets to a higher-grade product in the past five years and started to introduce direct reduced iron pellet products to the market with trial shipments, Ferrexpo is looking to be a major player in the 'green steel' value chain.
North says as much.
"We are getting very close to understanding our path forward and our journey to carbon neutrality."