During an enlightening Capital Markets Day, in Stockholm, Sweden, Epiroc backed up its credentials as a leader in the mine automation, digitalisation and electrification spaces, outlining its progress to date and its medium- and long-term plans to capture more market share.
A few weeks after putting on the investor showcase – but before Helena Hedblom was announced as the incoming President and CEO – IM spoke with President and CEO, Per Lindberg, and Senior Vice President of Corporate Communications, Mattias Olsson, to get some detail behind the presentation slides.
IM: Automation featured very widely in the capital markets day (CMD) presentations earlier this month: In general, how would you characterise the mining industry appetite for this new technology? Where is the average customer on your automation scale?
PL: First of all, the appetite is very large; most customers are looking at automation in one way or another.
It is hard to do a mathematical average when it comes to where the industry currently is, but the average miner is probably down on the left-hand side of that scale (pictured below) – somewhere in between tele-remote and single machine automation.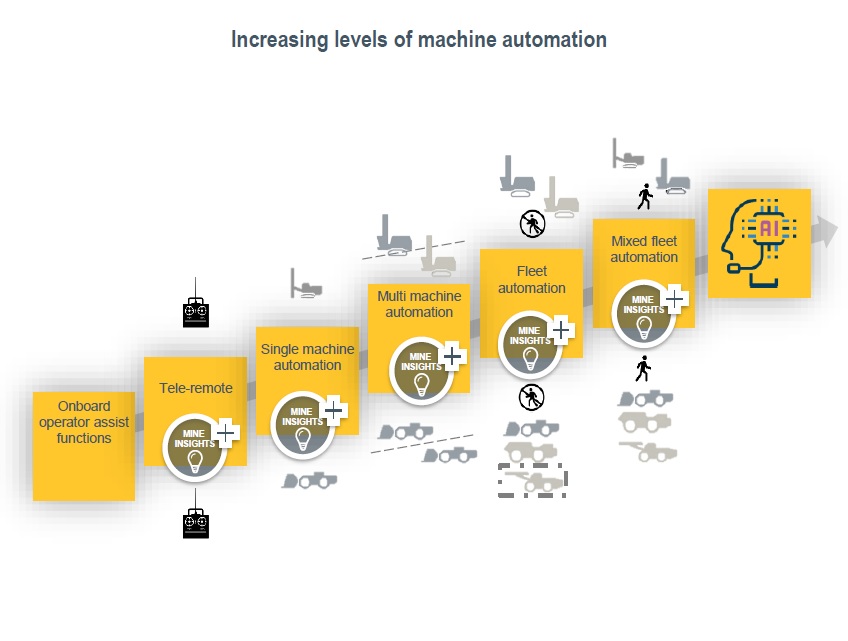 IM: Over the next five years, where do you see most potential growth for autonomous solutions in terms of underground or open-pit mining? What market dynamics are accelerating this uptake?
PL: Most likely it will happen in both surface and underground. The potential for productivity and safety improvements is probably greater in underground, though.
This trend is clearly driven by productivity, cost efficiency and safety. Those would be the key drivers for automation. It is about taking people out of the line of fire, as well as having close to 24/7 production.
IM: Following the 34% stake acquisition of ASI Mining last year, would you say the project Epiroc and ASI are working on at Ferrexpo's Yeristovo mine is representative of how you envisage doing business together in the future?
PL: That is the reason that we initially acquired the 34% stake in ASI Mining; we wanted to go in that direction. In that respect, I think the Ferrexpo example is representative of how we will cooperate with ASI.
Of course, ASI can also offer a standalone solution without Epiroc being present on the automation side, so we are also promoting their offering too.
IM: How does Epiroc, as an OEM, balance its machine building and maintenance service offering? Does the ability to keep machines working longer through sophisticated monitoring systems and better manufacturing somewhat inhibit your ability to sell new machinery?
PL: To a certain extent, we are probably cannibalising our new machine sales with increased service intensity and improved servicing products. That is most likely the consequence. On the other hand, we also feel that it is only right to offer this type of aftercare and servicing.
Yet, you cannot continue to prolong the life of a piece of equipment forever. It needs to be replaced at some point.
Overall, the servicing offering works well for us and, we think, it is good for our customers in terms of increasing the life of their equipment.
IM: Factoring this in, what percentage of revenue is your aftermarket business likely to represent in the next 10 years (from 65% today)?
PL: It's difficult to say if it is going to be higher, or not, but it is likely that the volume of service will increase. That is based on what we are talking about – the intensified servicing we are offering, the products we have developed and the fact that we are increasing the market share within our own fleet.
Whether it continues to be 65% of the overall business depends on activity in the rest of the group.
IM: Along these lines, how long does the company anticipate its new battery-electric loading fleets lasting compared with, say, the diesel-powered fleets you were selling 10 years ago?
PL: The wear and tear of the actual machine will be the same – that is not going to change because of the drivetrain.
But, having an electric drivetrain is different from diesel; we have to see what the long-term maintenance needs are compared with diesel. The life of the drivetrain also depends very much on the utilisation of the machine.
IM: Of the recent innovations the company has launched (or is about to launch) – 6th Sense, a semi-automated explosives delivery system (with Orica), Scooptram Automation Total, Powerbit, etc – which has the strongest business case in mining?
PL: I think 6th Sense is really a packaging of all of our different offerings within automation. In that regard, it is has the highest potential. Which components of 6th Sense have the highest potential? We'll have to wait and see.
The semi-automated explosives delivery system with Orica is a very specific innovation, but we very much believe in automating this mining process because of the safety and productivity benefits it brings. But we are only just starting this development compared with 6th Sense, which has already launched.
Powerbit is, again, very specific, but…allows us to deliver a complete offering both in terms of machine and consumables that will enable higher productivity and automation. That should have a high potential in the market.
IM: What does the Epiroc mining roadmap look like for the next 10-30 years? I imagine wider adoption of hard-rock cutting, automation, electrification and digitalisation are in there, but what other technology evolutions are being planned for?
PL: We have to continue to work with all of those three – automation, electrification and digitalisation – as they will deliver significant benefits for the industry. That is where we need to focus over that 10-year timeframe.
These three also have the potential to further integrate the value chain in mining within the future digitalisation space. We need to both continue to work with these technologies and our customers to ensure we have greater market penetration in all these areas.
IM: And, hard-rock cutting? Is this as important as these three?
PL: For specific applications, mechanical cutting and the Mobile Miners have their relevance and work well. But we believe for the foreseeable future, the majority of hard-rock excavation will be carried out by drilling and blasting in the mining and tunnelling sectors.
IM: During the CMD there was mention of "cost per measure" contracts under the digitalisation heading. Could you go into some detail about how the company is offering these and if they are tied in with financing agreements for your equipment?
PL: In terms of cost per measure, one example would be cost per metre contracts in consumables and rock drilling tools.
MO: We also provide finance for equipment and it could be that the equipment is financed and we have a cost per metre contract in place. Those two are not connected or tied, though.
It could be that there is more of this 'pay-for-performance' type of contract in the future – where you charge per tonne of ore excavated, for example – but, if it does come, I don't think it will happen quickly.
IM: Similarly Epiroc talked about "new business models" in 2020 for underground equipment at the CMD. What might these new business models be? What is the need for them?
PL: It could be revenue streams into software, to information management, to advanced service agreements, to Batteries as a Service for battery vehicles.
The reasons for establishing these models is the continuous development of software, new updates for machines, etc that require different models.
When it comes to Batteries as a Service, it is a different model again looking to transfer the energy cost of the battery from capex to opex in order to facilitate the timely decisions for customers and reduce the cost of operation for our customers.
These new models are all based on development of technologies.