Copper concentrate production at Vast Resources' Baita Plai polymetallic (copper-gold-silver-zinc-lead-moly) mine in Romania continued to trend upwards in the June quarter, with the London-listed company expecting further output gains in the September quarter thanks to the use of a Mantis CMR4 production drill rigs that can help the company access more underground mining areas.
The June quarter results were in line with the company's expectations, with concentrate production coming in at 268.8 t, compared with 229 t in the same quarter of 2021.
The tonnes milled for the period declined slightly by 6% to 11,292 t, with the grade rising 33% year-on-year to 0.6% Cu. Ore mined increased by 3.5% to 13,020 t for the period.
Looking forward to the September quarter and beyond, the company says it continues to forecast a substantial increase in copper concentrate tonnage produced due to the successful implementation of the Mantis CMR4 production drilling rig to access the ore on 17 level, as well as the increased ability to process ore due to the second milling circuit being commissioned, which has lifted capacity to 14,000 t/mth.
Back in May, Vast Resources announced that the first of two Mantis CMR4 production drilling rigs equipped with the latest Doofor rock drills had successfully completed functional drill testing underground. The Mantis is made by South African company Fabchem, through its subsidiary, Conax Machine Solutions, in Springs, Gauteng, which manufactures, refurbishes and repairs roof bolters and hydraulic rock drills, with its flagship manufactured products being the Mantis bolters and drills.
In addition to the increase in copper concentrate produced expected going forward, a substantial increase in the number of primary metres developed is forecast. This is due to the implementation of the second Mantis rig on the main belt incline on 18 level, whereby the original mine plan envisaged can be brought online, Vast Resources said. Current advances per blast from the main belt decline vary between 2-2.2 m per blast, which the company says is an excellent ratio to the length of hole drilled to the achieved advance.
The company explained: "The drill rig was extensively tested in a non-production environment to ascertain the capabilities of the machine for long hole production drilling. The drill rig has successfully completed a number of holes at varying inclinations, including vertically down, to depths of up to 12 m. The machine is currently deployed on 17 level in the production area drilling the first set of long holes for long hole production blasting."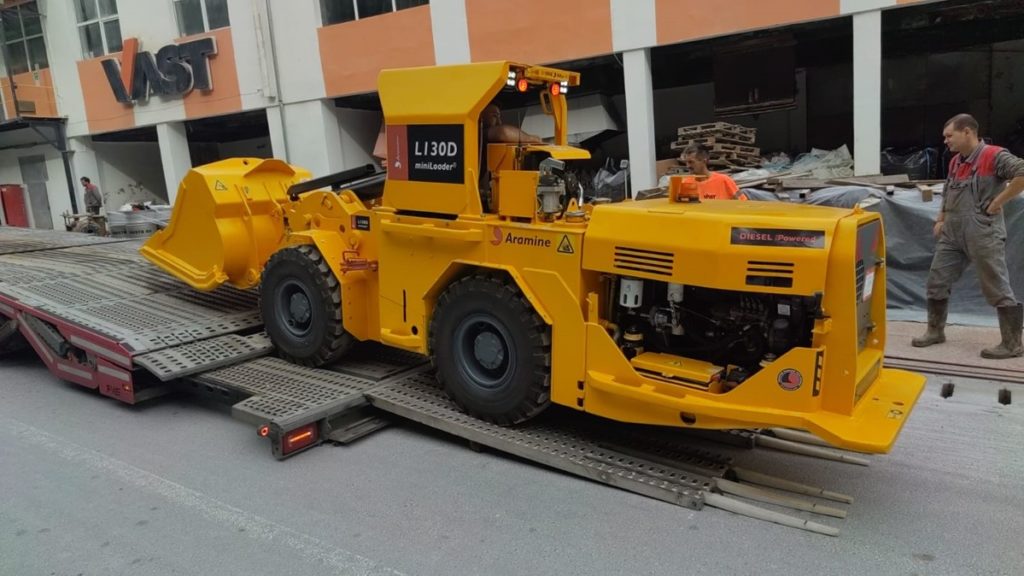 The accompanying remotely operated Aramine L130D LHD has arrived at the mine and was successfully transported underground, Vast Resources said. The machine, which is designed for narrow-vein applications, is currently undergoing testing and operator training inside the working stope below 17 level, it added.