Major Drilling has opened a new office in Manitoba, Canada, as it looks to expand its contract drilling services and streamline its operations.
Completed at the end of 2020, the new 29,000 sq.ft (2,694 sq.m) operations head office houses an enlarged maintenance shop, parts warehouse and administrative offices. It also includes a 3.2 ha storage yard.
"We are proud of our long history in Manitoba," Barry Zerbin, General Manager of Canadian Operations, said. "With our expanded space in Winnipeg, we can better serve our clients throughout the country and continue the specialised drilling results we are known to deliver."
The new building stands over 8.5 m tall among developments inside the 'CentrePort' 8,094 ha inland port and foreign trade zone. The zone is home to North America's largest tri-modal World Trade Center located in Rosser, part of the Winnipeg metro area, Major Drilling says.
The CentrePort campus positions Major Drilling well logistically. The geographic centre of Canada is mere kilometres from the new building where the shop, maintenance, and support staff supply crews, drills and parts across the country. The new building adds to the already strong and established framework of Major Drilling branches and shops throughout Canada including locations in Flin Flon, Sudbury, Rouyn, Timmins and Yellowknife, the company says.
The new Winnipeg location services Major Drilling's Canadian operations with 24 offices for administration office staff, the human resources, safety and operations departments, and country managers. The maintenance team, with over a dozen employees, is housed in a 743 sq.m shop containing four full-sized bays with over 7.5 m in ceiling clearance to service all rig types in the Major Drilling fleet. The warehouse team works in a 650 sq.m facility containing inventory and spare parts. The building can also accommodate in-house training schools for additional crews coming aboard to meet client needs.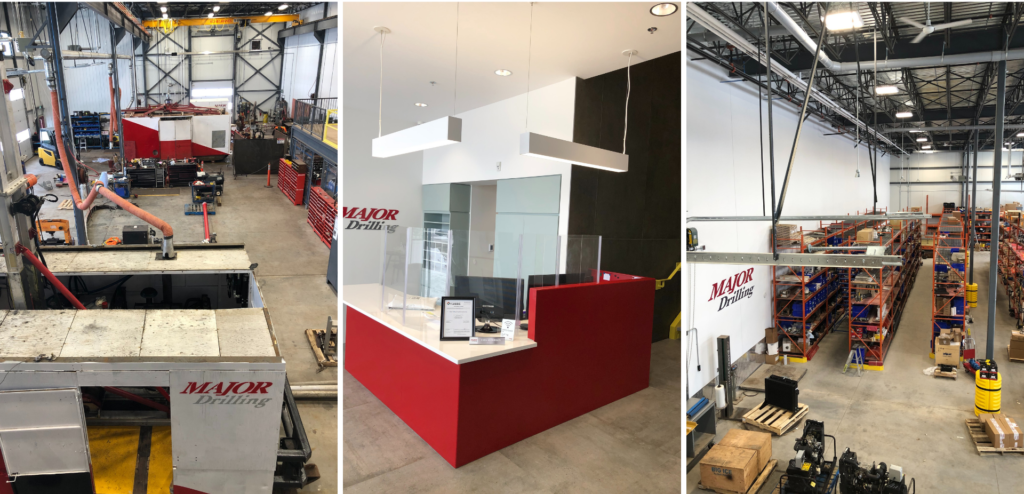 Zerbin says the expanded space allows the Winnipeg Branch to service Major Drilling's clients in the province which include Hudbay Minerals in Flin Flon/Snow Lake; Vale in Thompson; 1911 Gold in Bissett; and Yamana Gold in Monument Bay. It also increases capacity for clients across Canada such as Foran Mining, Nighthawk Gold Corp and Sabina Gold & Silver.
Manitoba is a long-established operations area for Major Drilling. In 1998, the company completed the acquisition of the Midwest group of companies in Canada, which operated for more than 70 years of in central Canada and the Arctic. Midwest was one of the largest drilling companies in Canada with over 115 drills (80 surface, 35 underground).
The new Winnipeg office is opening just as the mining industry enters a projected upcycle in activity, according to Major Drilling.
"In 2021, Major Drilling continues its strategy of dominating specialised drilling across the globe," the company said.