WesTrac and its subsidiary Hushpak have delivered what they say is as an innovative sound suppression solution to The Bloomfield Group that has reduced the noise output of 19 Cat 793F mining trucks.
Managing the sound output from heavy machinery can be a challenging task on mine sites, but this is starting to become easier for many businesses, according to WesTrac.
"That's thanks to a range of innovative sound suppression offerings from leading Caterpillar dealer WesTrac, which in the last two years has delivered 19 Cat 793F large mining trucks to Hunter Valley-based mining customer The Bloomfield Group showcasing these capabilities," it said.
Using a combination of Caterpillar factory options and inhouse, customised solutions, WesTrac was tasked with reducing the noise of the Cat 793F trucks to levels that aligned to Bloomfields' requirements at its Bloomfield and Rix's Creek mines – in close proximity to Maitland and Singleton, respectively.
According to WesTrac NSW Strategic Growth Manager, Alan Corcoran, the solution achieved that goal on time, within budget and included several requested customisations.
"Working with our subsidiary Hushpak, we devised a solution that passed the sound output tests in the first instance," Corcoran says.
Hushpak is a standalone engineering business specialising in sound suppression and attenuation on both mobile and fixed plant. WesTrac acquired the company in March 2022.
"Sound comes from various outputs, particularly on mobile plant," he explains. "The engine, transmission, fan, hydraulic pumps and various other components compound to make these large machines quite noisy.
"Caterpillar offer ready-to-order sound suppression kits for mining machines, but, in some cases, there are gaps in the product offering. Many of our customers have unique needs, especially in areas like the Hunter Valley, where mine sites are in closer proximity to towns and residential areas.
"These customers have additional requirements that need further sound suppression. Meeting these unique needs, on all types of mining equipment, such as this customer's 793F trucks, led to this project to bridge the gap."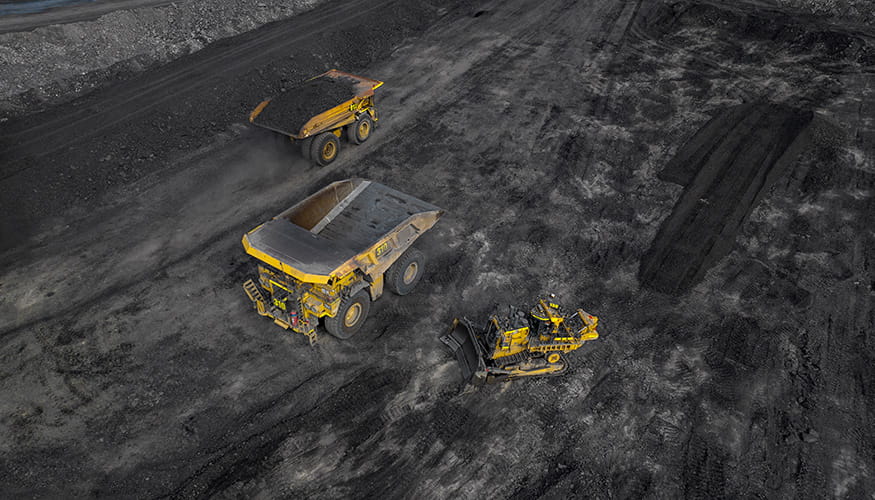 Such is the case for Bloomfield, which produces around 2.5 Mt/y of saleable coal from its mines in New South Wales, where all haulage and ancillary machinery fleet are Cat products.
Following extensive market research carried out in 2020, Bloomfield Plant and Equipment Manager, David Worboys, and his broader team settled on the 220-t-class Caterpillar 793F truck and have since taken delivery of 19 units from WesTrac's Tomago branch, now working at Rix's Creek and Bloomfield mine.
Worboys says all trucks fitted out with the Hushpak-engineered sound attenuation package were contributing to ongoing site noise compliance and minimising impact to nearby communities.
"We pride ourselves on being good neighbours, and therefore we make every effort to minimise the noise impacts on them," he says. "We use engineering best practice where we can, to achieve as high sound output reduction as we can.
"These 793Fs are a 20-year investment for our business and are setting the foundation for our haulage fleet moving forward."
With that in mind, WesTrac's equipment specialists and engineers worked with Hushpak and Bloomfield to develop a customised solution for the 793F that took airflow, weld locations, centre of gravity, visibility and access for maintenance into consideration.
On completion of the first 793F fit out, WesTrac engaged an independent tester to assess the noise output. Testing was carried out at WesTrac's NSW headquarters in Tomago.
Following delivery of the first two trucks to site, WesTrac and Hushpak continued to work with Bloomfield to administer minor adjustments that have been carried through to other trucks delivered.
"Through collaboration, using expertise from us on site and working with WesTrac and Hushpak to come up with solutions introduced into the sound attenuation package has ultimately delivered a great product," Worboys says.
Corcoran said WesTrac's ability to tailor solutions to meet customer requirements as well as broader requirements such as emission reduction targets fuels the company's continuous improvement program.