Five SANY excavators, including two SY750Hs, two SY500Hs, one SY215C, and one SRT95C rigid-body mining truck, have recently been delivered to two large coal mines in Indonesia, the China-based equipment manufacturer reports.
The latest delivery, the SY750H, the largest-tonnage SANY excavator in Indonesia at 76 t, added to the SY500Hs and SY215Cs already on site. The SY750H is equipped with a 5.4 cu.m bucket to achieve higher ripping in difficult ground conditions, SANY says. It comes with a fuel-efficient ISUZU engine.
"The SY750H crawler excavators are used specifically for overburden, as well as for loading dumper trucks in the mine," SANY said. "They have proved their efficiency, cost-effectiveness and reliability in operation."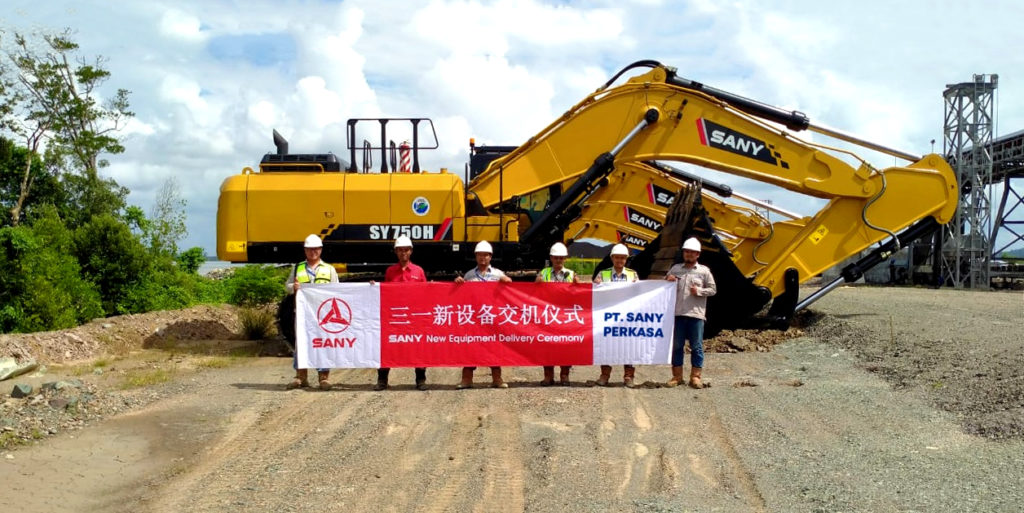 The delivery of the SRT95C, meanwhile, represented the first rigid truck to head to a coal mining job site in Indonesia. It came equipped with a Cummins QST high-power engine with electronic fuel injection control and Allison transmission. "This means enhanced acceleration performance and reduced fuel consumption and emissions," SANY said.
The truck's frame is made of alloyed structural steel, which features resistance to low temperature, bending, twisting and impact. In addition, McPherson front strut suspension adopted on the front axle and steering mechanism smooth the ride, according to SANY.
"SANY's equipment has a strong presence in Indonesia as clients across the islands have purchased a range of products, including excavators, cranes and mining trucks, since years ago," it said. "These machines have proven their outstanding off-road properties as well as a good quality in service."
The client from one of the coal mines said: "With large grab capacity, high fuel efficiency and rapid working cycles, SANY excavators fully meet our requirements. Also, the productivity and stability in operation and good aftersales service, especially the spare part support, make SANY rigid mining trucks impressive."
The delivery of these excavators and trucks followed another order from a mining customer in Africa last month.
On July 23, Eritrea's Bisha Mining Share Company, owned by Zijin Mining, took delivery of nine SRT95C dump trucks it ordered earlier this year from SANY. These trucks will help the copper-zinc mine increase ore production.