MacLean Engineering has become renowned for its battery-electric equipment in the last four-to-five years, having announced its electrified plans at MINExpo 2016, and steadily upped its offering in line with industry demand.
Yet, it is not the only company in its field backing battery-powered production support developments underground.
Recognising the same trend that led to MacLean initiating its EV Series program in 2015, its competitors have also looked to electrify their own diesel-powered units.
Few of them to this point have clocked up the same amount of operating hours on battery that MacLean can boast; even fewer of them have gone beyond the limits of their diesel-powered predecessors with the adoption of new opex-enhancing technology and safety additions.
The company is now leveraging this experience with the launch of a new shotcrete-transmixer combination that, MacLean says, will make it the only OEM able to offer fully electrified, articulated shotcrete operations purpose-designed for underground mining applications.
Jonathan Lavallee, Product Manager – Shotcrete Equipment, got IM up to speed with developments.
"The SS5 battery-electric shotcrete sprayer is now mechanically complete," he said ahead of the launch today. "We've tested it at our underground test mine and it has exceeded our expectations."
Filling out an offering of shotcrete sprayers that includes the diesel-powered SS2 and SS3 machines, the battery-powered SS5 shotcrete unit is close to 7 ft (2.13 m) wide and is the first-ever MacLean sprayer to have a forward-facing cab for a better view of shotcreting operations from inside the cab.
In addition to a better view, the shift from mid-ship to forward-facing cab has also aided with placing the batteries and the EV components on the rear side of the machine to ensure rebound dust and particulates from shotcrete operations are not getting inside the EV components, Lavallee said.
Alongside this machine will be the 2.59-m-wide battery-powered TM3 concrete transmixer, which is based on a diesel-equivalent machine already on the market and will serve the SS5's shotcrete needs.
Like all of MacLean's EV Series machines, the SS5 sprayer will be able to tram on battery and connect to the power infrastructure within the mine for spraying.
This might not be all, according to Lavallee.
"Depending on the size of your heading, the battery re-generation capability on site and the air quality/quantity, there could be an option to shoot on pure battery," he said.
Testing at the MacLean Research and Training Facility in Sudbury saw the prototype machine complete two full mixer trucks worth of shotcrete – roughly 12 cu.m – while still having enough battery power remaining to conduct a thorough wash down and washout of the equipment and tram to the nearest point of recharge, according to Lavallee.
While there was no on-board compressor fitted to this prototype – with the machine using mine air at the test facility – Lavallee is confident the commercial unit will provide the option of spraying off battery for parts of a mine where power services have not yet been established.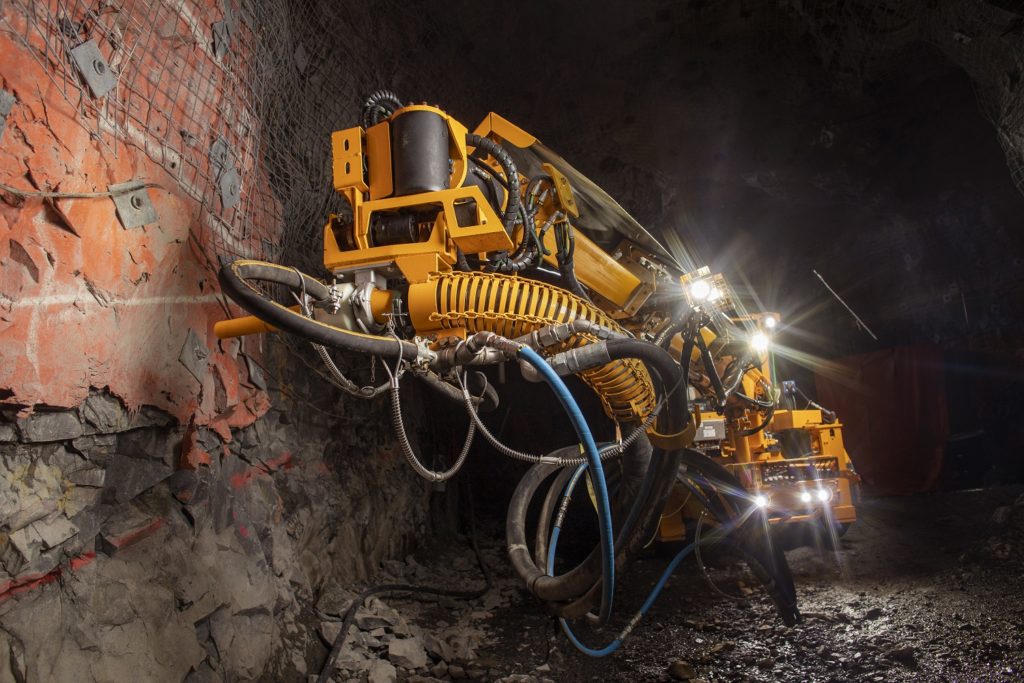 There is more to the SS5 than battery-powered operation alone, which Lavallee, a man with shotcrete experience at Oyu Tolgoi, Grasberg, Outotec and GCP Applied Technologies, is keen to talk up.
Fitted with a "first of its kind" automatic accelerator dosing system and the company's Auto Doser platform, Lavallee says the machine will allow operations to save money on shotcrete consumption, increase the quality of material going onto the walls and, most importantly, create a safer environment for miners.
"My mission has always been to ensure the product is 100% quality and reacts and solidifies as it is supposed to without causing any falls or damage to personnel or equipment," he said.
Other than the new accelerator, the system will use sophisticated scanning technology for shotcrete thickness monitoring.
"That will, again, enable you to enhance the quality of the material going onto the drifts and headings," Lavallee said. "It will also eventually help with cost reductions through reducing overshooting."
These elements, combined, could have a significant impact on the operating cost associated with the SS5, with Lavallee hinting at 30-60% savings from the dosing system, and plus-20% savings in shotcrete consumption with the use of the accelerator and real-time scanning technology.
The Australia market will be the first to test out the new sprayer, with a unit set to be delivered to a customer site in the June quarter. Ahead of this, it is heading to the company's branch in Elko, Nevada, for additional testing.
This unit will also be equipped with a newer type of battery MacLean is currently putting through its paces, in addition to an in-development compressor.
MacLean, again, appears to have not only electrified its mining equipment niche; but reinforced it with all the technology smarts forward-thinking miners are after.