AZIZE Equipment says it has secured the sole rights to supply, service and support the full line of Sunward drill rigs and excavators to South Africa and surrounding countries.
Listed on the Shenzen Stock Exchange in China, and a top 50 global construction equipment manufacturer that produces over 11 000 excavators and drilling rigs a year, Sunward Equipment Group is a highly reputable and experienced partner for AZIZE, the South Africa based company said. The extensive Sunward offering was unveiled during a launch event in Carolina, Mpumalanga, South Africa on June 7-8, "laying a solid foundation in Southern Africa's surface drilling industry", AZIZE said.
Pascal Mbambo, Managing Director of AZIZE Equipment, said: "We are extremely excited about the birth of a 100% black-owned AZIZE, a Level 1 company, and our partnership with the globally renowned Sunward Equipment Group. The name AZIZE is of Afro-Asiatic origin meaning powerful and valuable, which is a perfect representation of our company, products and services as well as how we perceive our customers."
Mbambo is supported by a team of experts including Company Director Basie Roelofse, who brings a wealth of engineering and drilling expertise to the AZIZE table. The AZIZE team boasts a strong operational background in and deep knowledge of the surface drilling sector and can meet the challenges faced by this complex industry, the company says.
Roelofse said: "Our hands-on experience with a variety of drilling rigs has given us a unique insight into the key success elements enabling us to equip customers with the right tools to manage their drilling operation."
Sunward is not new to the African continent; outside of South Africa, numerous Sunward machines operate in Namibia, Zimbabwe and the DRC, according to AZIZE. "Having owned, operated and maintained various different brands of drilling rigs, including Sunward machines, and having drilled in all typical geologies, we were highly impressed by Sunward's holistic capabilities," Roelofse said.
Sunward machines are significantly less complex than many other options on the market, according to AZIZE. "This straight-forward no-frills package signifies ruggedness, reliability, simple and easy operation and serviceability for improved uptime and enhanced profitability at the lowest total cost of ownership," the company said. "Through these perfect fit-for-Africa machines, AZIZE has the potential to further grow the Sunward footprint across the continent."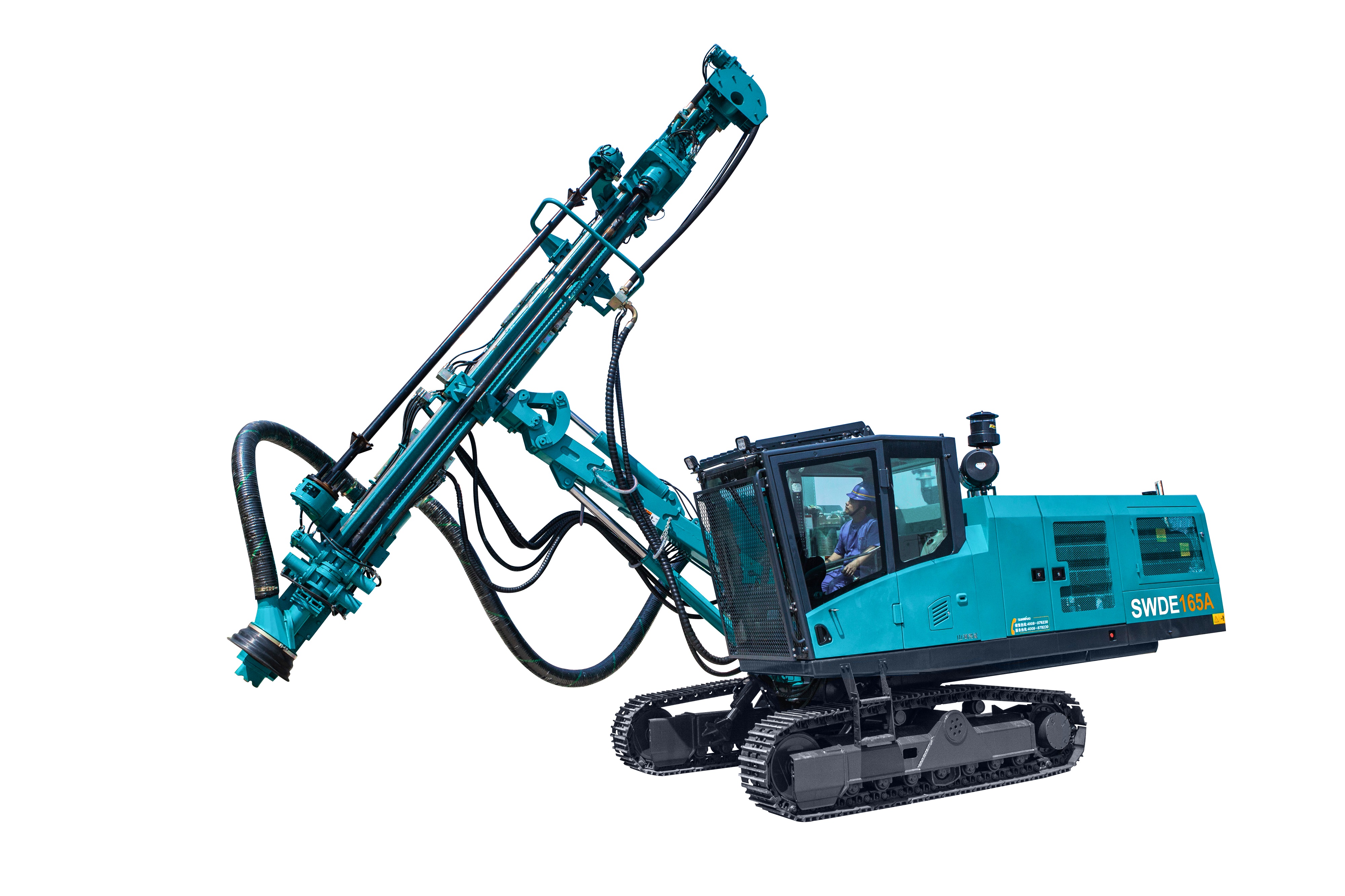 AZIZE is targeting surface drilling companies engaged primarily in blasthole drilling in all geological formations across the mining, quarry and construction industries. The Sunward range is ideally suited to mine owners, drilling contractors, and drill and blast contractors looking for modern, safe, efficient and reliable surface drilling rigs that positively impact their bottom line, AZIZE says.
The company offers three distinct Sunward surface drilling machines; two crawler-type top hammer models (from 64 mm up to 115 mm diameter with hole depths up to 25 m) and a range of down the hole drilling rigs (from 90 mm up to 255 mm diameter with hole depths up to 36 m). Rounding off the product portfolio is the Sunward excavator range with 105 mm to 165 mm diameter and up to 36 m hole depths.
"Powered by Tier 111a engines, the fuel efficient, low emission Sunward machines uphold standard ergonomics and safety designs, featuring cab air conditioning, radios as well as LED lights," AZIZE said.
The AZIZE launch last month showcased several Sunward machines including the SWDE165A drilling rig (pictured above) with fully automatic hands-free carousel, ROPS/FOPS, a cyclonic dust suppression system as well as rod lubrication system, a compliant FOGMAKER automatic fire suppression system and a 20 bar compressor, all fitted as standard. "Also generating a great deal of interest at the launch was the SWDR138H excavator rig, currently the only drilling rig to have a full OEM certification that covers the full rig, from tower to compressor and everything in between," AZIZE said.
The extensive product suite is supplied from AZIZE's Carolina head office, which houses a 12-strong sales and service team in a 2,500 sq.m facility for administration, service and parts.
AZIZE says it has invested substantially in training, a key element to ensure the correct and safe operation of Sunward machines for optimal and reliable performance. Three factory-trained engineers have moved to Carolina to train and transfer skills to the service and commissions team. Plans for substantial expansion include a training centre and test site that will offer a turnkey solution for its drilling customers. The training centre will also accommodate trainees during conversion and training on machines.